Thinking of moving to Santa Barbara? Your questions answered
Posted by Katinka Goertz on Sunday, March 20, 2022 at 1:22 PM
By Katinka Goertz / March 20, 2022
Comment
5 frequently asked questions about Santa Barbara answered
• What to know before moving to Santa Barbara, CA •
As a local Realtor in Santa Barbara, I get a lot of questions, especially from out-of-town clients I deal with regularly. Getting a sense of a city you might only have seen once, or in some cases never, can be a daunting task. In my ongoing attempt to deliver lots of valuable information for you, I assembled some of the most frequently asked questions and will answer them here.
Is Santa Barbara family-friendly?
Is Santa Barbara a good place to retire?
Is Santa Barbara affordable?
Is Santa Barbara a safe place to live?
What about the fires in Santa Barbara?
→ I also added a video below, if you rather like to watch.
Is Santa Barbara family-friendly?

Santa Barbara Alameda Park - Kid's World
Santa Barbara is such a great place for families. My husband and I are raising two daughters here in town and find it a wonderful place for our children to grow up. Firstly, because of the weather and time spent outdoors. Even if you don't live in a large house, there are countless options to spend time outside in nature at the many parks, playgrounds, beaches, mountains and nature preserves. You will be able to take advantage of plenty of outdoor activities year-round.
The schools generally have good ratings. There are many options to choose from - public as well as private. Yes, you may find higher quality and more variety of schools in denser populated areas around the nation. But Santa Barbara County has the highest concentration of top-ranked public schools in California. UCSB has ranked amongst the top 30, according to the 2022 edition of Best Colleges of National Universities.
There is a strong sense of community in Santa Barbara. When I first moved here, I felt it was very welcoming. Once having kids, it became even more apparent to my husband and me what a positive environment Santa Barbara is. There are so many groups to attend. Great local nonprofit organizations - like PEP or Mamatoto for new parents - help socialize and connect with others in town.
With so many options for playing sports and engaging in outdoor activities at all times, connecting with your community becomes easy. Additionally, there is no lack of opportunities to get involved in the type of volunteer work you feel passionate about. Santa Barbara has an enormous amount of charity and nonprofit organizations.
Is Santa Barbara a good place to retire?

Santa Barbara Botanic Garden
Santa Barbra is ideal for retirement. With the climate being so temperate, the outdoors so diverse, and the size of the city so manageable, it provides an ideal environment to enjoy retirement.
Looking at the natural beauty is especially inviting for seniors. There are plenty of local groups for gardening, hiking, walking, and other forms of exercise and socializing. The Botanic Garden offers popular programs to join. Santa Barbara also features a large variety of highly-rated golf courses. And not to forget the Santa Barbara Sailing Club or the Santa Barbara Yacht Club, for those who like to enjoy time out on the ocean.
With several museums, art galleries, and smaller theaters in town, there is a good variety of cultural events and entertainment. The first Thursday event is very popular: Lots of art galleries and museums open their doors during the evening and offer food samples, wine tastings, and live music accompanying the art. Concerts can be enjoyed at the Santa Barbara Bowl - a much-loved outdoor venue.
There is also a great social club for people who newly moved to town, called The Santa Barbara Newcomers Club. This club is a great platform to get to know other new residents in town, host some parties at your new home, or join one of the multiple groups and committees they offer. My husband and I joined this club when we first moved here and made new friends quickly.
Another aspect to appreciate is the high-quality health care Santa Barbara provides. Cottage Hospital has an outstanding reputation and attracts highly regarded health care providers from all over the world.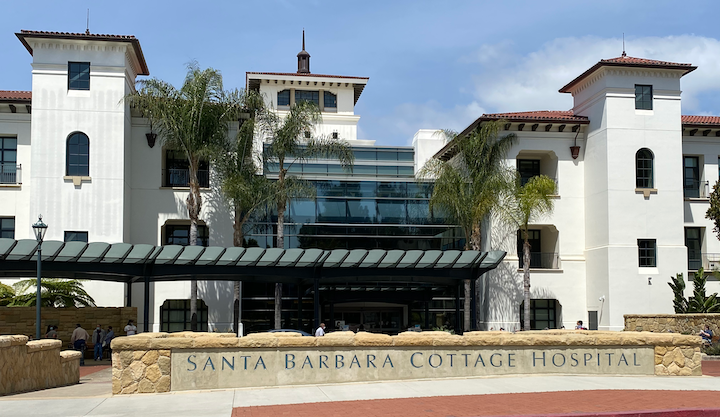 Santa Barbara also offers a variety of senior living options and communities. There are several 55+ condo complexes to conside, like the private and gated active community of Shadow Hills with condos and freestanding units to purchase. Or the quiet Encina Royale complex in Goleta, with a golf course setting. Additionally, there are a variety of reputable senior living options in Santa Barbara. For a general guide to Senior Independent Living in CA, read more here.
Senior Living options in Santa Barbara include:
Is Santa Barbara affordable?

Santa Barbara is not an inexpensive place. This beautiful environment comes with a hefty price tag. Santa Barbara's cost-of-living index is at 223.4 according to Best Places (compared to the average national index of 100)
Especially housing cost is skyrocketing at the moment. With very little inventory and high demand, prices keep climbing up. And competition is still high. The median home price in Santa Barbara has gone up significantly. But with the right vision, guidance, and some compromises it is entirely possible to find your slice of Santa Barbara heaven.
Register for un up-to-date market report here
A fair and general answer might be: If you love being outside in diverse terrain and you might be willing to compromise on the size of your house and yard to enjoy the environment around you year-round, then it is worth it, in my opinion. The affordability is also relative to which city you are moving from - Let's say you move from New York City - The cost of living will not seem like such a drastic change for you.
Is Santa Barbara a safe place to live?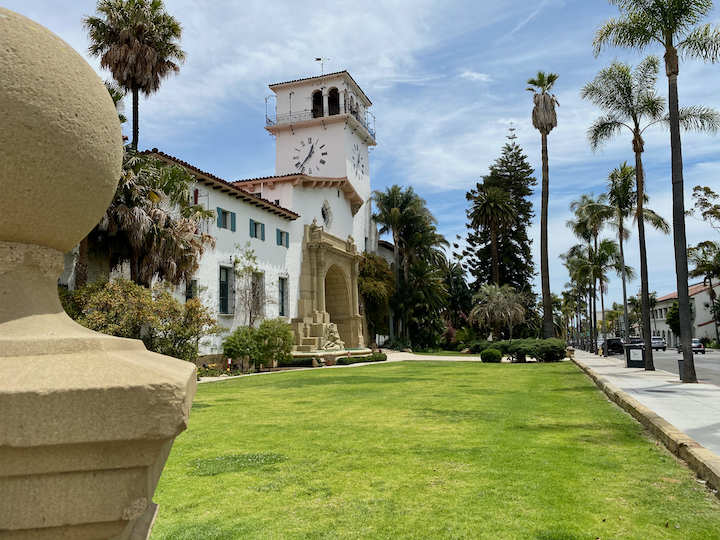 The Santa Barbara Courthouse
Santa Barbara has a very safe feel to it. Overall there isn't much to worry about and the crime rate is relatively low. I am giving my opinion after living in NYC, where you had to be more careful and alert. But I grew up in a small town near the Alps, where it felt incredibly safe. So it certainly depends on your perspective and is relative to your own experiences.
Yes, you do have some crime here and a noticeable homeless population. And, like anywhere, some neighborhoods may have a higher crime rate than others. But for the most part, it feels like a place you don't have to be worried about your safety. Walking home at night does not seem like a threat. That said, you will not find many people do that anyway. Santa Barbara is a go-to-bed early and rise-early type of environment.
What about the fires in Santa Barbara?

The Whittier Fire, Goleta
Yes, the natural disaster occurrences here in our area are a reality. We have had fires and probably will have some in the future. With the Santa Ana winds in combination with our dry landscape, the possibilities of fires are often high during certain times of the year. We have had earthquakes and also mudslides, most recently after the Thomas Fire had burned down the brush on the hillside. After heavy rains, severe debris flow occurred and destroyed large parts of Montecito.
These natural disasters are not for the faint of heart. It can happen - there is no denying that. And this might deter some people from living here. However, other beautiful and desirable places in the US experience natural disasters as well: Tornados, hurricanes, snowstorms, or severe flooding are some examples. There is a good chance of living in an area where one or the other may occur.
Note: It is important to keep in mind that these factors can influence your Santa Barbara home purchase regarding your homeowner's insurance cost or the upkeep of your home. Make sure to research thoroughly and consult with an expert, before your home purchase.
Other articles you might like:
→ Search all Santa Barbara Homes here.
→ It's Summertime? Search Santa Barbara Homes with Pools here