State Street Santa Barbara
Posted by Katinka Goertz on Saturday, February 18, 2023 at 8:30 PM
By Katinka Goertz / February 18, 2023
Comment
State Street Santa Barbara
• Things to do and see •
"What is Santa Barbara known for?"
State Street in Santa Barbara is a vibrant and popular destination with a variety of captivating attractions. Running through the heart of the city and - especially since Covid - set up for mainly pedestrian use, this street is the focal point for any Santa Barbara visit and a vital part of Santa Barbara living. Whether you are looking for cultural or culinary entertainment, casual shopping, or sightseeing, there is a little bit of everything on State Street.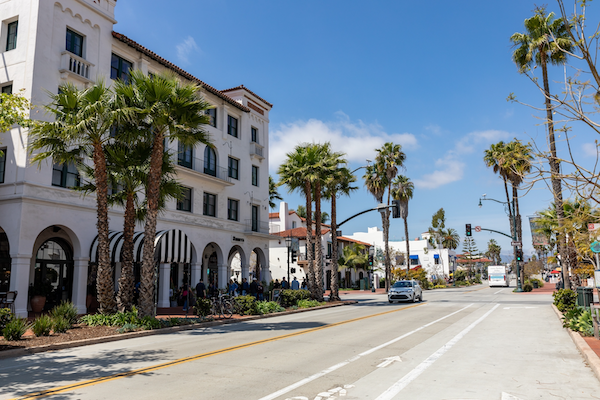 ---

In this article, you will find some of the most notable sights, as well as some of my favorite restaurants and shops along State Street in Santa Barbara.
---
Must-see sights - starting from the ocean
♥♥♥♥♥
Stearns Wharf
Stearns Wharf is a historic pier located at the ocean tip of State Street in Santa Barbara. It was originally built in 1872 and was the longest deep-water pier between San Pedro and San Francisco at the time. Today, Stearns Wharf is a popular destination for locals and visitors alike, offering a range of activities, shopping, and dining options.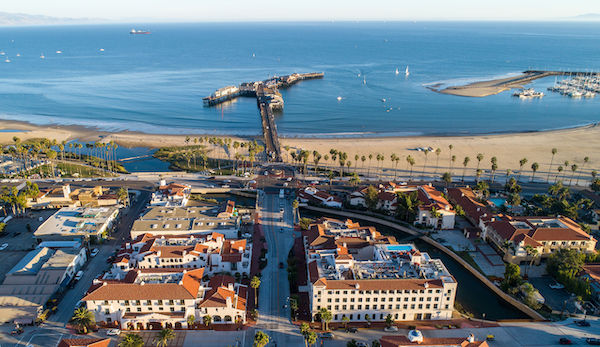 One of the main attractions at Stearns Wharf is the astonishing view. From the pier, visitors can take in panoramic views of the Santa Barbara coastline, the Santa Ynez Mountains, and the Channel Islands. Stearns Wharf is also home to a variety of shops and boutiques, selling everything from souvenirs and beach gear to artisanal crafts and jewelry. There are a variety of dining options, from casual seafood spots to more classic restaurants for a sit-down dinner. There is also a noteworthy wine-tasting room called "Deep Sea" with the most scenic deck for enjoying a great glass of wine paired with sunset views.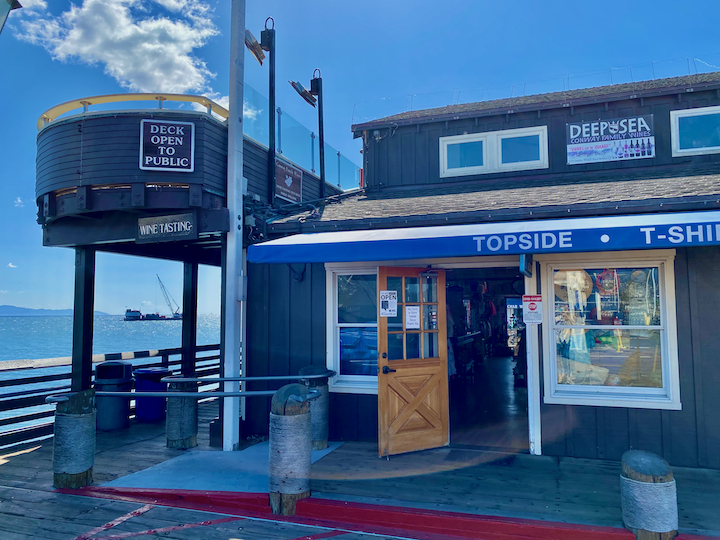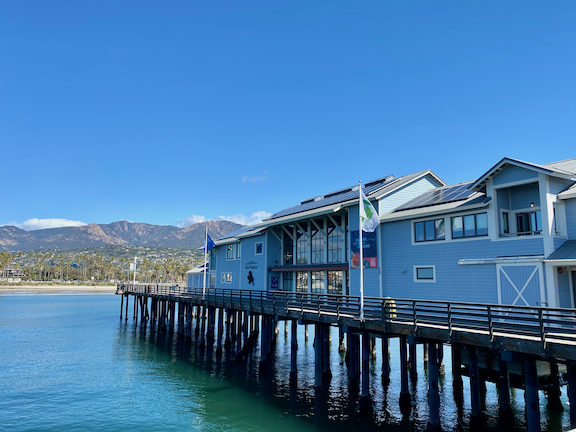 Deep Sea Wine Tasting & The Santa Barbara Museum of Natural History Sea Center
In addition, Stearns Wharf is a popular spot for fishing off the pier. For those interested in marine life, there is the Santa Barbara Museum of Natural History Sea Center, which features interactive exhibits on local marine ecosystems and sea creatures. Additionally, you can book parasailing and other water activities from here.
The Moxi Museum
The Moxi Museum, also known as The Wolf Museum of Exploration + Innovation, is a popular science and technology museum located at the corner of State Street and Yanonali Street, next to the Santa Barbara Amtrak Train Station. The Moxi Museum features interactive science exhibits that encourage visitors to explore and experiment. The exhibits are designed to be hands-on and immersive, with a focus on making science and technology fun and accessible to people of all ages and backgrounds. Visitors can experience the power of different types of forces, and interactive displays on topics such as computer programming, robotics, and 3D printing.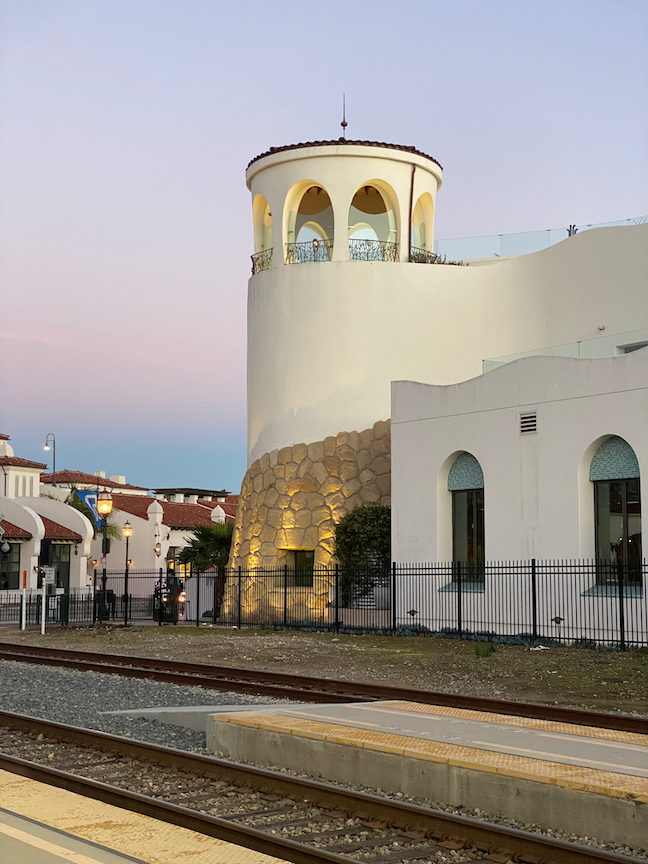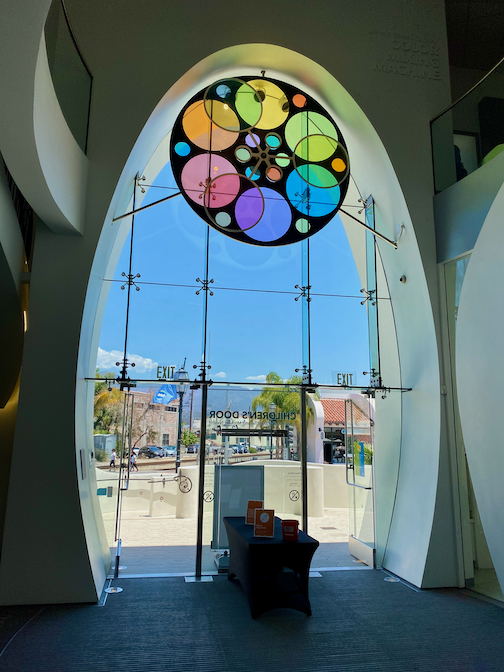 View of the Moxi Museum from the Train Station & Moxi's Entrance Door
In addition to its exhibits, the Moxi Museum also hosts special events and programs throughout the year, including workshops, classes, and camps for kids. The museum is open daily and offers a variety of admission options, including discounts for children. The Moxi Museum is also architecturally unique and is an engaging destination for anyone interested in science and technology - a great place to visit with family and friends.
Paseo Nuevo
Paseo Nuevo is a popular outdoor shopping center located on State Street in the heart of downtown Santa Barbara, California. The center is the main commercial district of the city and is a popular destination for locals and visitors alike.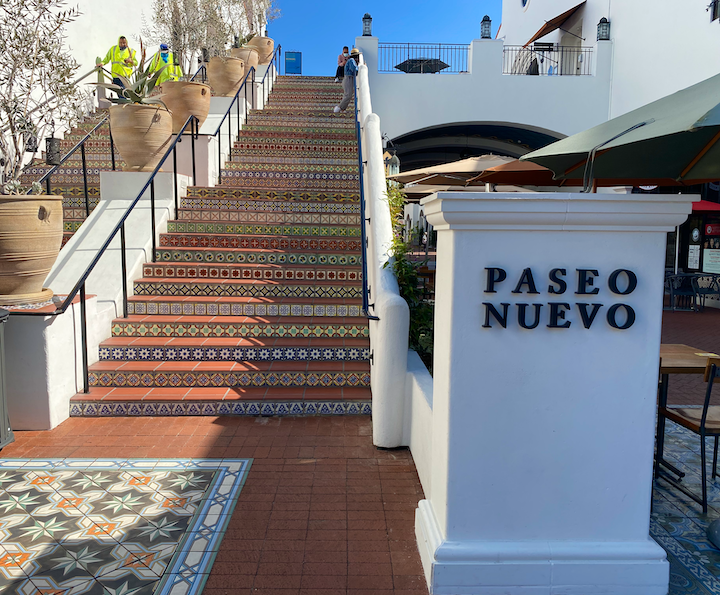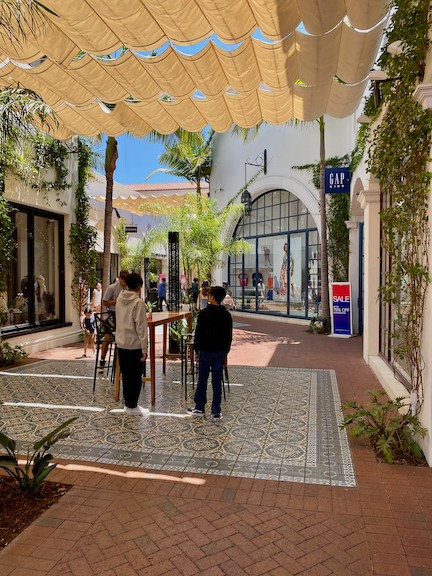 Iconic stairs at Paseo Nuevo & shaded pedestrian walkway within the mall
Paseo Nuevo features a wide variety of retail stores, restaurants, and entertainment options. The mall, with its Spanish-style architecture, is designed with pedestrian walkways, fountains, and open-air plazas that provide a comfortable and inviting shopping experience. The center is also home to several seasonal events and activities, such as outdoor concerts, holiday celebrations, farmers' markets, and maker fairs.
La Arcada Plaza
La Arcada is a charming outdoor shopping and dining destination situated at the intersection of State and Figueroa Street and is known for its distinctive Spanish-style architecture and beautiful courtyard setting.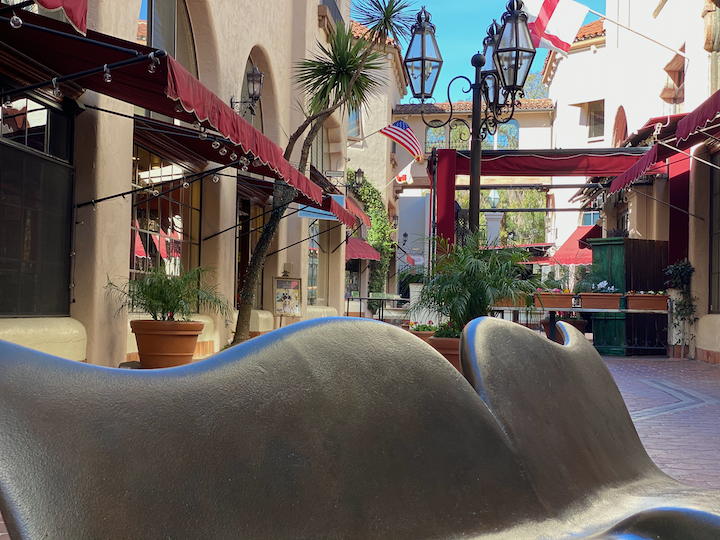 Whale tail-shaped bench at La Arcada
La Arcada features a variety of upscale boutiques, art galleries, and restaurants, all nestled within its enchanting courtyard, away from all traffic. The center offers a tranquil and intimate atmosphere, with outdoor seating areas surrounded by arched walkways, planters, bronze sculptures, water features, and a central fountain with live turtles. La Arcada's charming ambiance, historic architecture, and central location make it a popular spot for both locals and visitors. Children especially enjoy the bronze sculptures and the mesmerizing turtle fountain.
The Santa Barbara Museum of Art
The Santa Barbara Museum of Art is a prominent art museum. It was founded in 1941 and has since become one of the most important cultural institutions in the Central Coast region of California.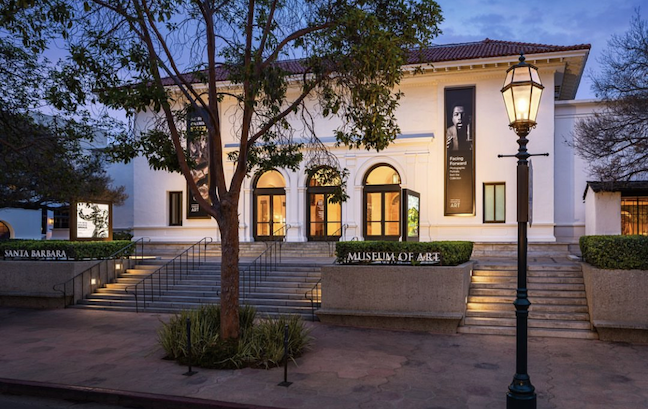 Photo courtesey of Instagram / Santa Barbara Museum of Art
The Museum has a collection of over 27,000 works of art from around the world, spanning various periods and styles, including paintings, sculptures, photographs, and works on paper, with a focus on American, Asian, and European art. The permanent collection includes works by artists such as Pablo Picasso, Henri Matisse, Claude Monet, Georgia O'Keeffe, and Diego Rivera, among others. The museum also features rotating exhibitions throughout the year, showcasing works from both established and emerging artists. In addition to its collection and exhibitions, the Santa Barbara Museum of Art offers a range of educational programs and events, including lectures, classes, and tours. There also is a unique gift shop offering a range of interesting items and souvenirs related to the museum's collection and exhibitions, as well as items made by local artists. The museum's world-class collection and engaging exhibitions, along with its educational programs and events, make it a valuable resource and a vibrant part of the Santa Barbara community.
The Santa Barbara County Courthouse
The Santa Barbara County Courthouse is an architectural gem that is sure to enchant anyone with its rich history and striking beauty. Nestled in the heart of downtown Santa Barbara - one block over from State Street on the corner of Anapamu and Anacapa Street - this courthouse is a true masterpiece that seamlessly blends elements of Spanish Colonial Revival, Moorish, and Romanesque styles.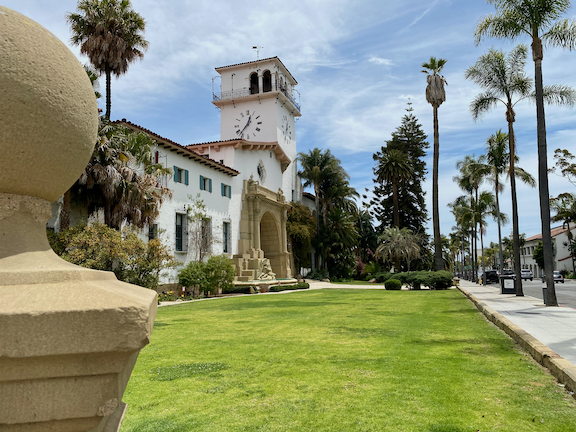 At first sight, one cannot help but be captivated by the magnificent structure that stands before them. The courthouse's impressive clock tower, soaring over 80 feet high, is the most iconic feature of the building. It is accessible to visitors who can climb the narrow staircase to the top of the tower, where they will be rewarded with breathtaking panoramic views of the city and the stunning Santa Ynez mountains. This is one of the best viewpoints and photo-op spots in town. As visitors step inside the courthouse, they are transported to a bygone era of opulence and grandeur. The elaborate carvings, colorful tiles, and intricate murals adorning the walls and ceilings are testaments to the skilled craftsmen who worked tirelessly to create this architectural masterpiece. The courthouse's Mural Room is particularly impressive, featuring a massive 4,600 square-foot mural that tells the story of the founding of Santa Barbara.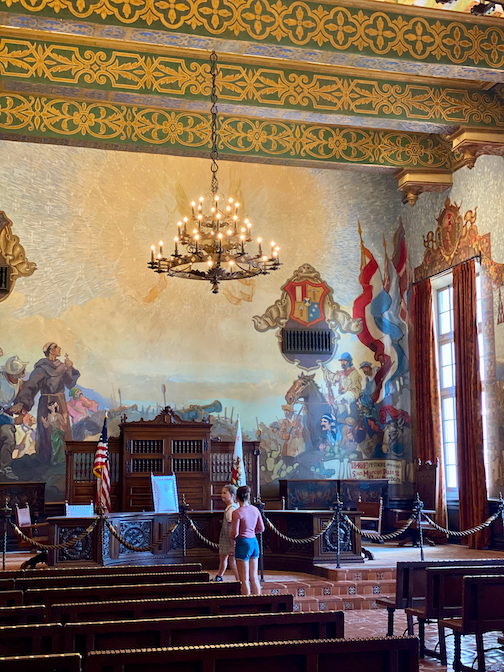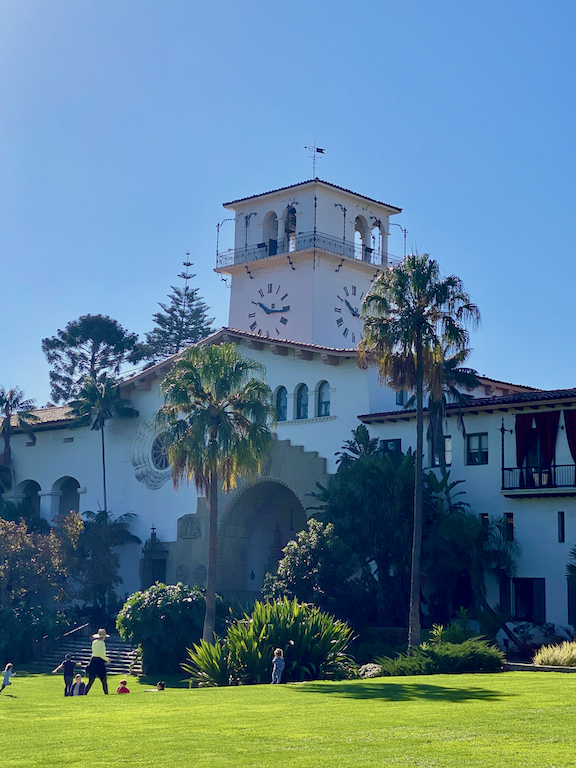 The Santa Barbara Court House Mural Room & Sunken Gardens
For those who want to learn more about the history and architecture of the courthouse, guided tours are offered free of charge. Led by knowledgeable docents, these tours provide fascinating insights into the courthouse's past and the unique features of its design.
The courthouse's Sunken Garden is another highlight of the building. The garden is an oasis of tranquility, a space where visitors can take a moment to relax and enjoy the beauty of their surroundings. The garden is meticulously maintained, with its lush greenery and vibrant flowers, creating a peaceful atmosphere that is perfect for taking a break from the hustle and bustle of downtown Santa Barbara. Not surprisingly, it is also a popular wedding destination.
In addition to being an architectural wonder, the Santa Barbara County Courthouse is an important part of the local community. It serves as the seat of the county government, housing various offices and courtrooms. The courthouse's events calendar is also packed with cultural and community events throughout the year, from concerts and art shows to community celebrations and festivals, like the famous Fiesta festivities in August. Whether you're a history buff, an architecture enthusiast, or just looking for a peaceful escape in the heart of the city, the Santa Barbara County Courthouse is a destination that you won't want to miss.
The Granada Theatre
The Granada Theatre on State Street in Santa Barbara is one of the most iconic venues in the city and the entire state of California. Built in 1924, the theater has been a cultural hub for the community for nearly a century, hosting everything from live performances and concerts to film screenings and special events.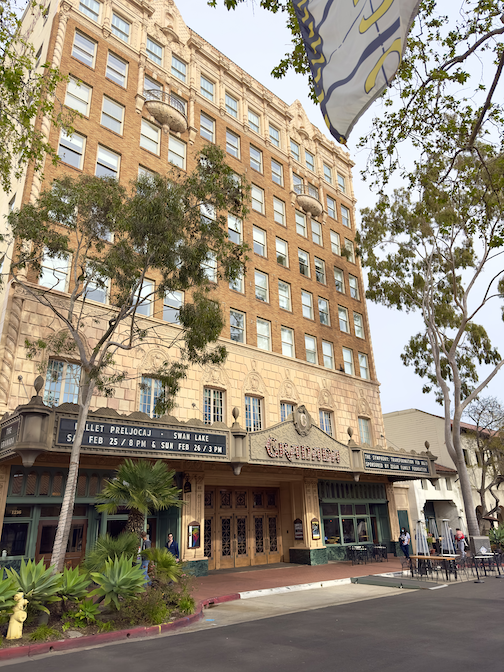 The Granada Theatre
One of the most striking features of the Granada Theatre is its gorgeous Art Deco design. The theater's exterior is adorned with intricate carvings and decorations, while the interior boasts a stunning auditorium with ornate detailing and luxurious seating. The theater has been meticulously maintained over the years and remains a breathtaking sight. Over the years, the Granada Theatre has hosted an incredible array of performers and events. The theater has also been used as a venue for film festivals, community events, and other special occasions.
In addition to its impressive history, the Granada Theatre is an active and vibrant part of the Santa Barbara community. The theater regularly hosts performances from local musicians, as well as touring acts from around the world. The theater is committed to education and outreach, providing opportunities for local students to participate in theater productions and other arts programming. Whether you're catching a show or simply taking in the beauty of the 8-story building itself, the Granada - the tallest building in Santa Barbara - is a true gem of California's cultural landscape.
The Arlington Theatre
The Arlington Theatre is an iconic landmark and cultural hub on State and Victoria Street in the heart of downtown. Built in 1931, the theater is known for its grand Spanish Colonial Revival architecture and might be one of the most beautiful theaters in the country.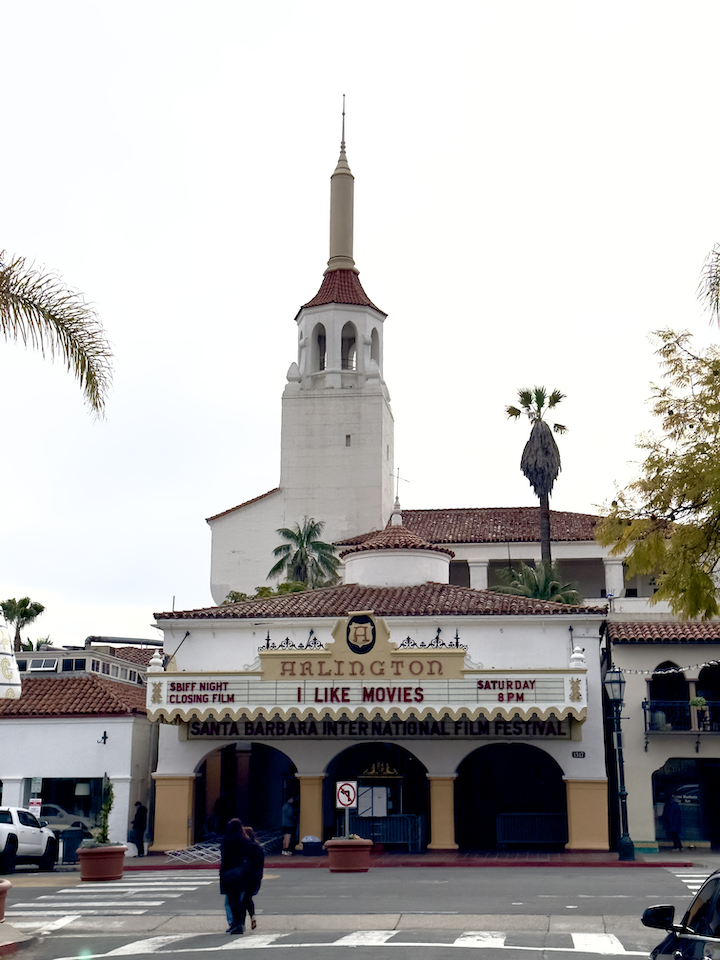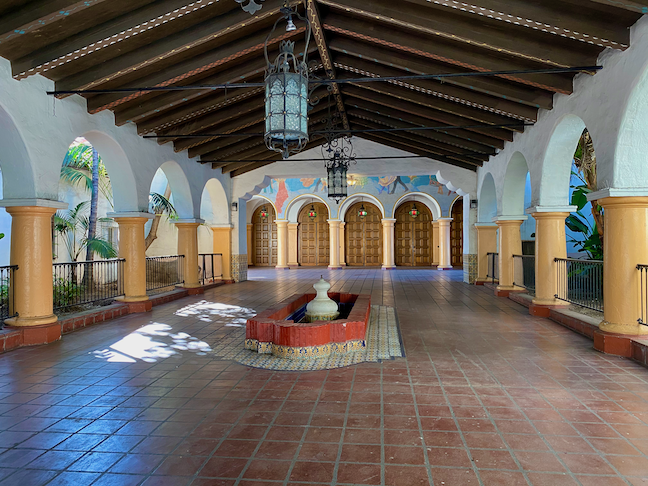 Front view of The Arlington Theatre & arched entryway
As you approach the Arlington, the first thing that catches your eye is the grand marquee and prominent tower, which stands at an impressive 85 feet tall. Inside, the theater features a stunning auditorium with an ornate ceiling and a grand chandelier, which provides a truly magnificent setting for a range of events.
Over the years, the Arlington Theatre has played host to a wide variety of performances, from plays and musicals to concerts and comedy shows. It has also hosted a range of special events and film festivals, making it a vital part of the Santa Barbara community. One of the most unique features of the Arlington Theatre is its Great Theatre Pipe Organ, which has been a part of the theater since it opened. The organ is housed in a specially designed chamber beneath the stage and is capable of producing an impressive range of sounds and effects. The theater regularly hosts concerts featuring the organ, which are always popular with both locals and visitors. The Arlington is a true gem of the city. It's a reminder of an era when theaters were truly grand and impressive, and it's sure to leave a lasting impression on anyone who visits.
Some of my favorite restaurants on State Street
- starting from the ocean -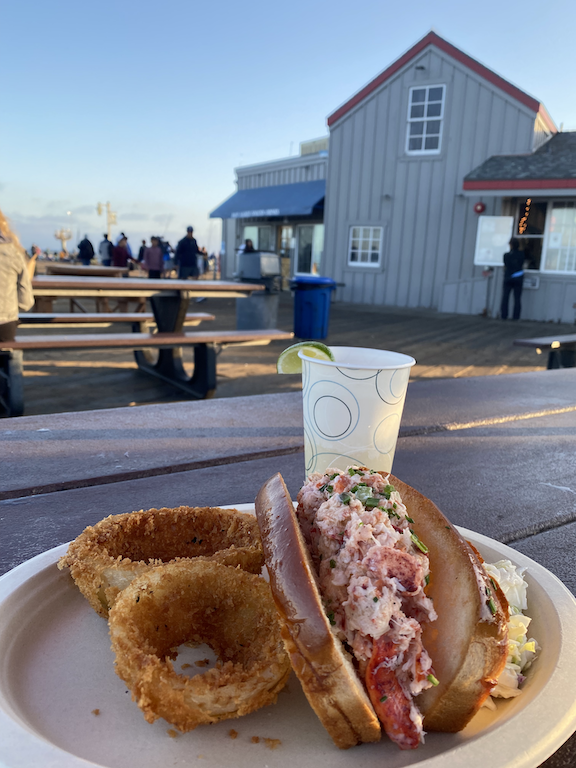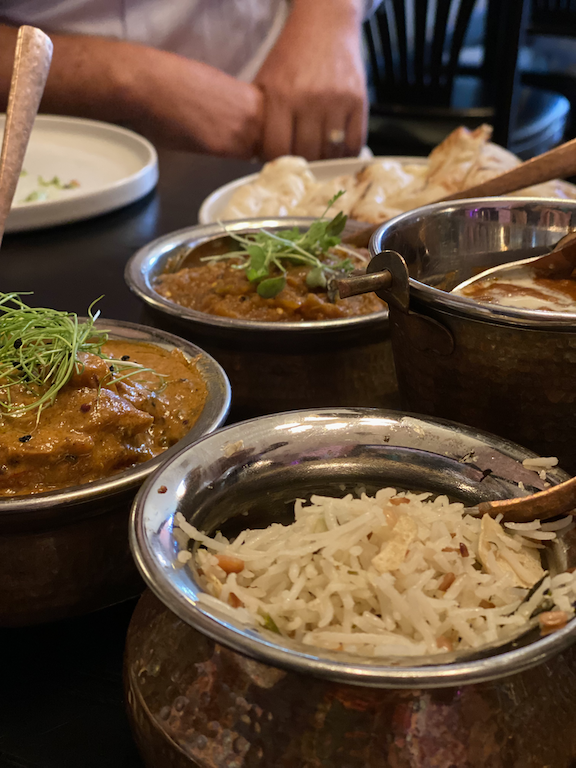 Santa Barbara Shellfish Company & Bibi Ji, Indian Restaurant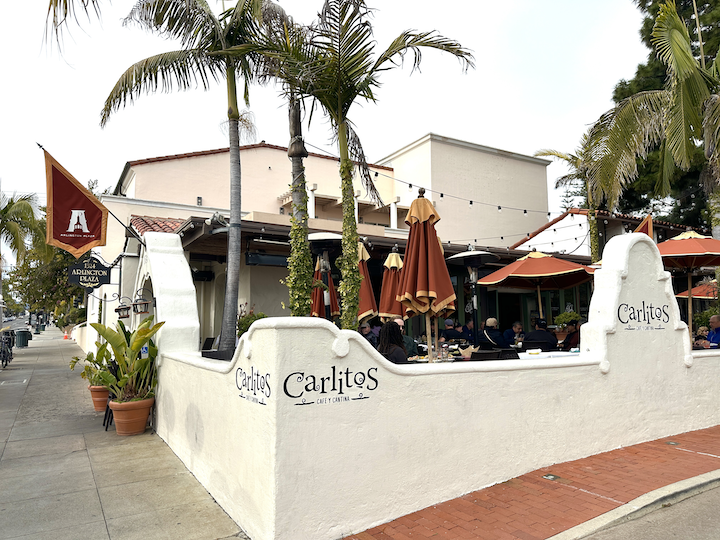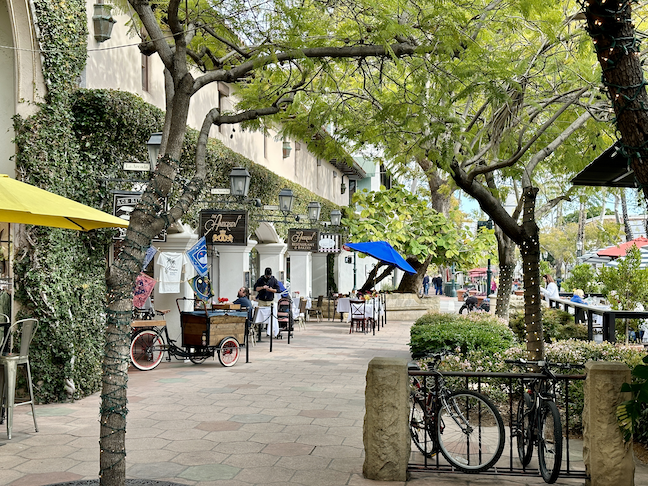 Carlitos Café y Cantina and The Andersen's
Some of my favorite shops & boutiques on State Street
- starting from the ocean -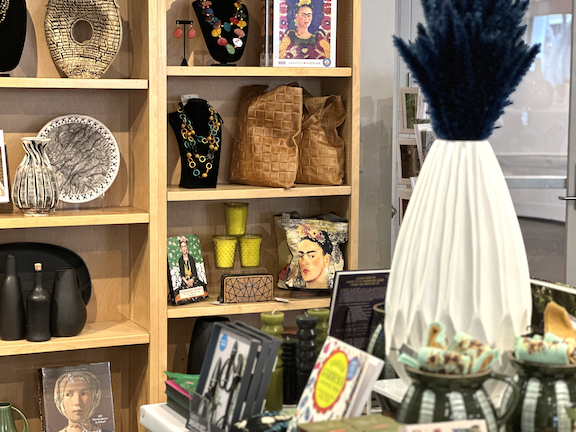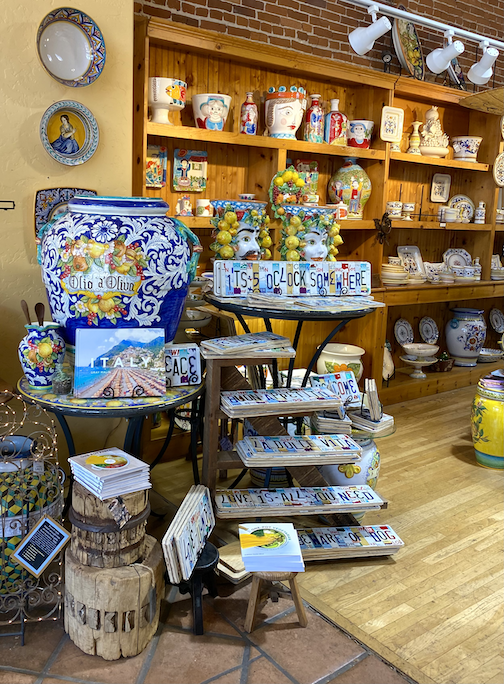 Santa Barbara Museum of Art Store & Italian Pottery Outlet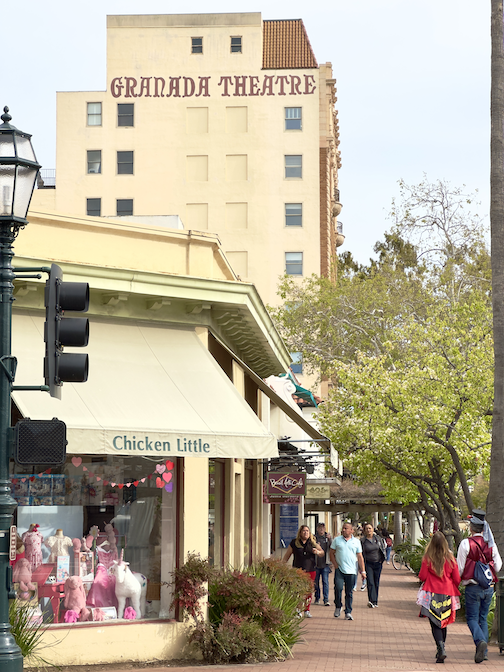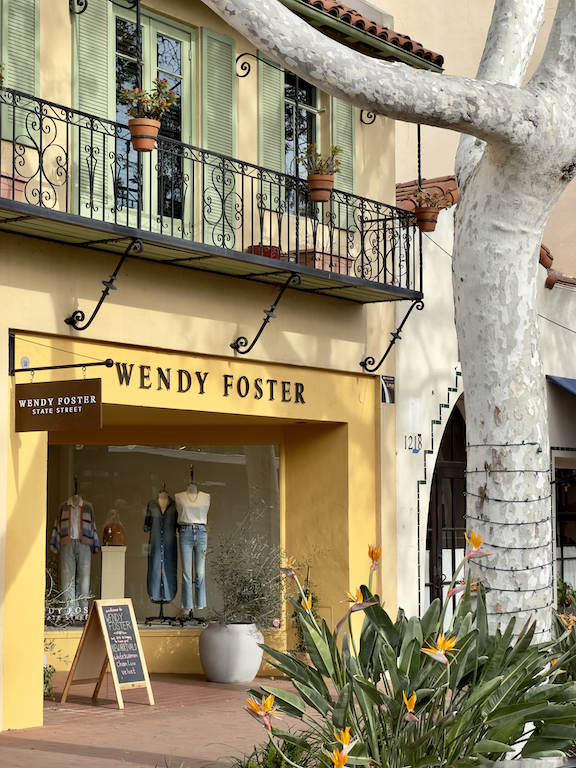 Chicken Little & Wendy Foster
---
Are you interested in Living in Santa Barbara?
---
Currently listed homes in Santa Barbara ↓