Shopping in Santa Barbara
Posted by Katinka Goertz on Tuesday, December 6, 2022 at 11:00 AM
By Katinka Goertz / December 6, 2022
Comment
Best Shopping in Santa Barbara
•Where to find the best stores in town•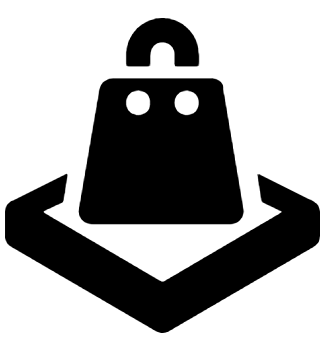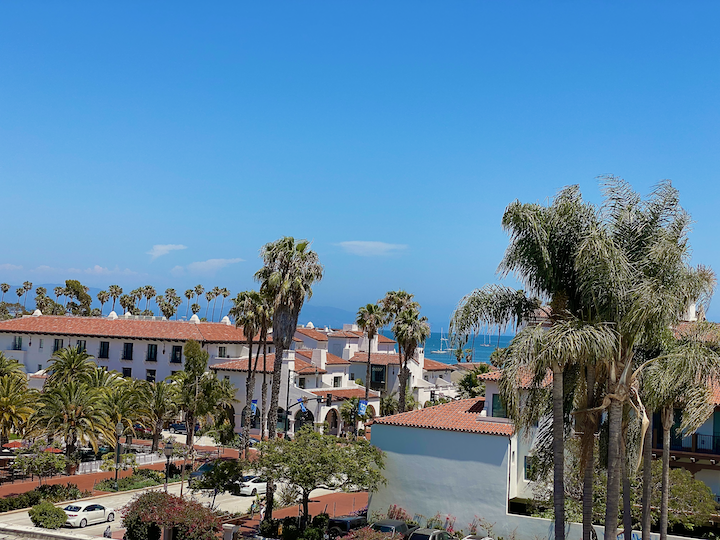 Let's be real here - Santa Barbara is a smaller town. So understandably the shopping isn't comparable to any big city experience. Especially if you are a pro-shopper, then our town might fall short and disappoint you a bit. But that being said, there are for sure some good options and hidden gems in Santa Barbara. If you are on the hunt for those, this article will help you locate some good finds.
I will separate this guide into different interest-based categories. I hope it will provide some insight and have you discover some new treasures. After all, I am a lady who lived in different big cities around the world - so I understand your dilemma ;)
Santa Barbara Shopping Guide Categories:
Shopping Malls in Santa Barbara
Hidden Gem Clothing Boutiques in Santa Barbara & Montecito
Summerland - Unique Home Accessory and Garden Shopping
Gift Shopping
Souvenir Shopping
Gourmet & Specialty Food Shopping
---
And don't forget to reach out if you need suggestions for something specific you are looking for in Santa Barbara - I am always here to help.
---
• Shopping Malls in Santa Barbara
♦♦♦♦♦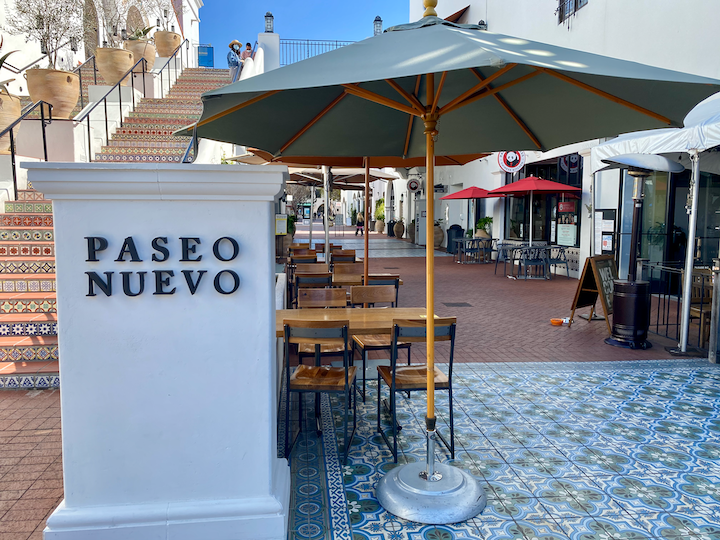 Paseo Nuevo Shopping Mall
This pedestrian shopping area, located at the heart of Santa Barbara's State Street, is arguably the most popular and frequented shopping option in Santa Barbara. It is architecturally pleasing and in line with the overall Spanish appearance of Santa Barbara. The atmosphere is very inviting and offers various types of shopping. You find plenty of selections from beauty supplies to fashion, lingerie, and eateries. Tourists and locals equally enjoy coming to this outdoor mall. During December, the mall becomes a festive Christmas Village with a prominent Christmas tree, Santa visits, seasonal crafts, and snow falling.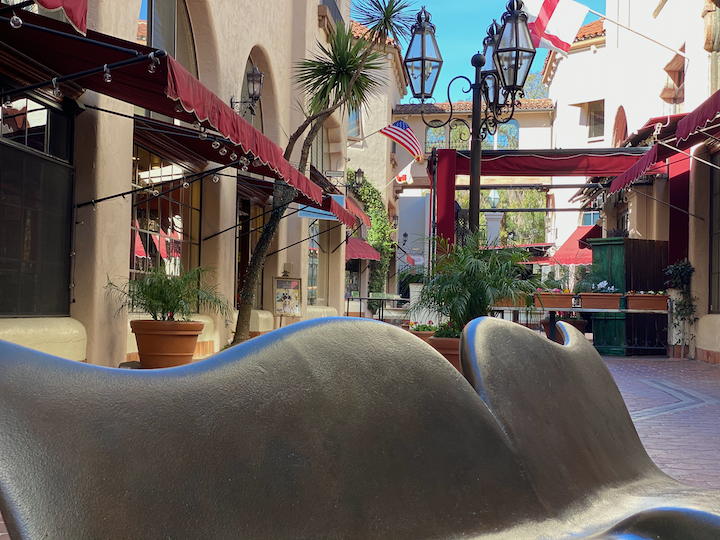 La Arcada Shopping Mall
This is a smaller-sized, super charming outdoor mall with more of an artsy vibe. You will find art galleries, boutiques, and artisanal stores with playful bronze sculptures sprinkled throughout the mall. At the center of the mall sits the beautiful turtle fountain with its live turtles. The whimsical nature of this mall makes it a highlight for family visits. My family likes the Eleven Fourteen Sportsbar - Parents can watch the game while the kids stay entertained by the sculptures, turtles, and amazing churro dessert. Petit Valentien is another lovely restaurant in this location.
This intimate, boho-chic outdoor strip features a variety of lovely boutiques with unique items. Stores like Diani Boutique, Treat and Marisa Mason Jewelry will delight any shopper. Enjoy some of the best pastries in town at Renaud's Patisserie, or go for Mexican Cuisine at Carlitos Restaurant. This place is one of the best spots for Parade and Fiesta watching while sipping on a signature blood orange margarita.

Photo Courtesy of Instagram / Arlington Plaza
This enclave of over 20 merchants on Lower State Street is another unique shopping treat. The scent of fine chocolates, freshly roasted coffee, and European bread fills the air, as you browse through home and accessory stores or reemerge from your peaceful yoga class or spa treatment.
For a video tour of this hidden shopping gem watch here
The Montecito Country Mart on Coast Village Road is a charming outdoor shopping destination nestled in the heart of Montecito, California. Explore an array of upscale boutiques, gourmet eateries, and artisanal shops in a tranquil, Mediterranean-inspired setting. Popular destinations include Bettina Pizzeria, Rori's Ice Cream Parlor and Toy Crazy.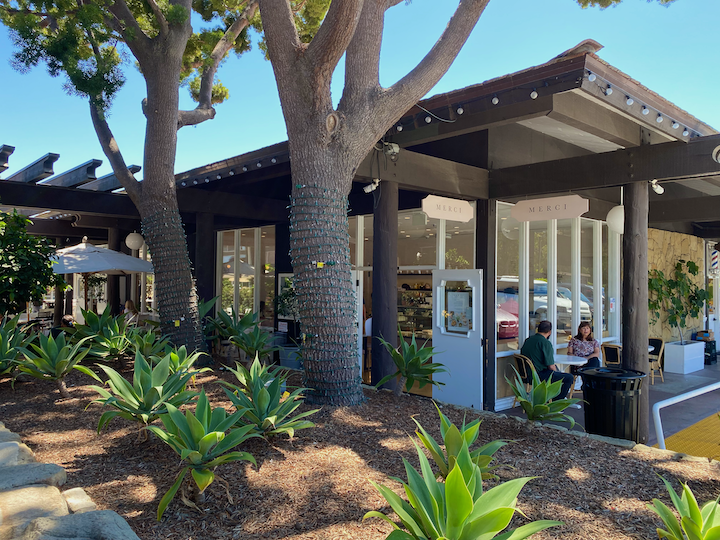 Montecito Country Mart
---
• Hidden Gem Clothing Boutiques in Santa Barbara & Montecito

This classic Montecito retail dynasty offers unique, luxurious, and curated apparel, home accessory and gift items from different parts of the world.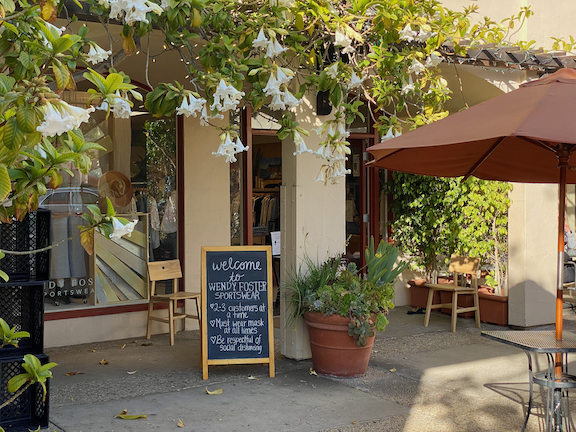 Wendy Foster in Montecito
Here you will find an eclectic mix of organic, natural, and comfortable clothes with a fashion-forward look.
This boutique with flowy, beachy-chic fashion, accessories, and bags is located right by the historic El Paseo district.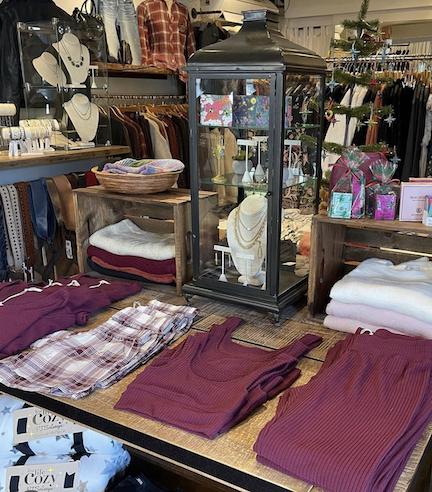 Courtesy of Instagram / Lovebird Boutique
If you like laid-back luxury, understated colors, cozy textures and earthy vibes, this line of apparel and home decor with a store location in Montecito's Upper Village will utterly fulfill your desires.
This Funk Zone boutique with playful and fun fashion items will turn your look into "California dreaming" in no time.
Courtesy of Instagram / Dylan Star Clothing Boutique
Find all your surf gear and laidback beach threads at this fun and cool store in the Funk Zone.
This store will provide the perfect look for your Santa Barbara lifestyle. Lots of linen and natural textiles keep you comfortable and cool, yet dressed enough during hot summer days to transition to chillier evenings by the beach. Find all your lighter layers at this boutique.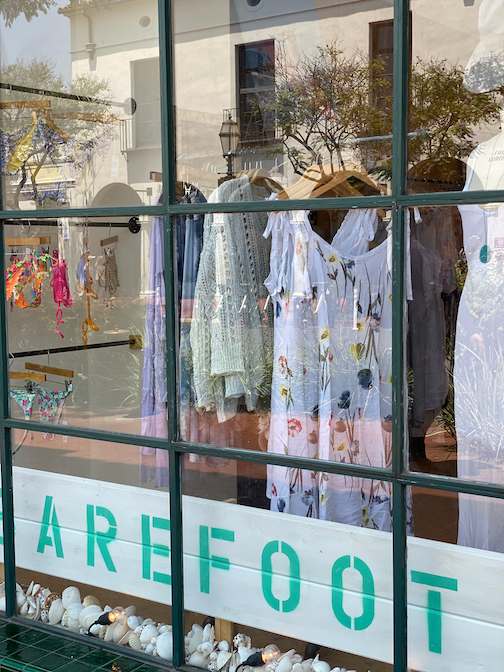 Barefoot Boutique
---
• Summerland - Unique Home Accessory and Garden Shopping
♣♣♣♣♣
The shopping experience in Summerland is one of a kind. Within the last several years the main strip at Lillie Avenue has developed into the new decor hub of Montecito's well-to-do and influential. You might run into one of the local celebrities - like Oprah or Ellen DeGeneres - while checking out your new porch furniture, or hand-crafted silverware. Here are a few examples of what to expect:
This hot spot for lunch, coffee, and home accessory shopping is a true delight that can't be missed.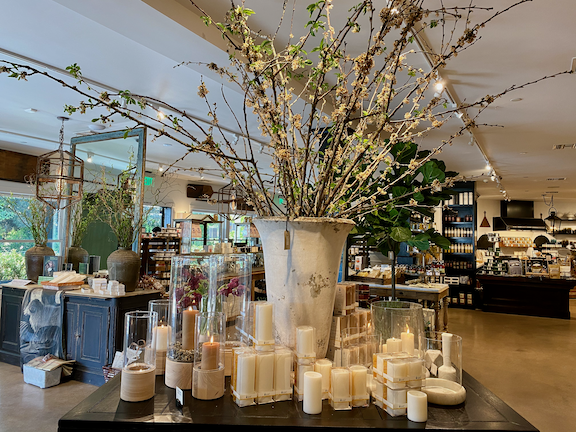 Home accessories at Field & Fort
The Well
The outdoor and indoor decor pieces you can find here are incomparable, artful collections that instantly make you want to redecorate your home. Check out their Instagram HERE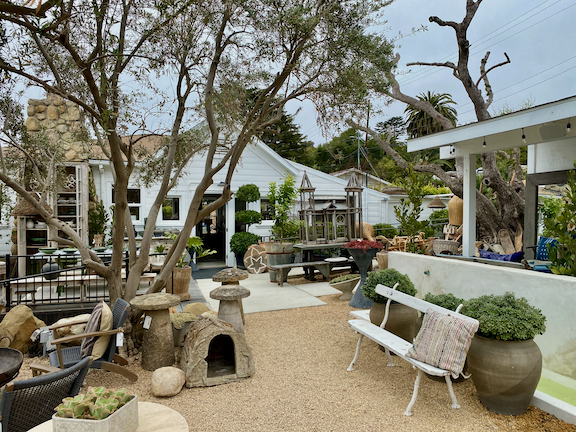 The Well in Summerland
The beautiful assembly of carefully picked goods and plants at this store is a true pleasure.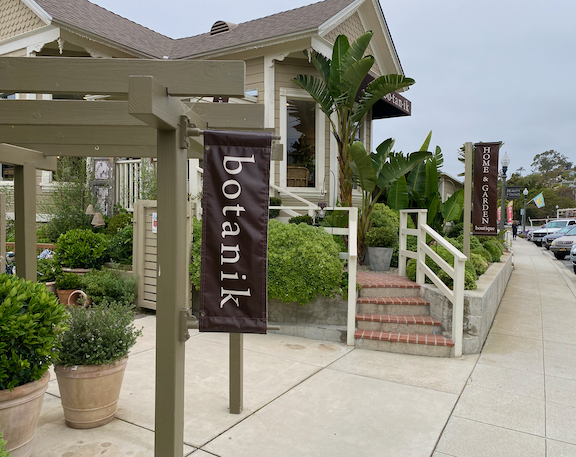 Botanik Summerland
Porch
Once you enter this store you might not want to leave again. It truly feels like walking into someone's gorgeous home where everything in it is beautiful and for sale. Genius!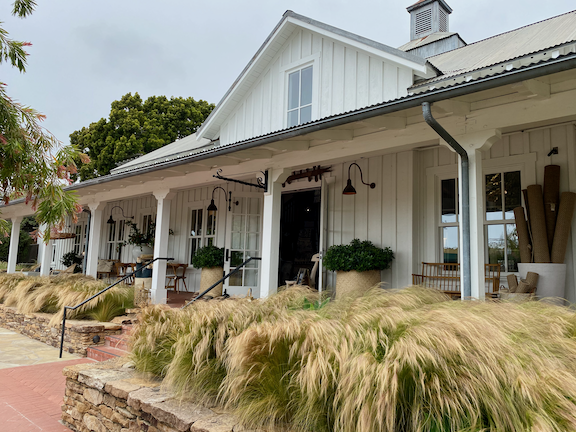 Porch Summerland on Lillie Avenue
---
• Gift Shopping
♠♠♠♠♠
This wonderful new addition to Goleta's shopping scene features natural accessories and products that will nurture your senses at first entry.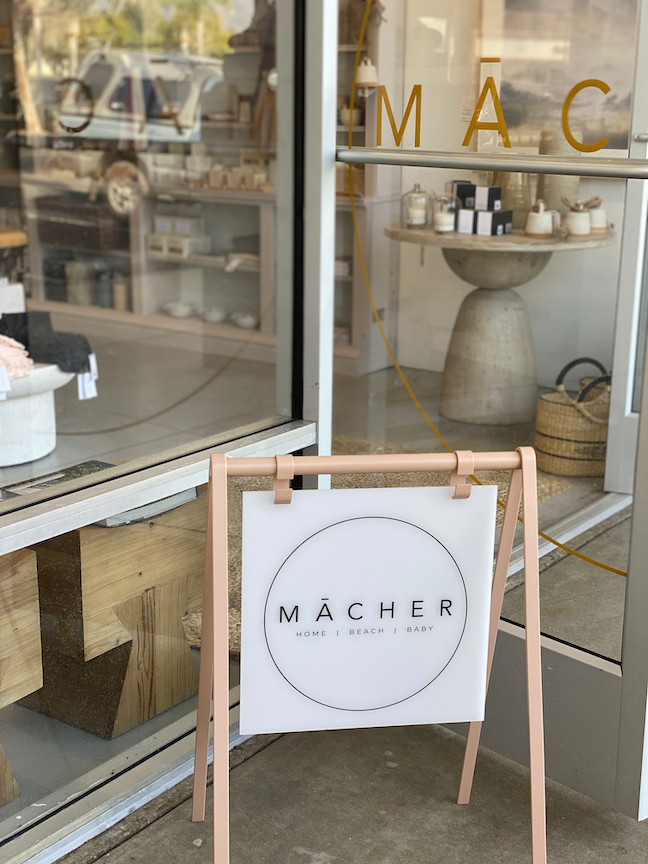 Macher Store in Goleta
Passionately handcrafted unique leather goods that look and feel amazing (by appointment).
This colorful store with beach towels, wraps, and other fun accessories will put a big smile on your face. I can never just walk by!

The Riviera Towel Company
This eclectic store with all sorts of items from beauty and hair products to shawls, toys, candles, jewelry, and more is such an endearing neighborhood staple.
This is a jewel box of a store on Coast Village Road in Montecito with mainly children's gifts and toys benefitting the Teddy Bear Cancer, Storyteller Children's Center, Girls Inc., and the Youth Sailing Foundation.
This modern craft distillery in the Funk Zone offers a wide range of uniquely designed liquors. Check out their tasting room, cocktail recipes, and events.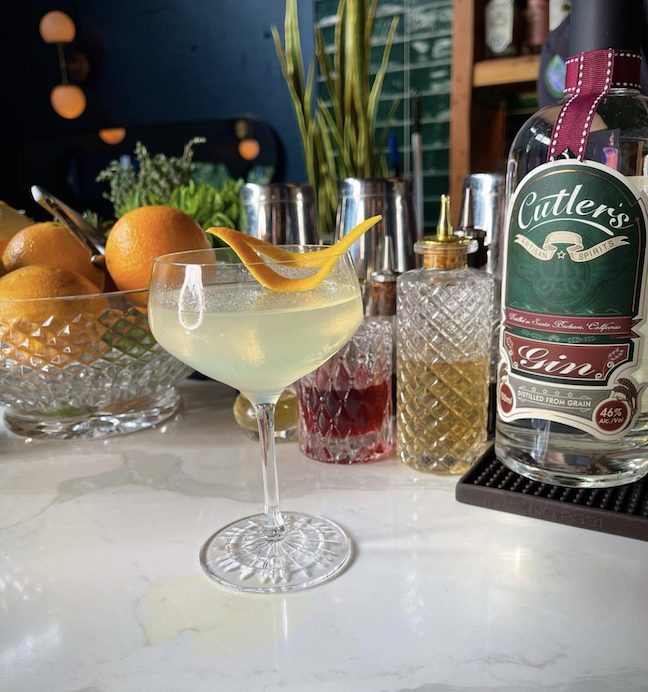 Courtesy of Instagram / Cutler's Artisan Spirits
This local business will assemble the most original, tasty, and delicious gourmet items from around the area. They deliver locally and even ship nationwide if you would like a little Santa Barbara taste from afar.
---
• Souvenir Shopping
♥♥♥♥♥
This is one of the best places to find the perfect Santa Barbara souvenir, postcard, trinket, hat, or shirt. With several souvenir shops, you will be sure to find something that will preserve your memories of an unforgettable Santa Barbara trip.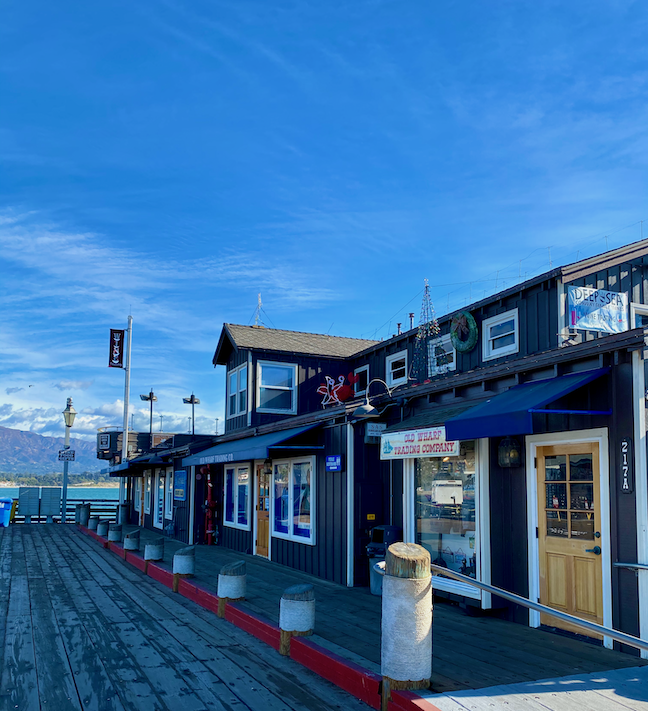 Stearns Wharf Shopping
State Street Visitor Center
This Visitor Center at 120 State Street surprises you with a variety of cute, practical, or artful Santa Barbara-themed items. You can also pick up some great maps and get help with your Santa Barbara-related questions during your stay.
This store has the most beautiful Santa Barbara art scene-inspired collection of gifts. There is something for everyone - it would be hard to leave this place empty-handed.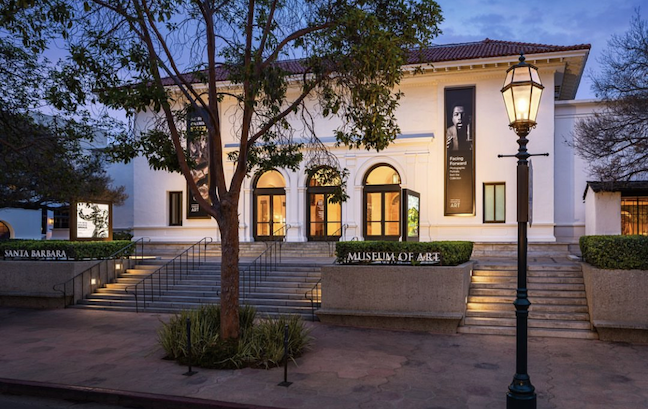 Courtesy of Instagram / Santa Barbara Museum of Art
All the Santa Barbara museum stores offer quality gift products. I especially love all the children's gift items at this museum. They are creative, educational, and Santa Barbara-related. Such a great takeaway for the kids or grandkids from your Santa Barbara vacation. As a local, I appreciate this store and have bought many items for my children here.
This store in the heart of the Funk Zone is so Santa Barbara. The home goods, jewelry, and beauty products at this venue embody the Santa Barbara lifestyle in the perfect casual-beachy way.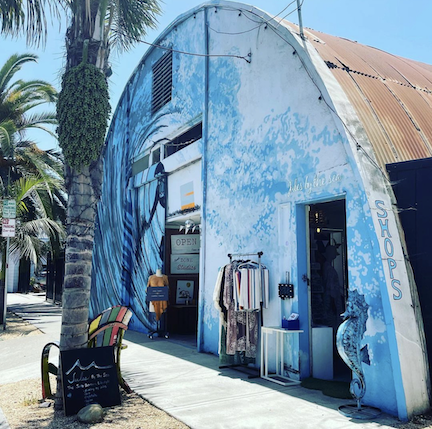 Courtesy of Instagram / Jules by the Sea
Santa Barbara Arts & Crafts Show
Every Sunday local artists and artisans display and sell their work along Cabrillo Boulevard. Enjoy a stroll along the palm tree-lined waterfront while you browse through handmade Santa Barbara keepsakes and souvenirs. Paintings, sculptures, photography, pottery and more can be purchased here.
---
• Gourmet & Specialty Food Shopping
οοοοο
This delightful store offers all the domestic and imported cheeses you love. Get your beautifully arranged party platters here.
Find all your favorite Italian gourmet breakfast and charcuterie goodies at this adorable little spot next to the equally tasty Olio e Limone restaurant.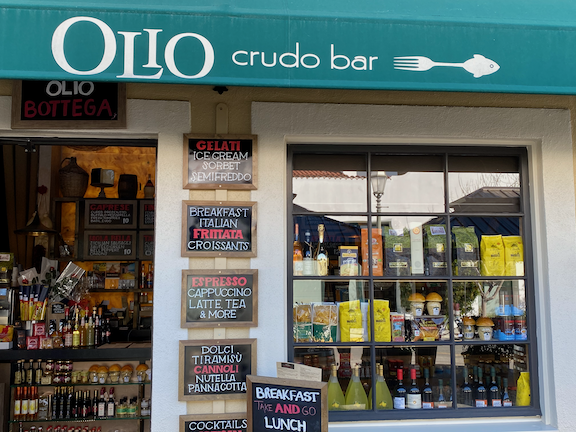 Olio Bottega
Enjoy this quality and artisanal snack in many different flavors made in Santa Barbara, California.
Not your everyday donut! These treats are made from scratch with organic ingredients and will satisfy your tastebuds and eyes for sure.
Hook & Press Donuts
This delicious deli is a popular spot in the Funk Zone and will make any foodie happy for lunch, specialty food shopping, or catering.
This quaint, sustainable seafood company serves and sells the best quality seafood. You can buy fresh local fish and seafood here, or enjoy the perfect Poke Bowl or fish tacos on their patio.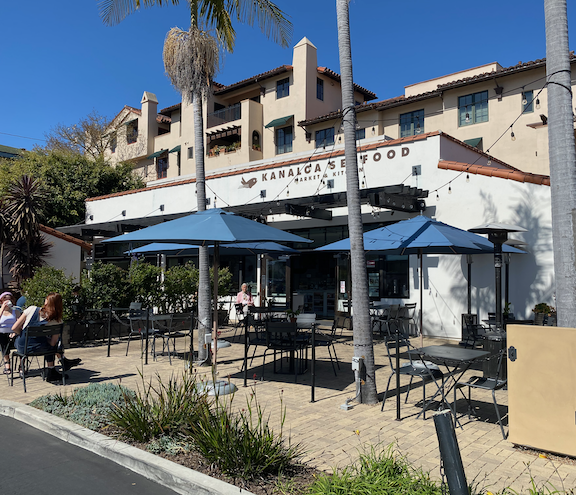 Kanaloa Seafood Market
This stylish and intimate store offers handcrafted artisan chocolates with subtle and delicate flavors created from high quality cocoa beans sourced from around the world. Upon entry you will be mesmerized with the scent of rich chocolate.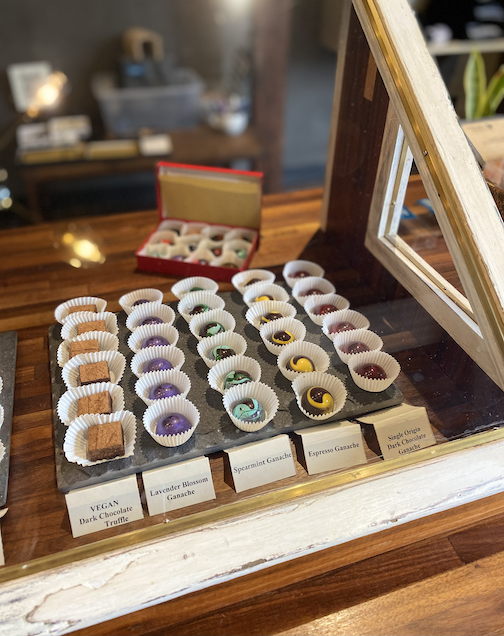 Twentyfour Blackbirds Chocolate
---
ARE YOU SHOPPING FOR A NEW HOME?
I PUT AS MUCH CARE INTO FINDING THE PERFECT HOME FOR YOU AS I DID CURATE THIS LIST OF INTERESTING STORES. REGISTER ON MY WEBSITE TO RECEIVE HOME ALERTS NOW!
---