Santa Barbara vs Santa Monica
Posted by Katinka Goertz on Tuesday, March 21, 2023 at 11:00 AM
By Katinka Goertz / March 21, 2023
Comment
Santa Barbara vs Santa Monica
Best Places To Live In California
• A Side-by-Side Comparison •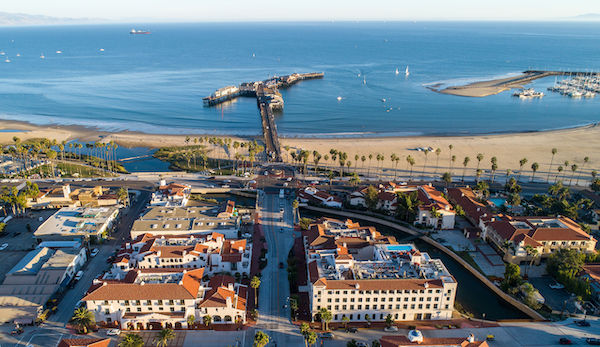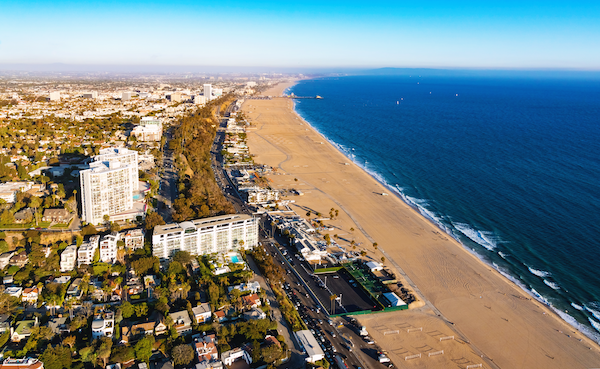 Are you looking for a comparison between two of Southern California's most alluring, enchanting, and captivating destinations? Santa Barbara and Santa Monica! These two of California's favorite cities are oozing with breathtaking views, endless activities, and enviable weather. But the question remains, which one should you call home? Fear not, we will delve into the pros and cons of each city, so you can make a more informed decision that suits your unique lifestyle and needs.
Living in Santa Barbara
• The Pros •

Beautiful scenery
Santa Barbara is home to some of the most breathtaking natural scenery in California. From the extraordinary coastline to the mountain backdrop and rolling hills and vineyards of the Santa Ynez Valley, there's no shortage of beauty here. The Spanish architecture complements the surrounding environment and elevates Santa Barbara's most charming and attractive appearance, which is why it is commonly referred to as the "American Riviera". If an overall beautiful, quaint place to live is high on your wishlist, Santa Barbara won't disappoint.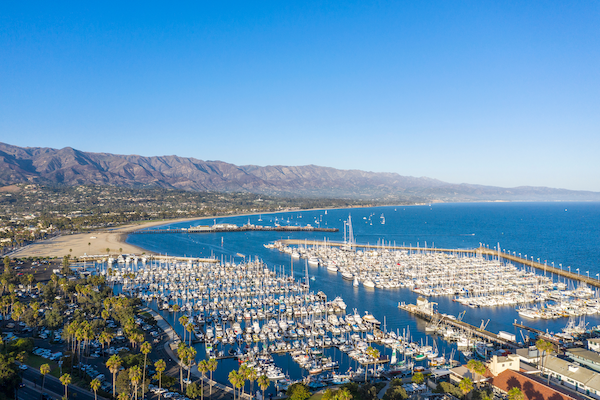 View of the Santa Barbara Harbor
Great weather
With an average temperature of 70 degrees year-round, Santa Barbara is the perfect place for those who love the outdoors. You can spend your days hiking, biking, or just relaxing on the beach without worrying about the weather for the most part. It hardly ever gets too hot and temperatures drop at night - so you won't have to turn on the air conditioning much.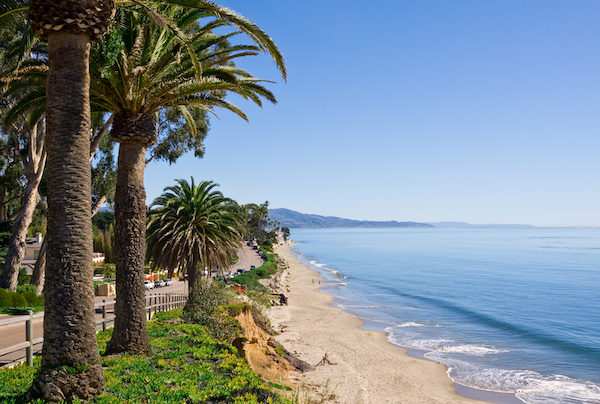 Butterfly Beach in Montecito
Active lifestyle
Santa Barbara is a city that naturally promotes being on the move. There are endless opportunities for outdoor activities, from surfing to mountain biking and rock climbing to playing beach volleyball - the list goes on and on. Golf and tennis are other popular activities, with several highly rated golf and tennis clubs in town. Paired with the weather you will be able to take advantage of all the activities year-long - one of the amazing perks of living here.

Lots of hiking opportunities with stunning views
• The Cons •
High cost of living
Santa Barbara is one of the most expensive places to live - not only in California but the whole country. With high housing prices, expensive restaurants, and costly entertainment options, planning, budgeting, and studying the market are advised.
→Learn more about market statistics HERE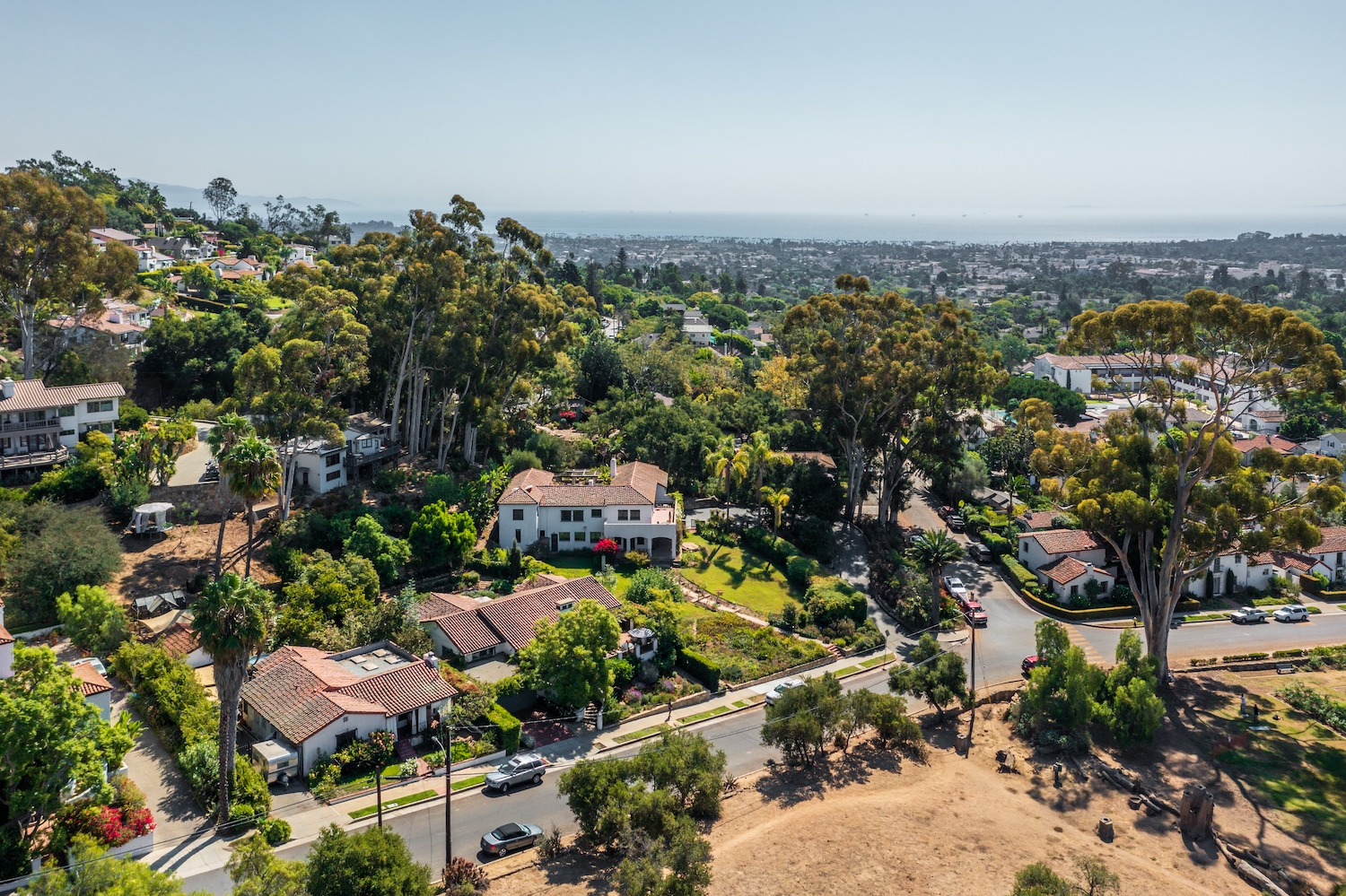 Homes near the Santa Barbara Mission, Upper East Neighborhood
Limited job opportunities
While Santa Barbara has a thriving tourism industry, job opportunities in other fields can be limited, due to the city's smaller size. Goleta and Carpinteria are home to a few larger manufacturing and tech companies, like Sonos, Citrix, Deckers Brands, AppFolio, LinkedIn Learning, and Procore Technologies. UCSB and Cottage Health are some of the larger employers in town as well.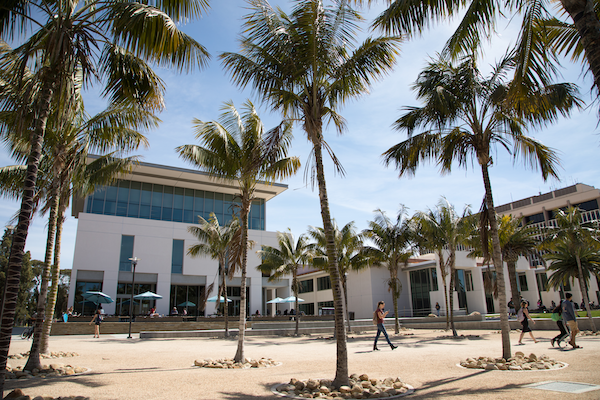 UCSB Campus
Tourist crowds
Santa Barbara is a popular tourist destination, which means that the beaches and restaurants can get busy during peak season. Especially when smaller cruise ships anchor off the coast and transport passengers to the Santa Barbara harbor via small boats. Typically, Santa Barbara may see a few cruise ships per year, but this can vary. Lots of visitors like to come here for a weekend getaway and often enjoy it so much, they make it more permanent with a second home.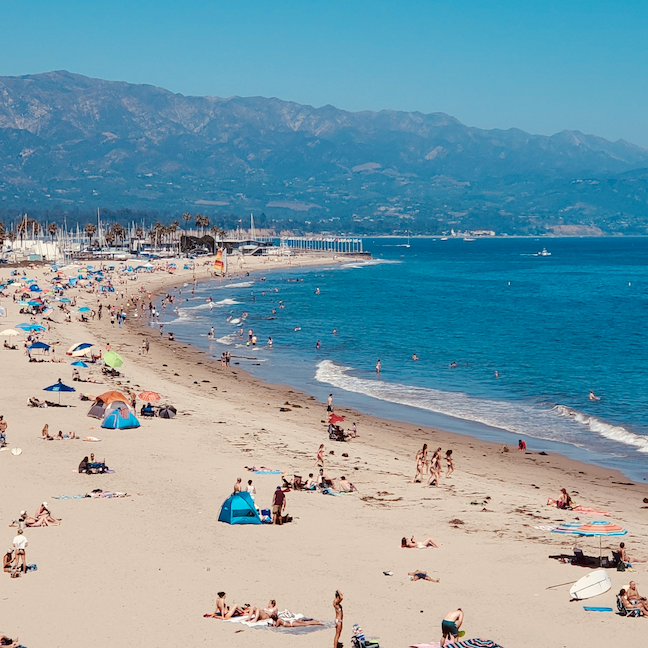 Summertime at Leadbetter Beach, Santa Barbara
---
Living in Santa Monica
• The Pros •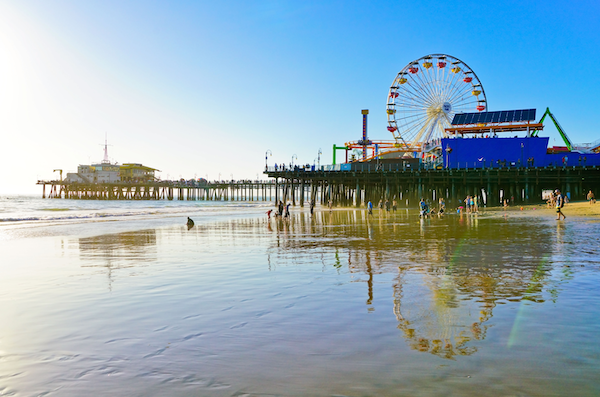 The Santa Monica Pier
Beach lifestyle
Embracing a coastal lifestyle, Santa Monica presents endless stretches of sandy beach and an inviting, laid-back atmosphere. Water enthusiasts can indulge in a myriad of activities such as surfing, paddle boarding, swimming, beach volleyball, and sunbathing. The city's picturesque bike trail and footpath, meandering along the shoreline, offer a scenic route for a leisurely walk, jog or bike ride. A must-visit attraction for both visitors and residents is the Santa Monica Pier, steeped in history, featuring an amusement park, an aquarium, and an array of street performers adding to the vibrant ambiance.
Great weather
Get ready to soak up the sun because Santa Monica - just like Santa Barbara - is a place where the weather is always on your side! With year-round sunshine and comfortable temperatures, this vibrant coastal city is a paradise for all you outdoor enthusiasts out there.Santa Monica takes health and fitness to the next level, offering a vast selection of fitness studios, yoga classes, and delectable healthy dining options that are sure to satisfy your cravings. But that's not all - Santa Monica is also home to the legendary Muscle Beach outdoor gym, where fitness buffs and bodybuilders alike have been excercising for decades. So whether you're a seasoned athlete or a fitness newbie, you'll find something to love in this sun-kissed city.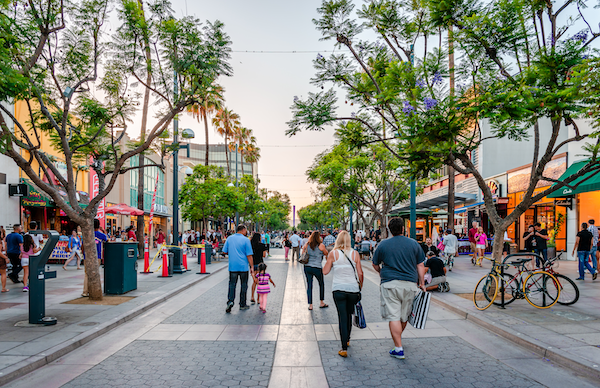 Santa Monica Third Street Promenade shopping
Vibrant culture
Santa Monica is a leader in sustainability, with a focus on reducing waste, conserving water, and promoting alternative modes of transportation. The city has a robust bike-sharing program, and many residents choose to walk or bike to work and other destinations. Santa Monica is home to a diverse range of restaurants, shops, and cultural events, making it an exciting place to live. It is like living in a smaller city within the big city of Los Angeles. L.A. offers all the amenities of a metropolitan environment with no lack of anything a cosmopolitan lifestyle calls for.
• The Cons •
High cost of living
Santa Monica is one of the priciest places to call home in California, with high housing prices and a cost of living that's above the norm. According to Best Places, the cost of housing in Santa Monica is about 24% more expensive than in Santa Barbara - be ready and prepared if you're looking to put down roots in this swanky seaside paradise!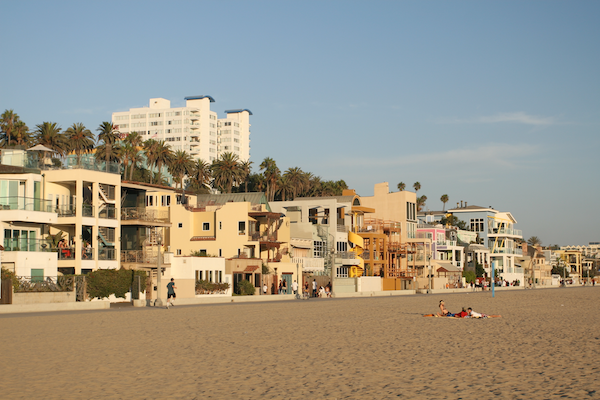 Homes along the Santa Monica Boardwalk
Traffic
The 405 freeway runs right through Santa Monica, which means that traffic can be a nightmare during peak hours. One of the biggest complaints of folks moving from Los Angles typically is the traffic. The negative effects of traffic congestion on people in LA are numerous, ranging from physical health problems to increased stress and decreased quality of life. Not to forget the additional cost of fuel.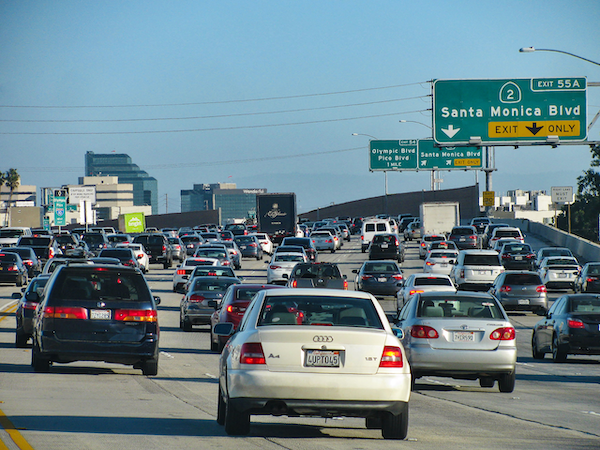 Los Angeles Traffic
Crowds
Santa Monica is a popular tourist destination, which means that the beaches and boardwalk can get crowded during peak season. Santa Monica is a highly populated city, with a population density of around 11,000 people per square mile. In contrast, Santa Barbara has a much lower population density of around 3,300 people per square mile. This means that Santa Monica has more people living in a smaller area than Santa Barbara, which results in more dense housing options such as high-rise apartments and townhomes.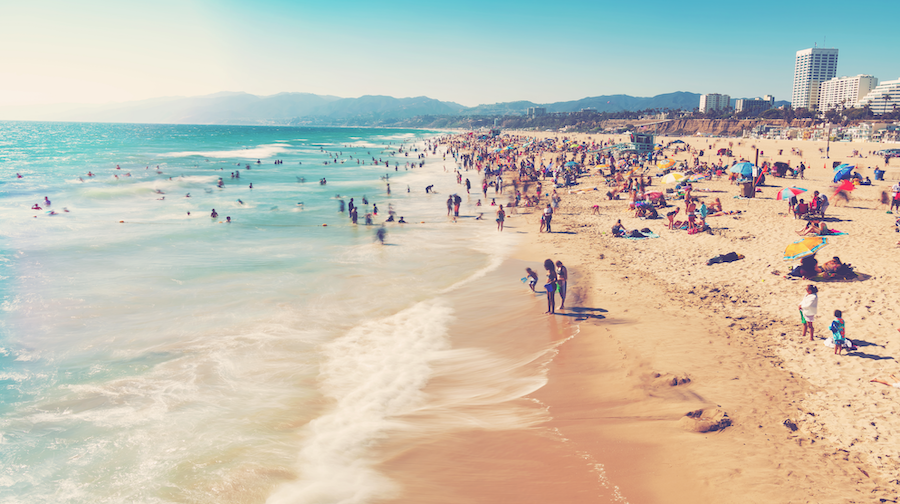 Summertime Crowds at the Beach
Homeless Population
Santa Monica has an increased homeless population - especially since Covid. This can also be said about Santa Barbara and California in general. However, Santa Monica has a larger homeless population and a higher rate of homelessness than Santa Barbara. According to KTLA, Santa Monica has an estimated 807 homeless individuals out of a population of 91,000. Santa Barbara County had 1,962 in 2022, according to the Santa Barbara County Homeless Point-in-Time Count & Survey. When you take into account the population size of each city, Santa Monica's homelessness rate is higher. In previous years, Santa Monica had a homelessness rate of 1,029 per 100,000 residents, while Santa Barbara's rate was 725 per 100,000 residents.
Conclusion
"So, which city is better: Santa Barbara or Santa Monica?"
For those who crave a laid-back, slower pace, and prefer spending their days communing with nature, Santa Barbara might be just the ticket. With its serene beach town atmosphere and breathtaking natural scenery, Santa Barbara offers a more relaxed pace of life. The low population density and lack of heavy traffic make it perfect to unwind and enjoy a more peaceful lifestyle. The city is a good match for those who love easy living and the great outdoors.
But if you're craving an energetic and diverse atmosphere, Santa Monica might be the siren call you've been waiting for. Santa Monica offers a thrilling beach lifestyle that's paired with a never-ending supply of entertainment, nightlife, and career prospects. This city is a hive of activity and creativity, drawing people from all walks of life to its vibrant social scene and bustling job market.
So, whether you're seeking a relaxed or a more fast-paced lifestyle, the choice between Santa Barbara and Santa Monica ultimately comes down to your personal preference. Both cities possess their unique charm and qualities that make them among the top choices to live in California - you can't go wrong with either one!
Other articles you might like:
Search for Homes in Santa Barbara

HERE