Santa Barbara - 5 Top Neighborhoods
Posted by Katinka Goertz on Thursday, February 17, 2022 at 6:51 PM
By Katinka Goertz / February 17, 2022
Comment
5 Top Neighborhoods in Santa Barbara
What are the best neighborhoods to consider when moving to Santa Barbara, CA?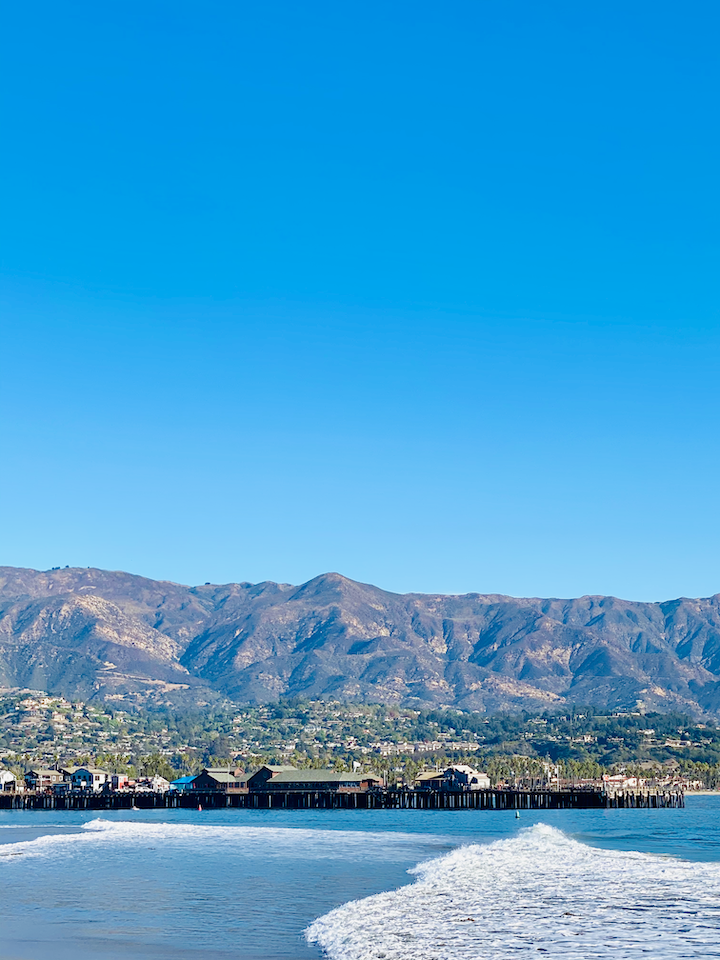 "Where should I live in Santa Barbara?"
Of course, this is a subjective question and you will hear lots of different opinions. But from my experience working with many home buyers, here are my 5 top choices people are frequently interested in. These neighborhoods offer different qualities, advantages as well as disadvantages. So if you are just beginning your search, this is a good starting point for you.
Save this article, if you are looking to relocate to Santa Barbara. You will find many useful links for schools, parks, shopping, attractions, etc. I also added a video at the end, if you rather like to watch it.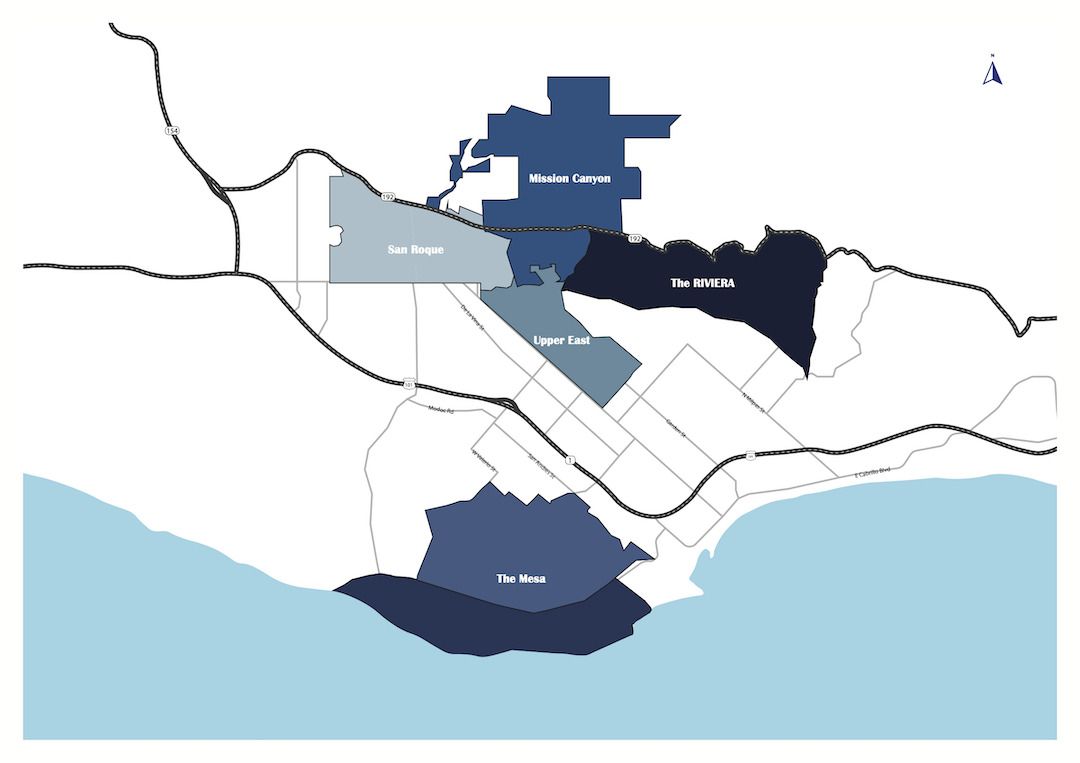 The Mesa
San Roque
Upper East
Riviera
Mission Canyon
---
The Mesa - Zip Code 93109
The Mesa is one of the most popular neighborhoods in Santa Barbara.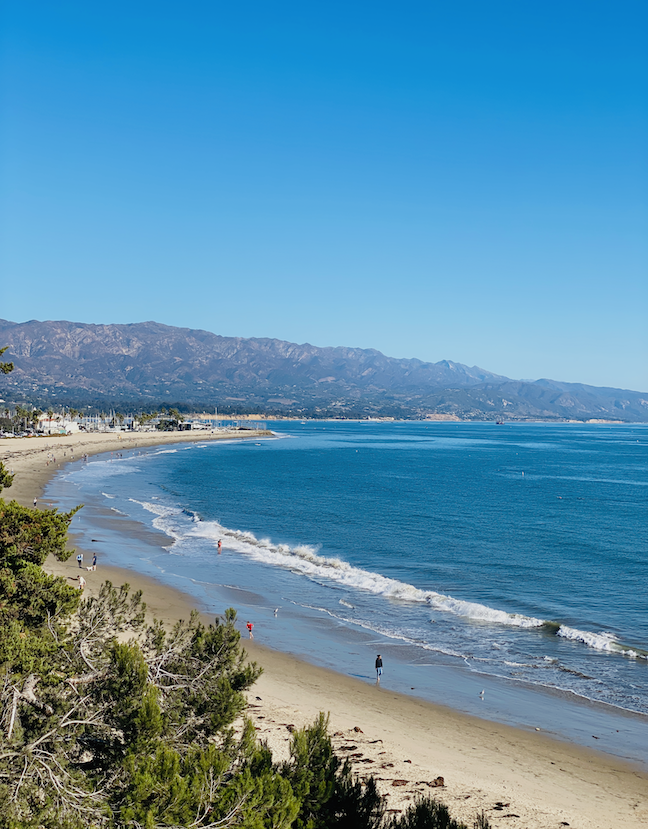 The Mesa stretches out from Santa Barbara City College on the East and extends up to Douglas Family Preserve and Hendry's Beach, one of the beloved beaches in town. This neighborhood can be divided into East Mesa, West Mesa, and Alta Mesa. I am going to refer to The Mesa as a whole here.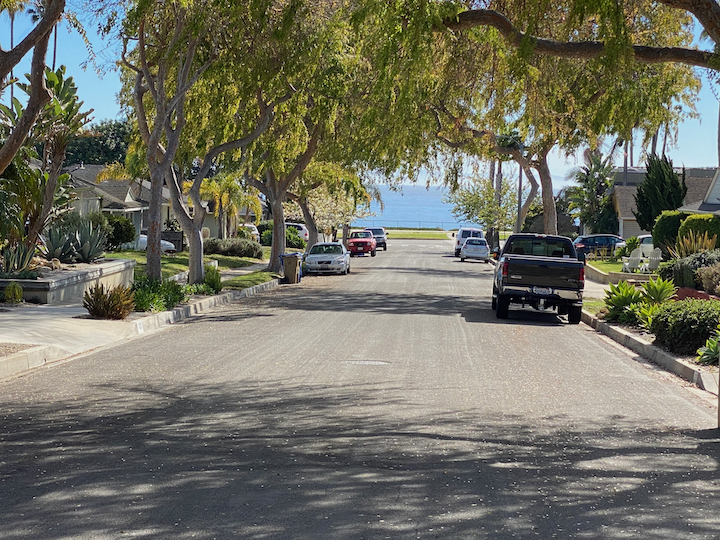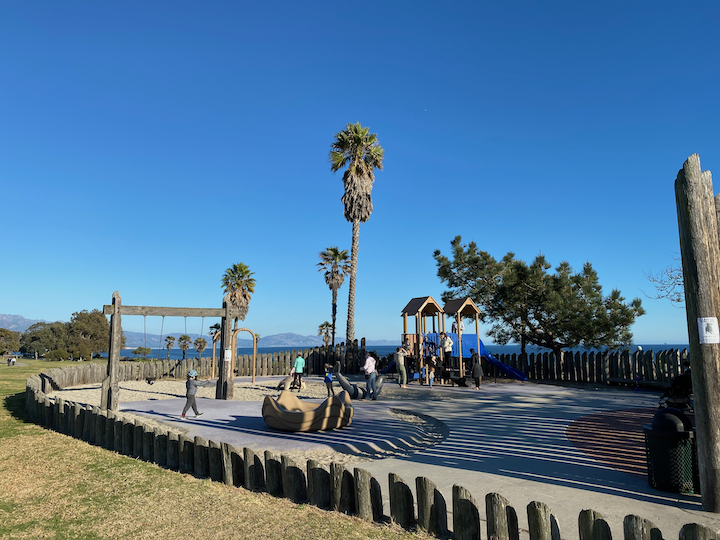 Mesa Street View and Shorline Park Playground
Most residents enjoy The Mesa predominantely for its proximity to the water and the casual, beachy neighborhood atmosphere. Families especially appreciate the great playgrounds and parks, walkability, and the overall sense of community. Both La Mesa Park and Shoreline Park are very popular. In fact, Shoreline Park is considered to be one of the best parks in Santa Barbara with its wide-open grassy areas, the toddler-friendly playground, many picnic benches, and incredible views of the ocean.There is also Elings Park - one of the largest parks - with several hiking and biking trails, sports fields, playgrounds, paragliding, and stunning panoramic views. Sometimes you can even find lamas, goats, and sheep at the top of the park.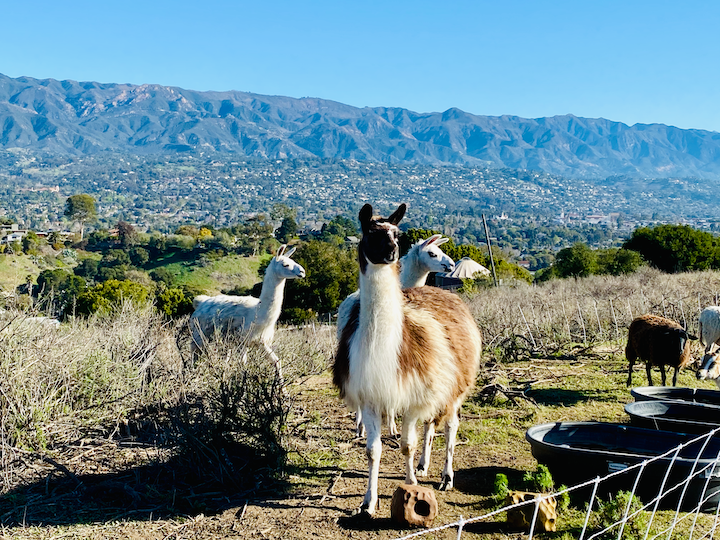 View from the top of Elings Park
Mesa Schools
The public schools have a good reputation in town. Some options include:
Tip: Check general school ratings for more information.
Mesa Shopping
At the Meigs Road and Cliff Drive intersection, you'll find all the shopping you need for your Mesa lifestyle. Options include:
Lazy Acres - one of Santa Barbara's best sources for natural, organic foods and fresh produce.
Mesa Produce - Like a mini Farmer's Market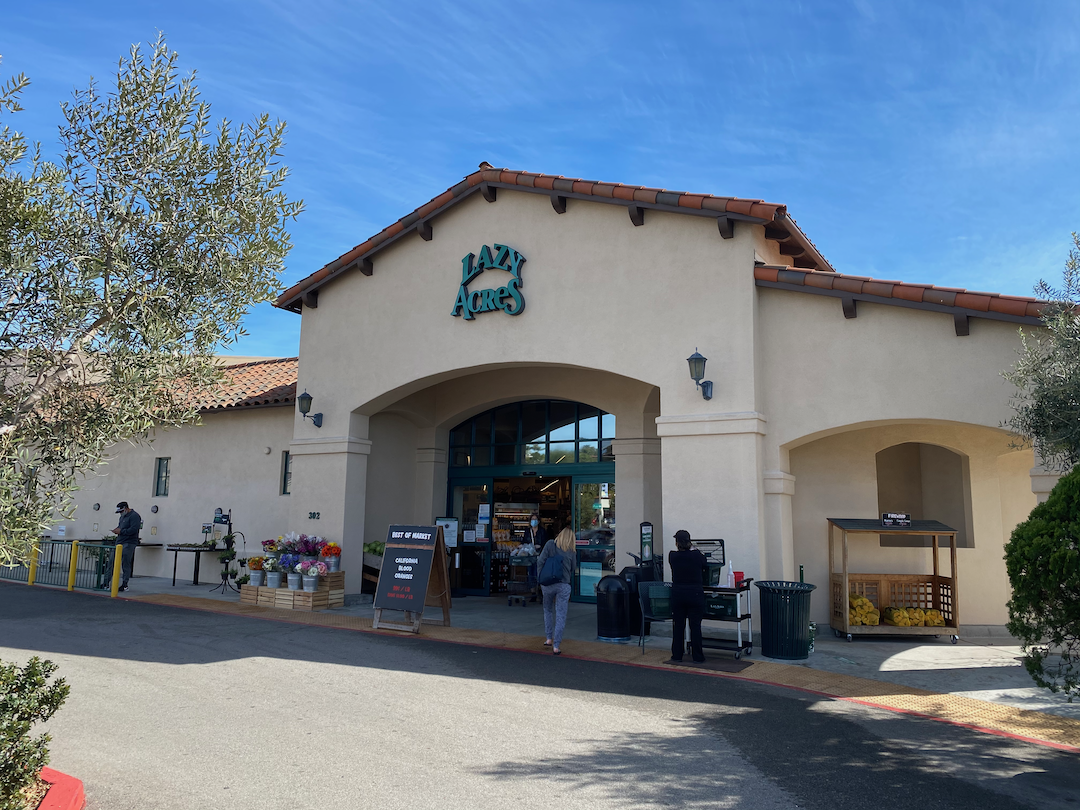 Lazy Acres at Meigs Road
Popular Mesa Restaurants include:
You can also find Vons, CVS, Rite Aid, several other restaurants, hair salons, fresh smoothies and juices, coffee shops, etc. to complete your shopping experience.
Note: Climate
If you are weather-sensitive, you should know that this area can get quite a bit of fog, especially during certain times of the year. The marine layer might keep the sun from coming through for the earlier parts of the day. Usually, the haze burns off around mid-day / early afternoon. On the plus side, the weather is cooler here during the summer and mild during winter.
Mesa Homes
Homes in this charming, coastal neighborhood are extremely desirable due to all the above-mentioned factors. You'll find all sorts of styles from beachy California cottages, Craftsman, Ranch to Classic Mediterranean.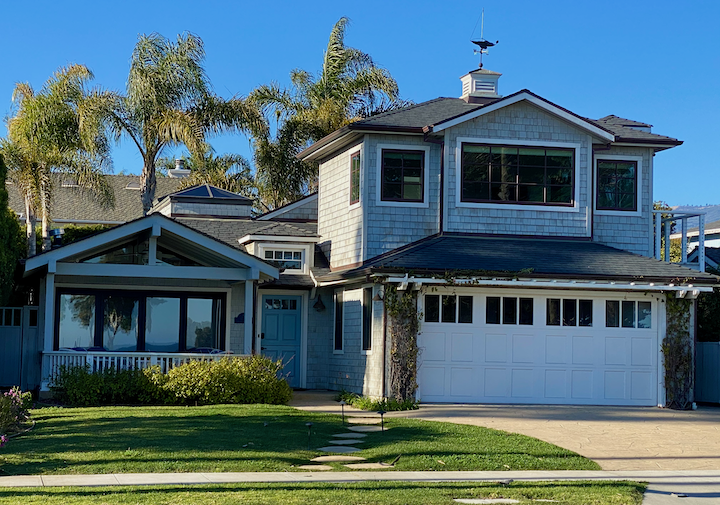 Beach Home on the Mesa
---
San Roque - Zip Code 93105
Situated Northwest and roughly alongside Upper State Street, San Roque is another one of Santa Barbara's popular neighborhoods. This residential area, where many families have chosen to raise their children, is known for its parks, schools, and unique architecture.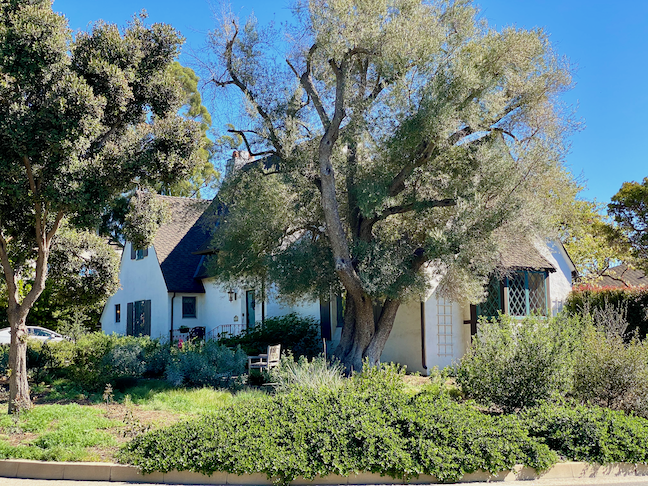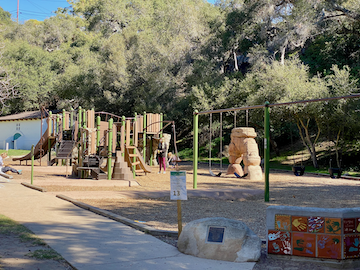 Home in San Roque and playground at Steven's Park
Some of Santa Barbara's most popular parks, like Steven's and Willow Glen, are regularly visited spots by families, as well as dog and nature lovers.
Steven's Park - This park offers a playground, restroom, open field and hiking trails. There is a creek that runs through it - providing endless, natural entertainment for children.
Willow Glen Park - This park is another favorite for San Roque residents. Lots of open space invites for ball games. There is a lovely playground and little looping trails - great for that first-time scooter or skating practice.
San Roque Shopping
With some main shopping centers and several smaller strip malls, San Roque residents find everything they need along Upper State Street. There are several nice restaurants, beauty parlors, bakeries, coffee shops, and banking facilities. Some of the popular options are: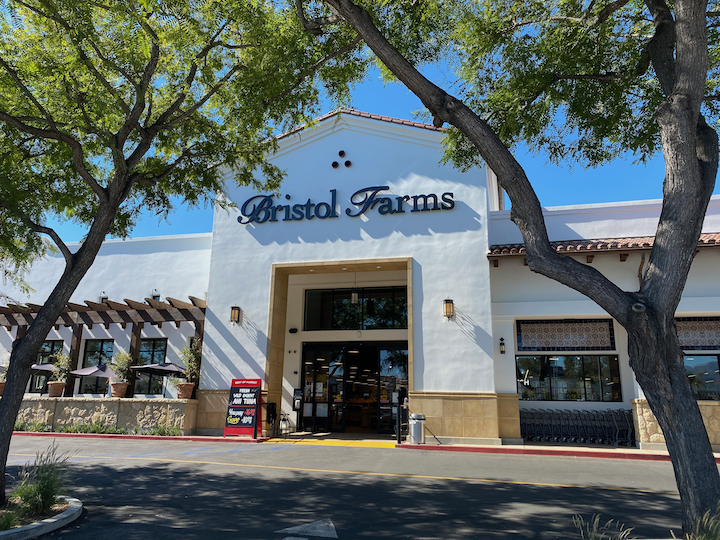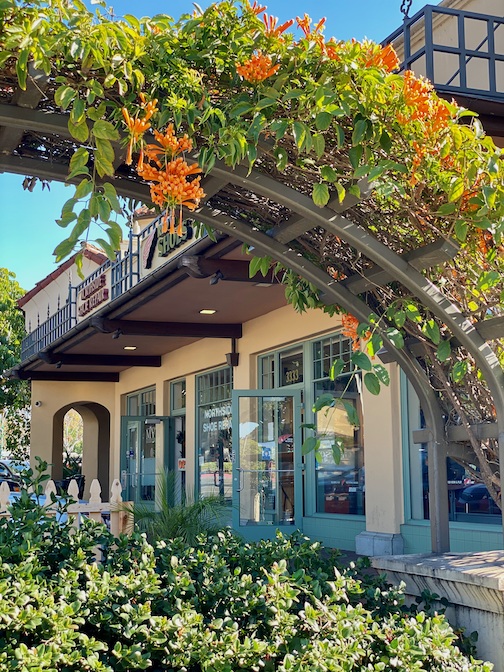 A few Restaurant options include:
San Roque Schools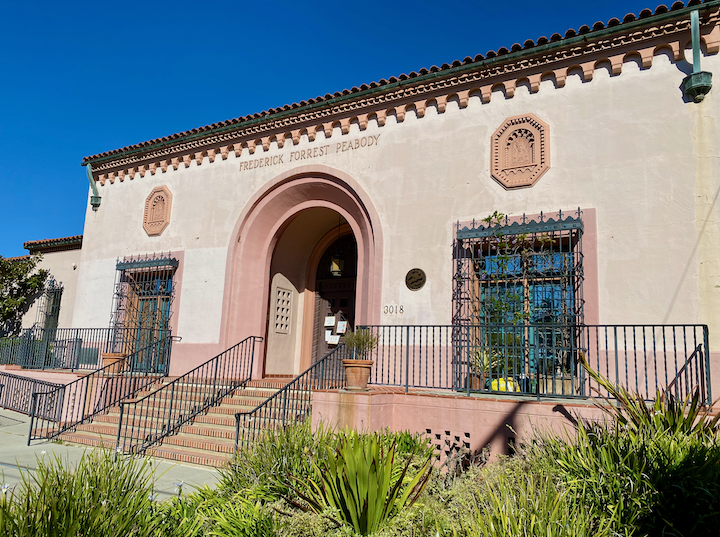 Peabody Charter School
There are numerous reputable schools in this neighborhood. For general school information check this link. Some of the options nearby include:
San Roque Homes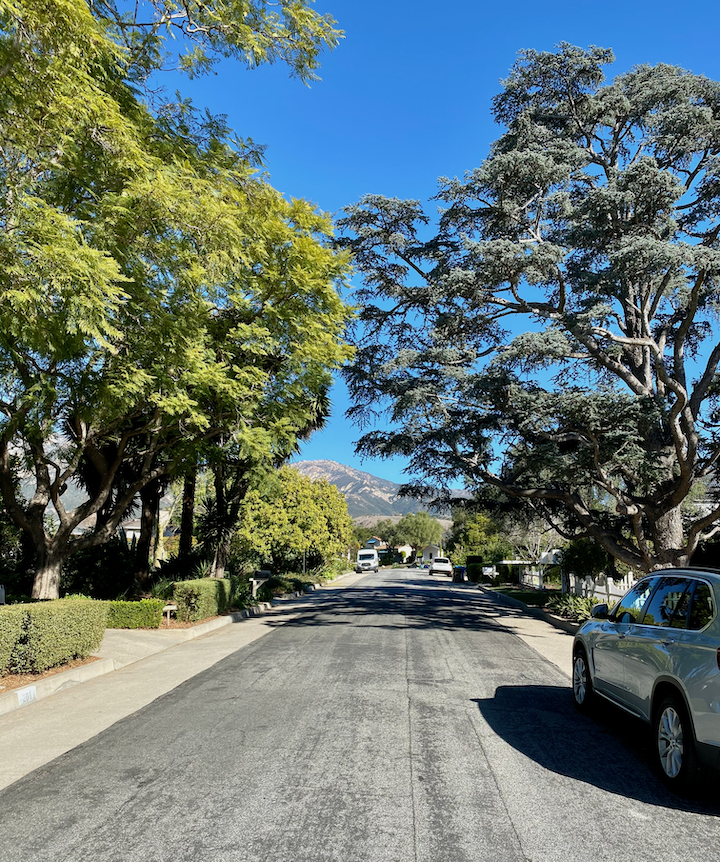 You can feel the love and commitment that San Roque residents have for their community. The heart of the neighborhood displays beautifully tree-lined and shaded streets - perfect for this slightly warmer, inland temperature. The architecture in this area is unique and diverse with Spanish Colonial, English Tudor, and French Normandy styles, to mention just a few. This part of town is especially popular during Halloween for trick-or-treating and also Christmas decoration watching.
---
Upper East - Zip Code 93105 & 93101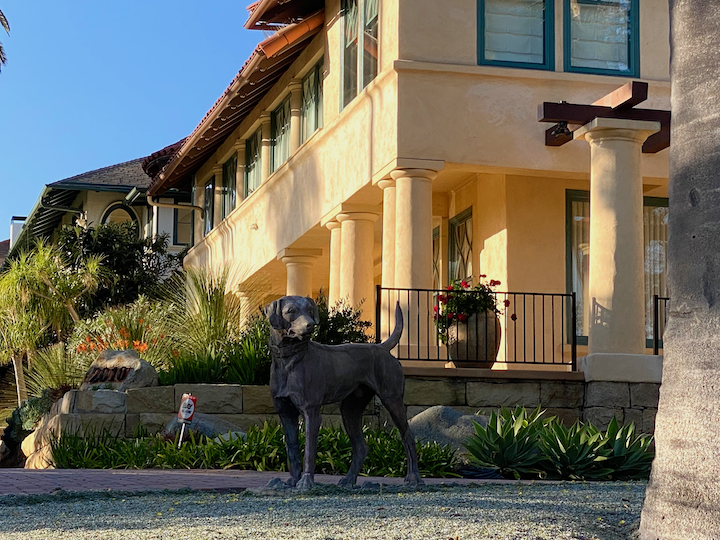 Iconic Upper East dog statue
The Upper East is a traditional and classic neighborhood in Santa Barbara with very elegant and historic homes. Oftentimes properties here feature larger lot sizes and more prominent yards with tall hedges for privacy. The neighborhood borders the Santa Barbara Mission on one side and runs down to Alice Keck Park. Undoubtedly, these are two of the highlights in this area.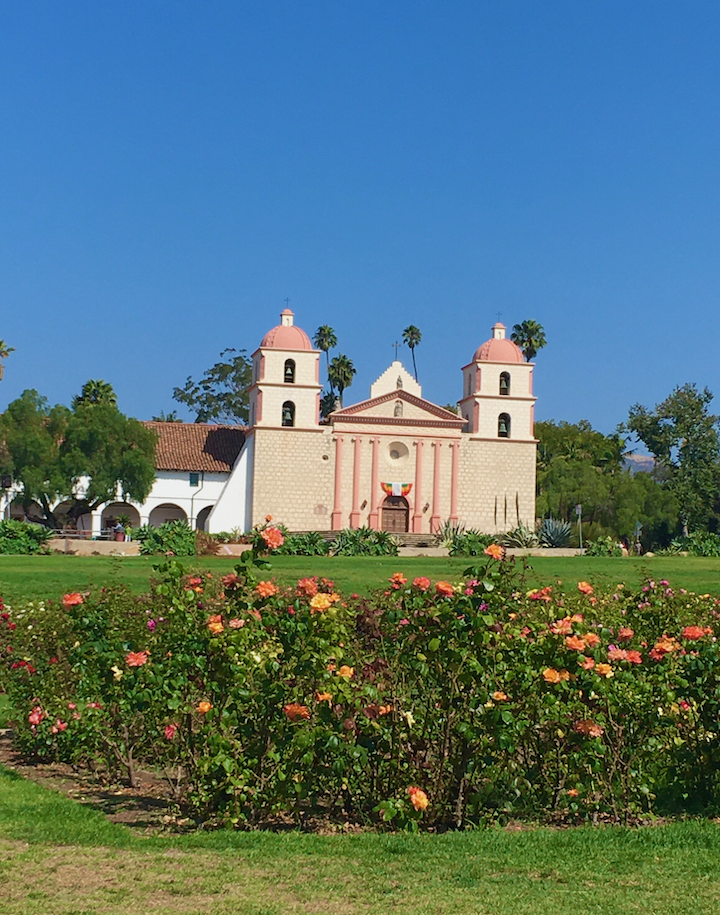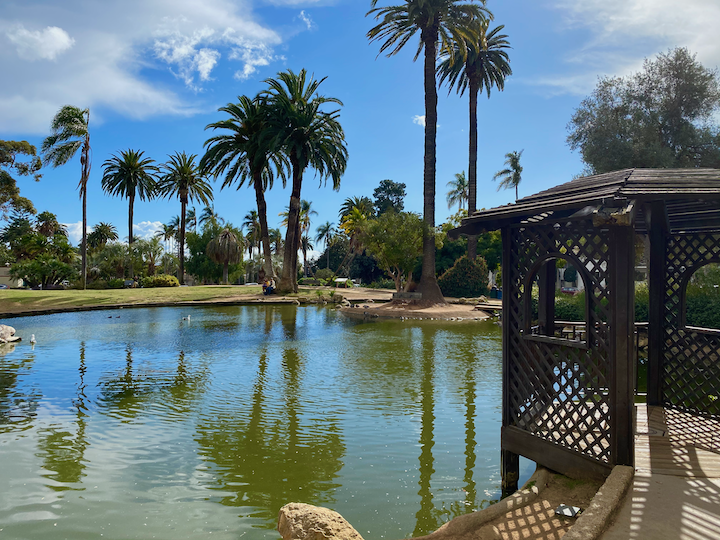 The Santa Barbara Mission and duck pond at Alice Keck Park
The beautiful Mission sits center stage amidst this gorgeous neighborhood. With the Rose Garden, wide-open lawn space, and the beautiful mountain backdrop, the Mission is one of the top locations to visit - equally for tourists as well as locals. This is a popular and wonderful spot to come for a picnic, enjoy the beautiful view, and spend time with family and friends.
Both Alice Keck Park and Alameda Park (also known as Kid's World) are located at the lower end of the Upper East. These parks with a fun playground, unique trees and plants, and a beautiful duck pond are an oasis right in the heart of the city. This neighborhood is very walkable too. You can walk, or easily bike to downtown from here.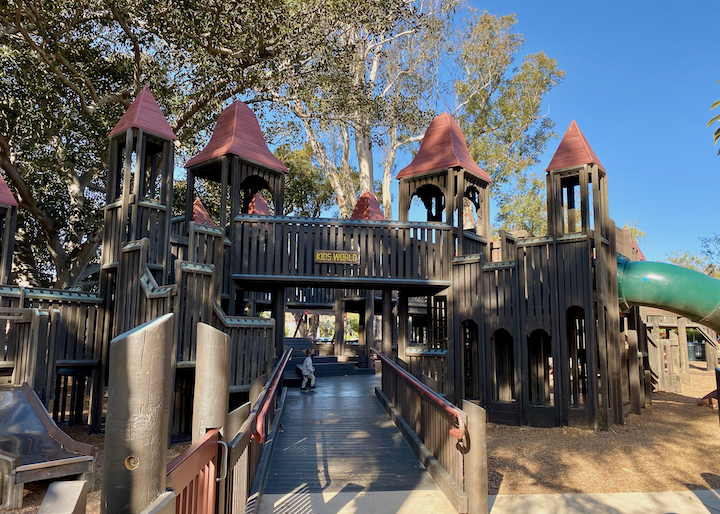 Kid's World Playground
Upper East Shopping & Dining
Shopping can be enjoyed in several directions with nearby options on Upper State Street, the De La Vina Street corridor, and Downtown.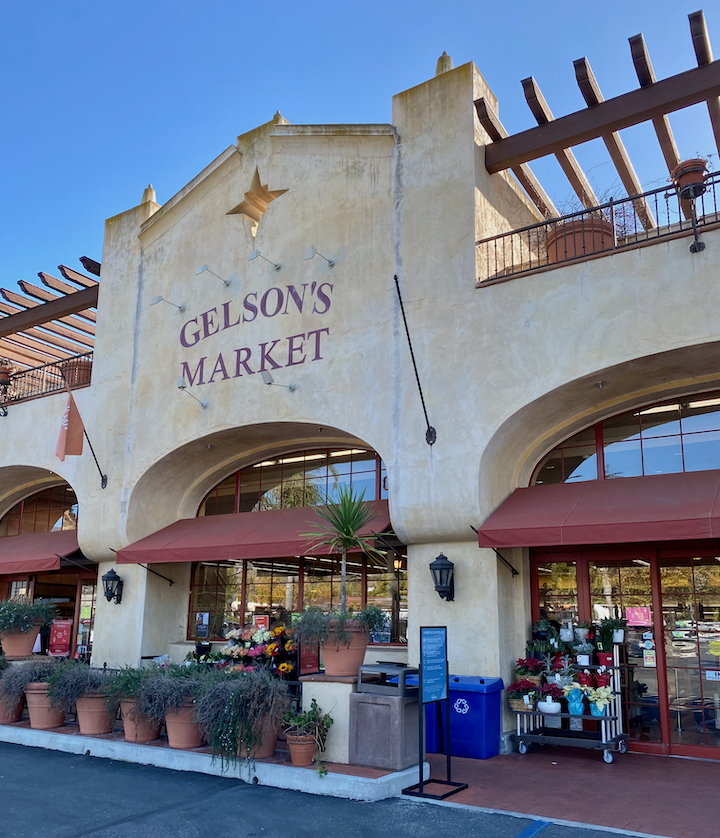 Popular nearby shops and restaurants include:
Groceries:
Restaurants:
Upper East Schools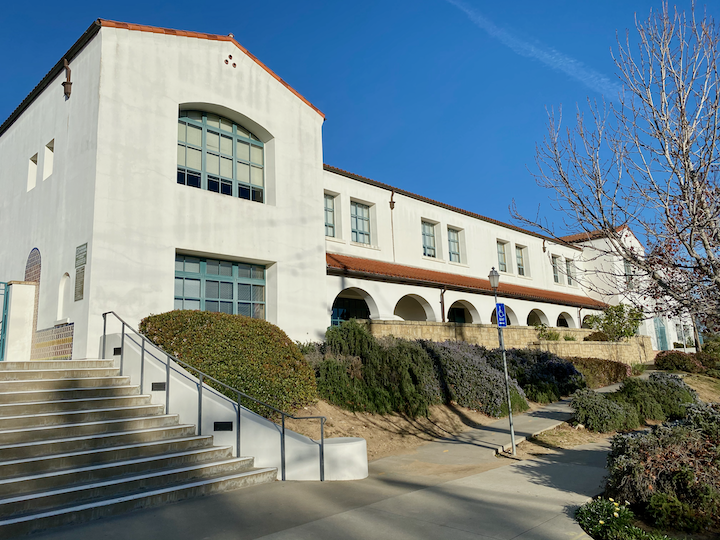 Schools nearby include:
Upper East Homes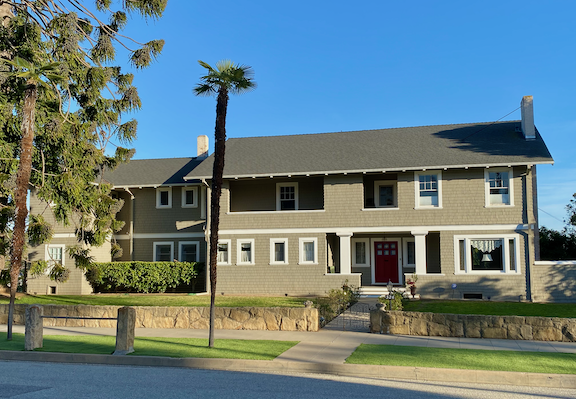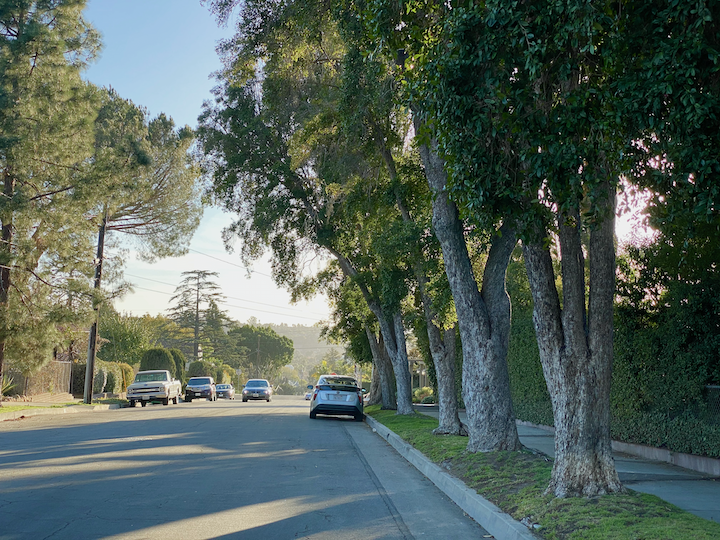 Home on the Upper East and treelined street view
Homes in this neighborhood are generally within the higher price points. You will find larger and elegant homes with interesting architectural styles and historic background. But also some charming California cottages, Victorian homes, multi-family buildings, as well as townhouses.
---
The Riviera - Zip Code 93103
Named for its close resemblance to the Mediterranean coasts of France and Italy, the Santa Barbara Riviera has a truly European feel to it.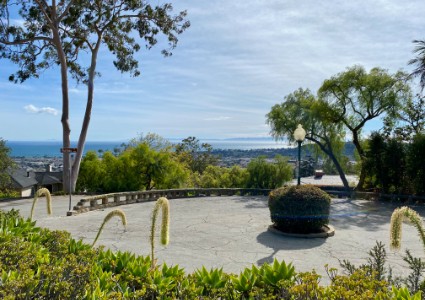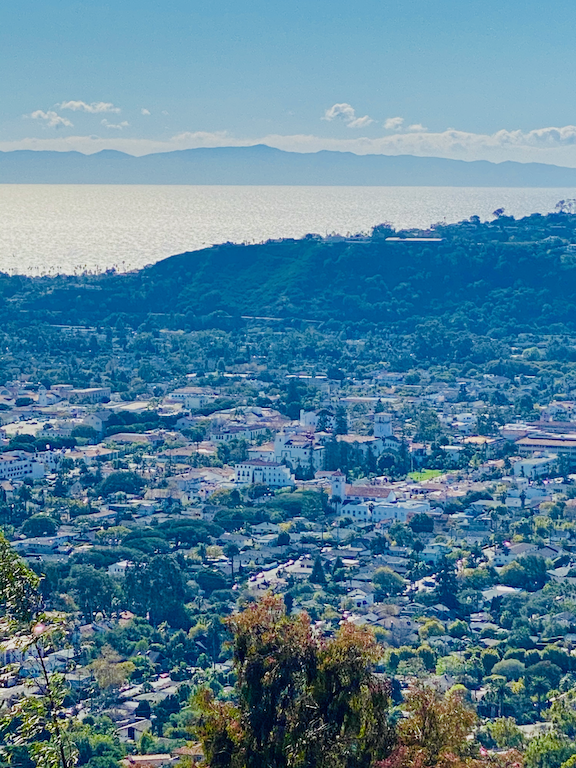 View from the Riviera neighborhood and Franceschi Park
This neighborhood is situated hillside and is, therefore, a bit tougher to navigate. The roads are very windy, narrow, and can be steep in some instances. And the driveways can be trickier to get in and out of. It is not ideal for an easy stroll around the neighborhood. But instead provides a good workout while canvassing the ups and downs of the streets here. Its inclined location rewards Riviera residents with endless views of the ocean, city, and islands offshore.
Some peaceful parks can be found in this neighborhood as well. There's Franceschi Park and Orpet Park. As well as Parma Park nearby, which has a completely different and remote feel and is great for some hiking, or even paragliding.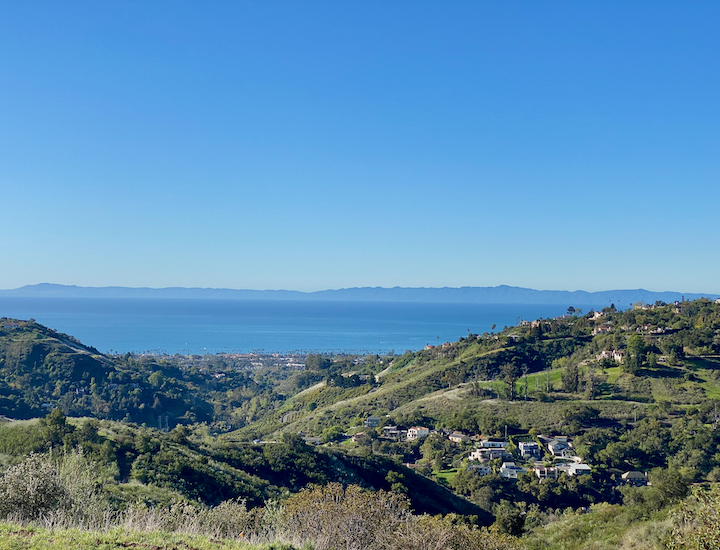 View from Parma Park
NOTE: This neighborhood is very residential with no particular shopping area designated to it. Depending on where your home is situated, you would most likely utilize the Upper State Street shopping, Downtown options, or the Milpas Street corridor, with several grocery stores and taquerias.
Riviera Schools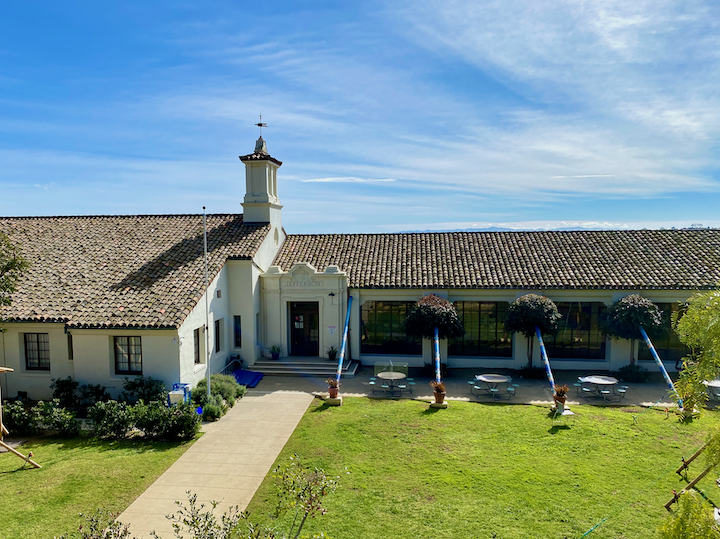 Schools in this neighborhood include: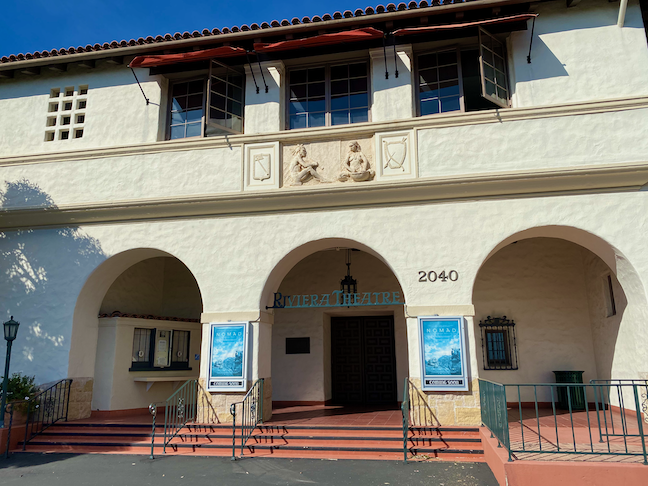 Riviera Theatre
Entertainment on the Riviera includes catching an avant-garde movie at the unique Riviera Theater. Or enjoying a delicious, romantic meal or drink at the beautiful El Encanto Hotel. The views from the hotel's terrace are stunning. Another fun venue is the Santa Barbara Bowl - an outdoor concert theater, which is easily accessible from the Riviera neighborhood.
Riviera Homes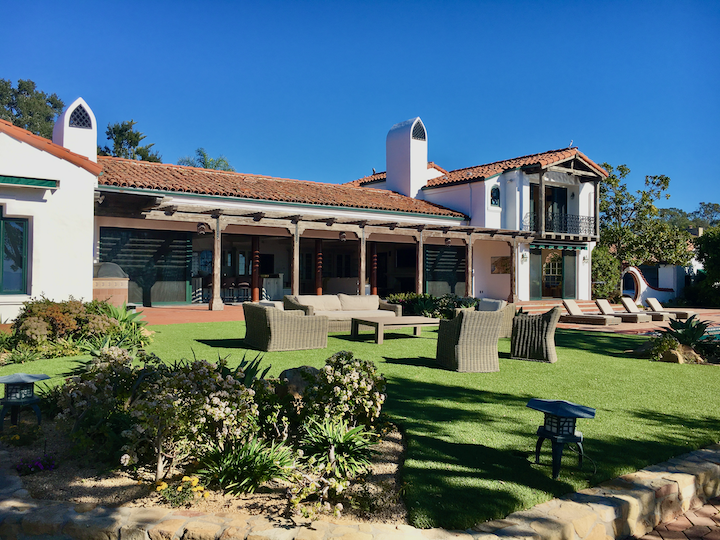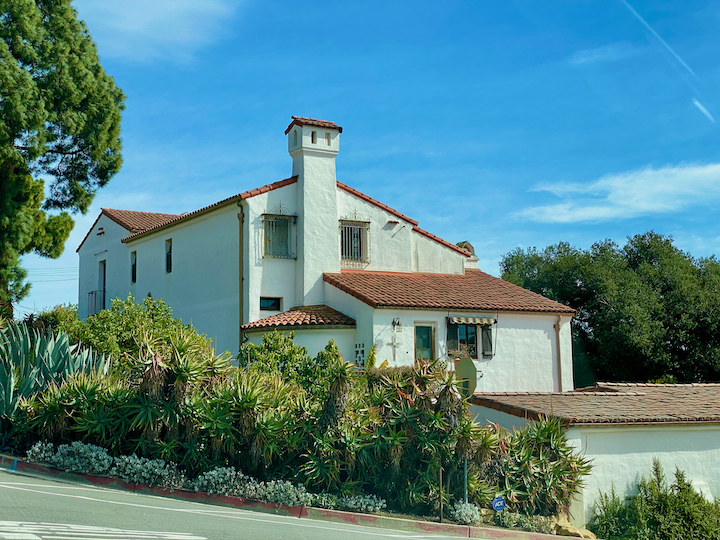 Different style homes on the Riviera
Alameda Padre Serra, called APS, is the Main Street of the Riviera, threading its way along the hillside all the way from the Mission down to the roundabout by Sycamore Canyon Road. Above APS larger homes on more leveled lots with higher price points can be found. The Lower Riviera is laced with enchanting streets featuring smaller homes with lots of charm and character.
---
Mission Canyon - Zip Code 93105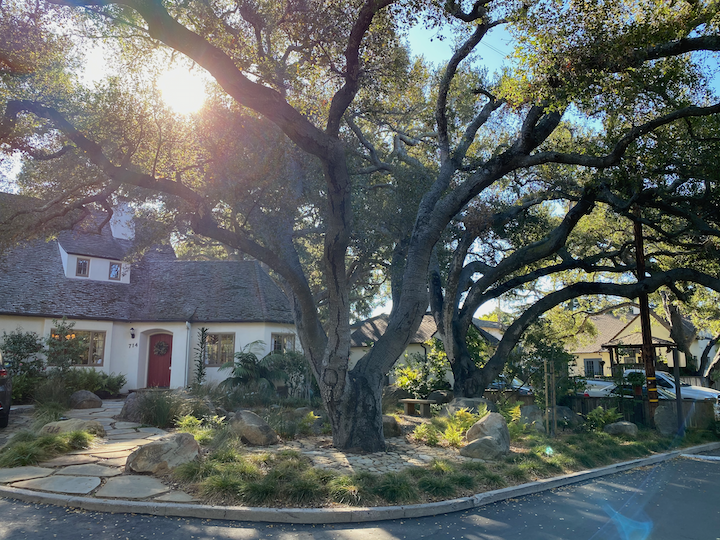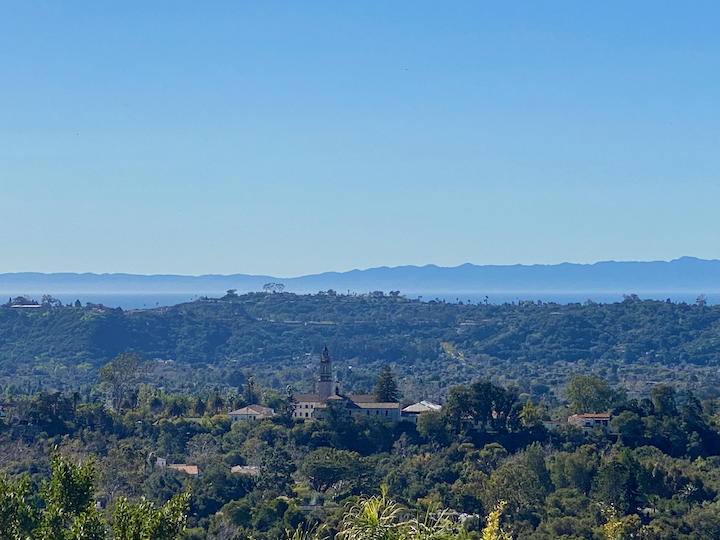 Historic Mission Canyon Home and view from Upper Mission Canyon
Mission Canyon is located just North of the city with Foothill Road running through it, dividing the Southern from its Northern part. Tunnel Road is another notable street in the neighborhood that leads up into the hills to outstanding hiking and biking opportunities in this area. Hike for as long or as short as you like, with a multitude of trails for all levels of intensity and length of time. The views will take your breath away.
This neighborhood has lots of character and a bit of a rural feel to it, yet it is very close to town. A lot of the homes have unique and interesting styles of architecture - quite a few of them with historic significance. It is a peaceful area with a natural landscape, no sidewalks, some stables, and lots of mature oak trees and vegetation. This type of environment can be found especially in the area behind the Mission where the Natural History Museum is located. This museum is a popular family destination for people in Santa Barbara. → In this video we are visiting the museum, if you like to get an impression.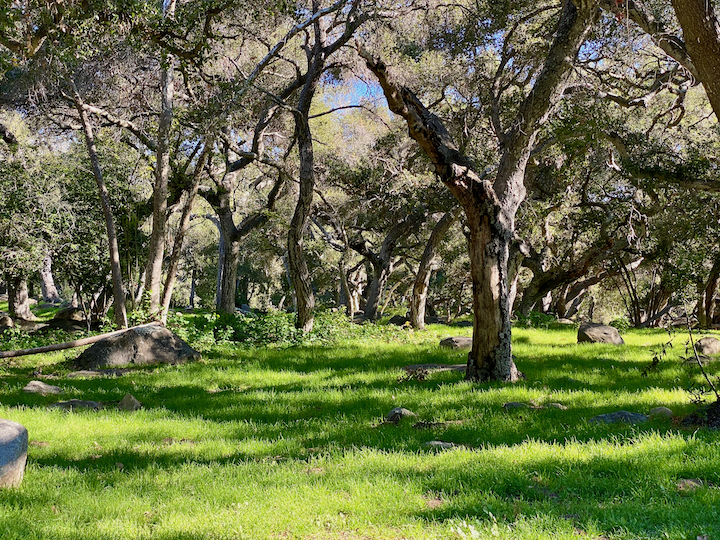 Rocky Nook Park
Mission Canyon Parks & Recreation
Rocky Nook Park and The Botanic Garden provide even more outdoor and nature lover opportunities in this quieter neighborhood. During springtime, the wildflowers at the Botanic Garden are a real highlight. There is so much beauty during any time of the year - the redwoods, the creek, and all the wonderful, natural areas for kids to play and explore. There are also educational programs offered.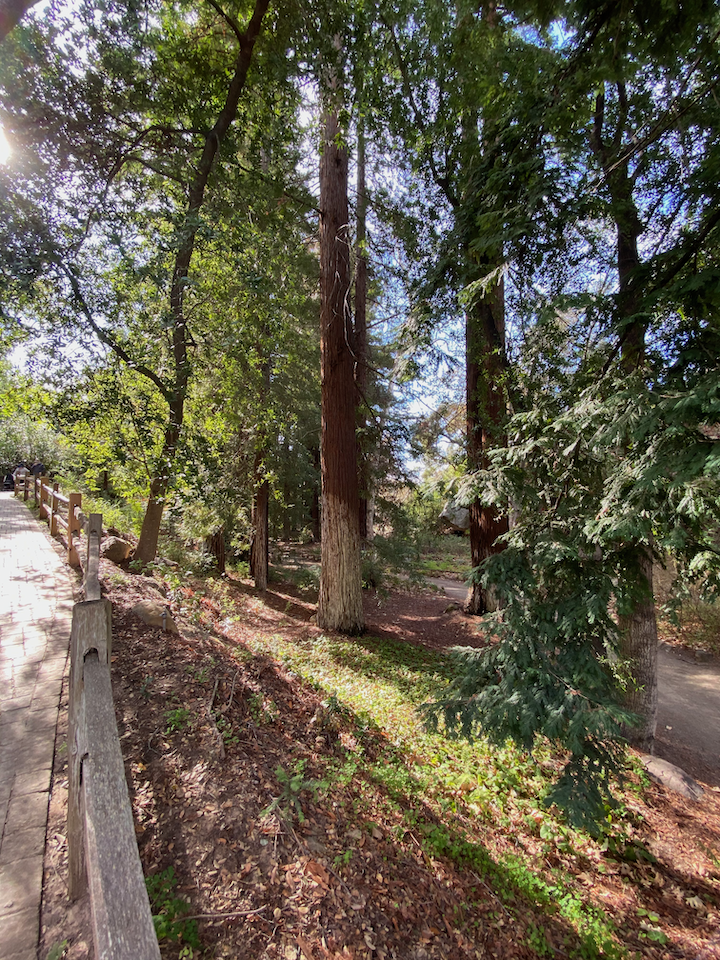 The Botanic Garden
Many Mission Canyon residents and tennis enthusiasts from the surrounding neighborhoods like to enjoy the popular Tennis Club. It is located just past the Foothill Road and Mission Canyon Road intersection.
Note: These are two of the main streets running through this area and can get busier and noisier.
Shopping is similar to San Roque's options along Upper State Street. As well as the options on De la Vina Street.
Schools include the same options I mentioned for the Upper East and Riviera neighborhoods.
Mission Canyon Homes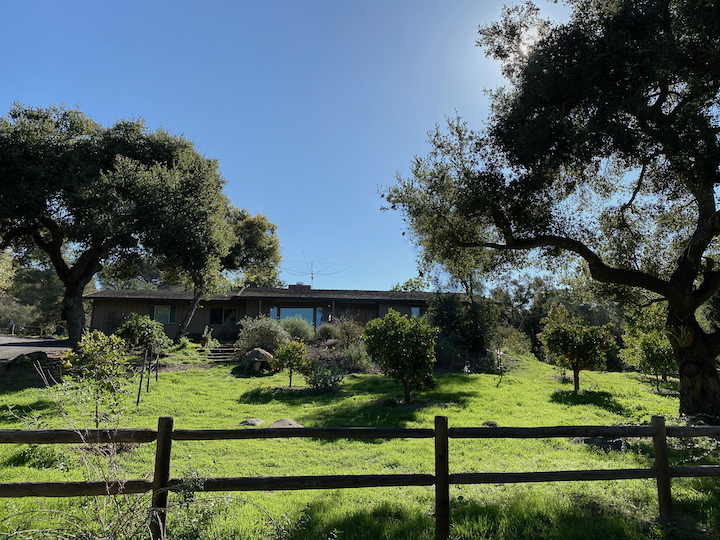 Mission Canyon Home with nature setting
Properties in the Southern part of Mission Canyon - below Foothill Road - tend to sit on larger lots with naturally grown yards. The homes along the hillside - above Foothill Road - are built closer together, on windy roads with steeper driveways. You can enjoy some very special city, mountain and ocean views from here. Architectural styles vary - you will find Mediterranean Haciendas, historic Farmhouses and Adobe buildings, California Cottages, Ranch, and even Contemporary styles. It is a rather eclectic neighborhood.
---
Neighborhood Video Tour of 5 Top Neighborhoods in Santa Barbara
Preview all 5 top neighborhoods in this video