Living in Santa Barbara - The Pros and The Cons
Posted by Katinka Goertz on Saturday, March 5, 2022 at 7:42 PM
By Katinka Goertz / March 5, 2022
Comment
What are the Pros and Cons of Living in Santa Barbara, CA?
Some aspects to consider before moving to Santa Barbara - The American Riviera

Living in Santa Barbara is often referred to as "Living in Paradise". And, perhaps you are considering making a move? But, with skyrocketing home prices, talk of the "California Exodus," tax hikes, fluctuating interest rates and more, many people are weighing the pros and cons and wonder
"Is Santa Barbara a good place to live?"
I will admit that I am biased, despite all the above mentioned. For those of you on the fence, I put together some of the points to consider when making a decision if living in Santa Barbara is right for you.
Read this article and/or watch the video below
THE PROS OF LIVING IN SANTA BARBARA
"Should I move to Santa Barbara?"
Weather
An important factor in your decision-making will be the weather. No doubt, enjoying 283 sunny days a year on average is going to contribute to your overall happiness. Temperatures typically vary from the mid 40s° to the high 70s° throughout the year. On occasion, it will be hotter or cooler than that. But for the most part, you will experience mild, sunny, comfortable room temperature-like weather in the 70s°.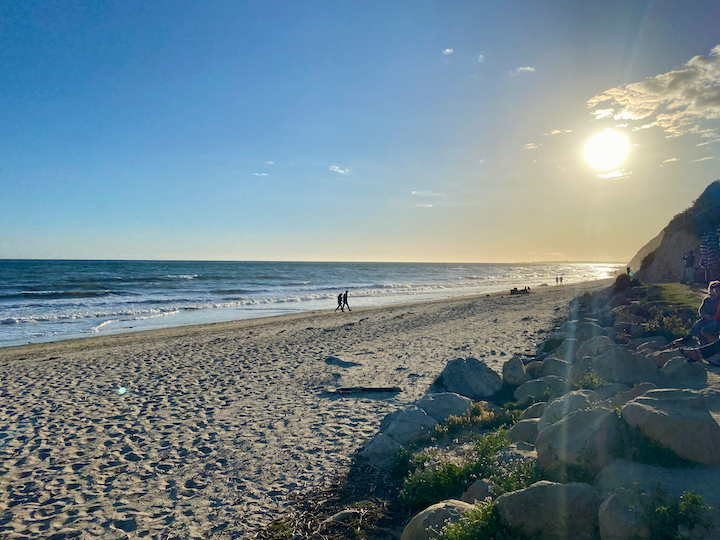 Hendry's Beach sunset
Traffic
In general, the traffic in Santa Barbara is very manageable. The city is easy to navigate (42 square miles). Even from the homes set in the foothills of the Santa Ynez Mountains, it isn't much more than a 15-minute drive to the ocean. Parking throughout the city is convenient with multiple, architecturally pleasing parking structures, which offer 75 minutes of free parking. Especially if you are moving from a larger city, you will be very pleased with the navigation of the city.
Note: Since U.S. Highway 101 in our area is undergoing lots of construction at the moment, you might experience more traffic jams than you normally would. The Summerland/Carpinteria area is especially impacted by this. But despite all - compared to big cities the traffic here is nothing to get too worked up about. You just have to plan accordingly.
Friendly City
"Santa Barbra is a happy place!"
A definite bonus is that people are pretty happy and friendly here in general. After my experience of living in different environments and parts of the world throughout my life, I can claim with conviction that the sun largely impacts peoples' moods. Paired with the laid-back Californian lifestyle and beautiful surroundings, "Santa Barbarians" are happy residents for the most part and don't take life all too seriously. Another bonus point that keeps Santa Barbara's population happy is the decent amount of cultural entertainment and events for a town this size. With several theaters, museums, cultural festivities, educational lecture series, and other programs, you will find plenty of offerings to keep the curious mind engaged and intellectually stimulated.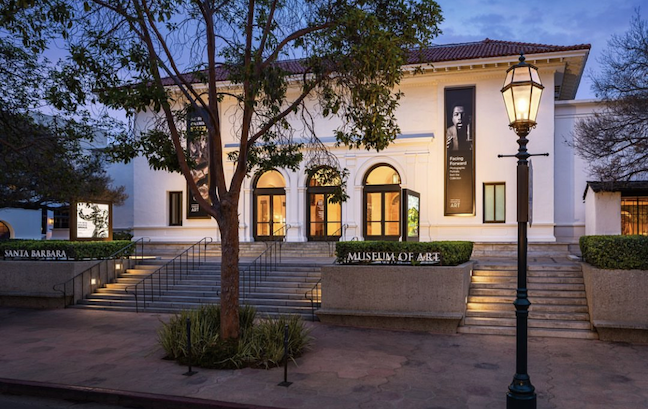 Santa Barbara Museum of Art
Healthy Lifestyle
Santa Barbara is a very healthy environment. People pay lots of attention to staying active - an easy feat in these weather conditions. You can be outside throughout the year and enjoy all of the outdoor activities this town offers. From hiking in the mountains, biking different bike paths, playing golf, to surfing or sailing, there are countless activities to get engaged with. In addition, cooking and eating healthy is easy to accomplish with the amazingly fresh Californian produce, seafood, and grocery store varieties right at your fingertips. The Farmers Market and several organic, local stores are other plusses for healthy living.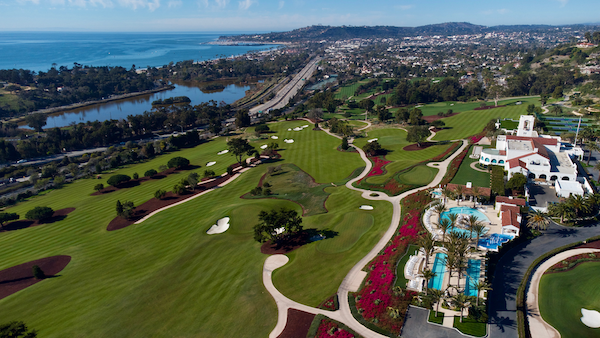 Montecito Country Club