Living in Santa Barbara - Family Edition
Posted by Katinka Goertz on Monday, October 17, 2022 at 2:27 PM
By Katinka Goertz / October 17, 2022
Comment
Living in Santa Barbara - Family Edition
• Is Santa Barbara a good place to raise a family? •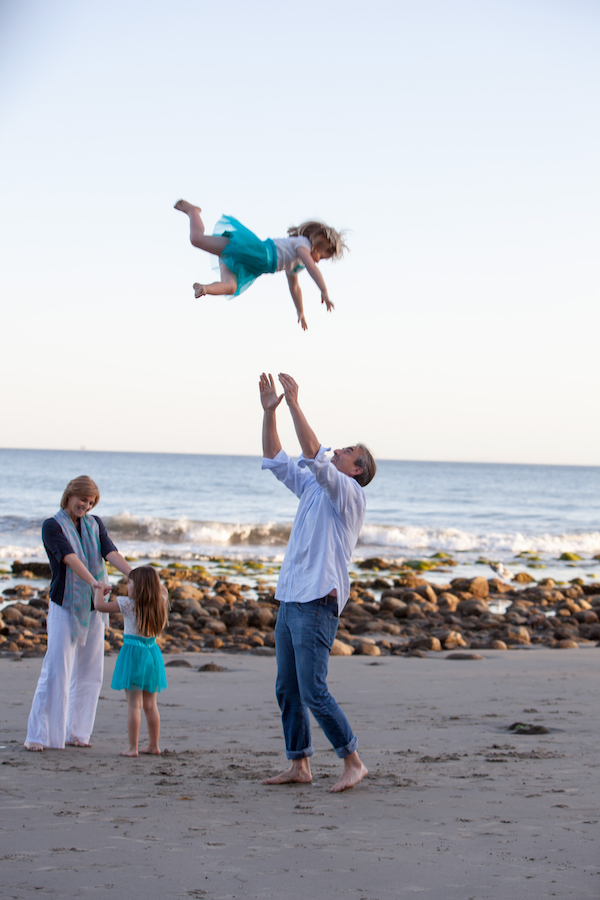 If you are considering moving to Santa Barbara with your family, you might have many questions and wonder what you should keep in mind when relocating. I will cover schools, neighborhoods, fun things to do with your kids, after-school activities, and things families usually ask me about.
---
Please consider me your Santa Barbara resource and contact me with all your questions.
I am a local Realtor - But even more than that, I am also a Mom navigating Santa Barbara family life.
---
When my husband and I moved to Santa Barbara over 13 years ago, we did so before having kids. We knew that we eventually wanted to have a family and based our decision to move here on the environment we wanted our future kids to grow up in. We knew little about all the other factors at the time. Spoiler alert - it worked out pretty well. However, in hindsight, I wish we had someone tell us all the ins and outs of the city regarding family matters.
→ As a disclaimer, I am not favoring any particular school or neighborhood in this article. I will simply point out general aspects that might be especially attractive for families.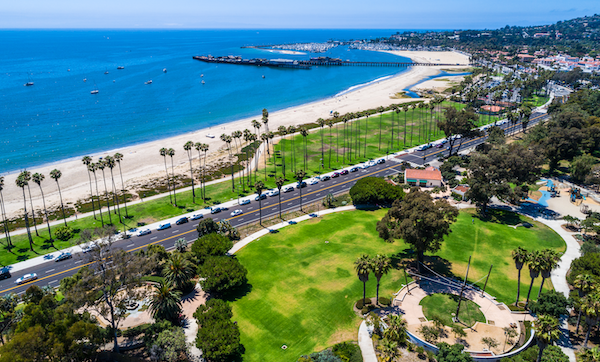 • Check this link for a Santa Barbara Zip Code Map •
Family-Friendly Neighborhoods
Generally speaking, Santa Barbara's neighborhoods can all work for families, depending on what your preferences are. I will mention some of the areas here that are especially popular with families in town.
San Roque and The Mesa
San Roque and The Mesa are two neighborhoods in Santa Barbara that are very heavily populated with families. Both neighborhoods have great parks and are very walkable.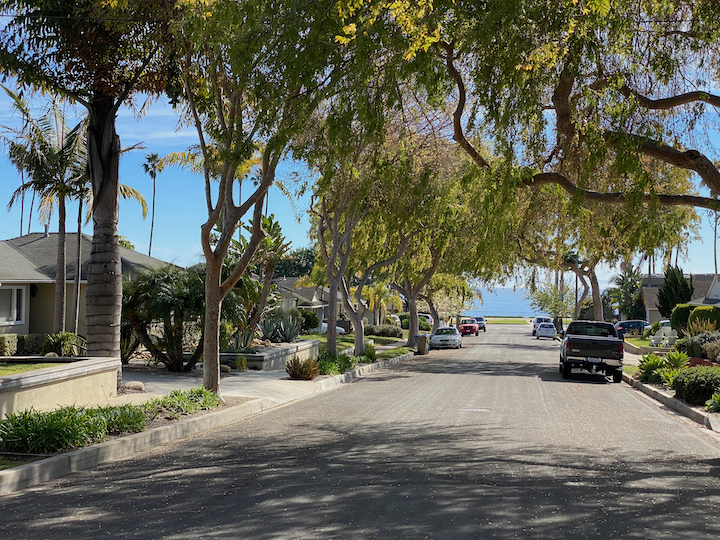 Mesa Street View
The coveted Mesa neighborhood by the ocean is especially sought out by families and individuals who like to spend lots of time at the beach and enjoy a laid-back vibe.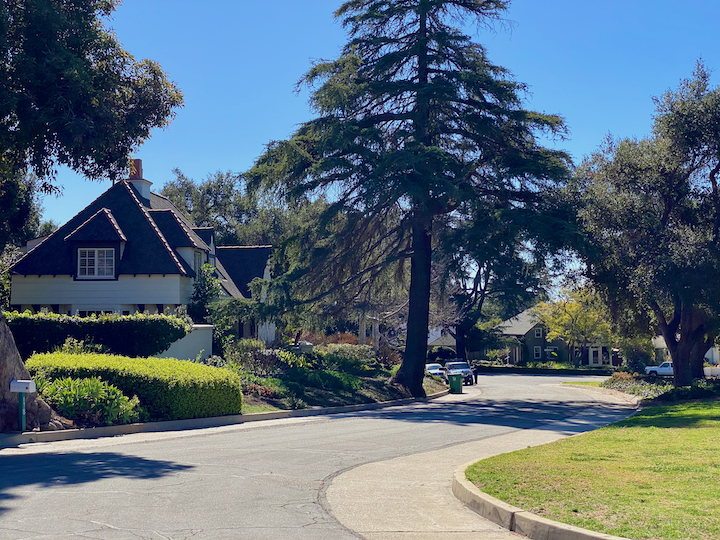 San Roque Park and street view
San Roque runs along Upper State Street with lots of convenient shopping options, versatile architecture, lovely parks, and quick access to hiking trails.
Montecito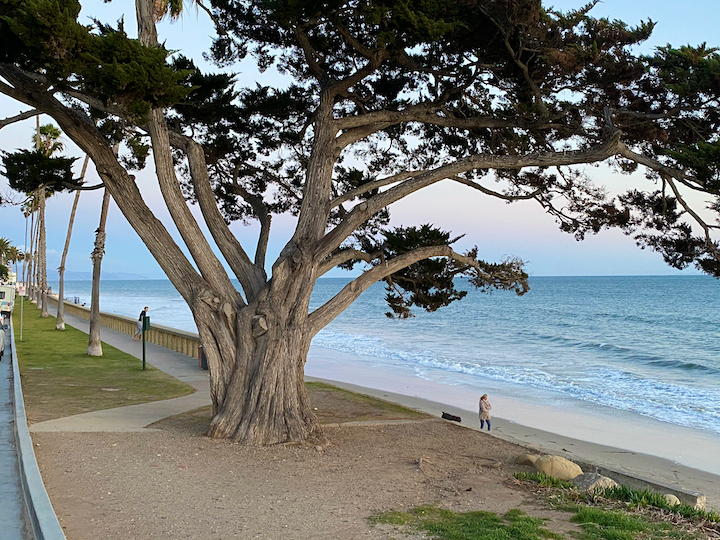 Montecito Waterfront, Butterfly Beach
Another popular community to live with kids is Montecito. This famous area is very well taken care of and schools are highly ranked - public, as private. The renowned neighborhood is the most expensive option regarding home prices. This environment offers a quality lifestyle and the ambiance couldn't be more naturally and architecturally beautiful. Montecito is a very tight community, which became extra apparent when the mudslide occurred in January 2018. There was an enormous amount of support and outreach. It was heartwarming how many neighbors opened their homes to others. The overall sense of empathy and helping hands was incredible - not only due to prominent residents, like Ellen DeGeneres and Oprah. It is no surprise that the well-known and well-heeled like to move here for its casual lifestyle and utter respect for privacy.
Goleta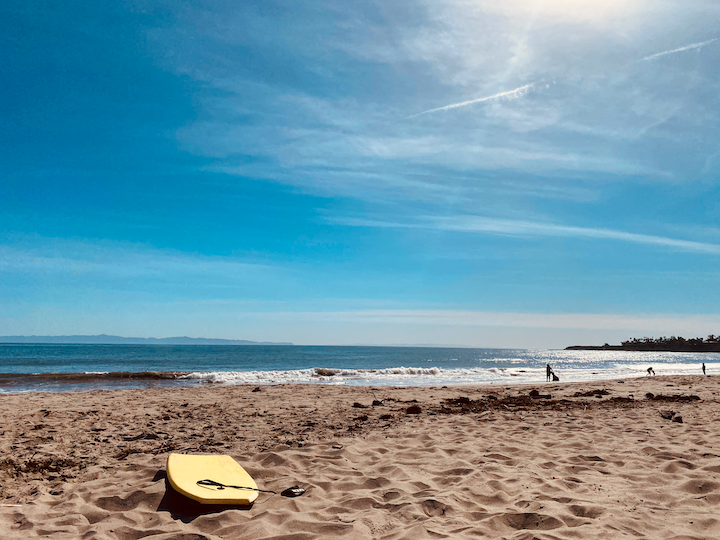 Goleta Beach Park
Goleta is highly regarded amongst families looking for a slightly more affordable alternative. You will find a more suburban feel here with lots of single-family homes on flat streets with kid-friendly cul-de-sacs - perfect for putting up your basketball hoop, or scooter around the neighborhood. Goleta has different types of communities, enclaves, and developments. However, it can be summarized as being family-friendly in general. Goleta features more commercial shopping areas, the airport, and some of the larger employers in town.
Schools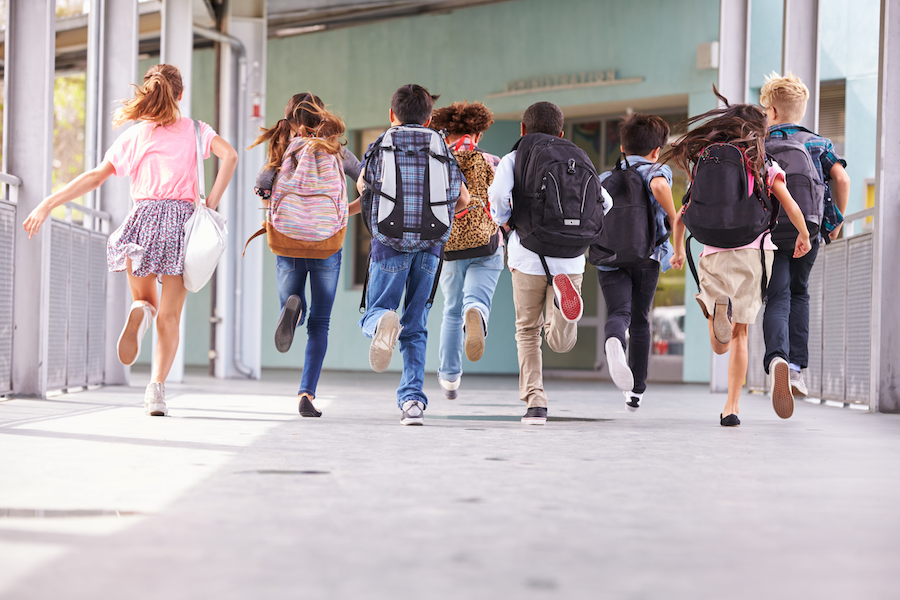 Based on feedback from multiple parents around town, most of the schools in Santa Barbara are considered good. Rarely have I heard anyone dismiss a school in Santa Barbara. Of course, your choices largely depend on your child's needs and your satisfaction level is tied to the teachers, classroom dynamics, and more. I will go over a few select schools here that parents in Santa Barbara especially seem to like:
And there are of course more options if you are looking for something specific for your child. If you like to learn more about the schools, I will link here to school ratings. Contact me anytime with your questions. Over the years I have often connected my clients with parents I know at the particular school they were interested in. Nothing can replace personalized feedback and help better with making informed decisions.
Things to do with kids in Santa Barbara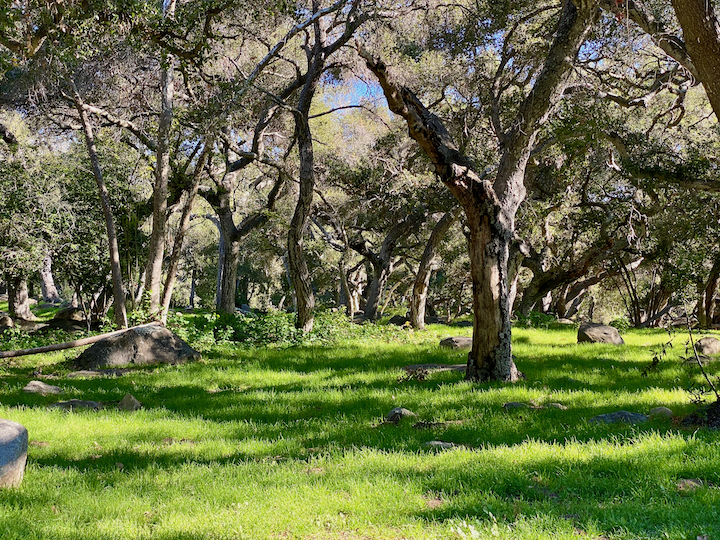 Rocky Nook Park
One of the main reasons we considered raising our kids in Santa Barbara was that the outdoors are so versatile and accessible all year long, because of the perfect weather.
We moved from New York City - so this new scenario was a huge plus for us. And we have taken lots of advantage of this over the years. From utilizing all of the great parks and playgrounds around town during our kids' younger years to hiking in the mountains to playing at the beach - the Santa Barbara lifestyle has become ingrained in our children. Therefore, now at ages nine and eleven, they spend their summers predominantly outdoors at the beach with Junior Lifeguards and all sorts of water activities. They actively play water polo at one of the clubs here in town. Our kids are constantly in the water - either in the ocean or in the pool - I am surprised they haven't grown fins yet. The variety of sports and outdoor camps is astounding here in Santa Barbara since you have all types of terrains at your fingertips. Just read through the long list of the latest Independent Summer Camp lineup - you will see it for yourself.
The Natural History Museum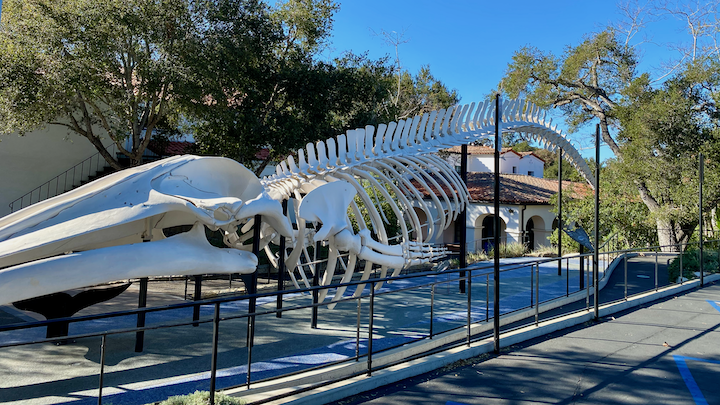 Front of the Santa Barbara Museum of Natural History
The Natural History Museum in Santa Barbara is a lovely, smaller-size museum that works for most age groups. The exhibits are not too overwhelming and there is lots of hands-on exploration and great outdoor space. One of the highlights is the Butterfly exhibit. If you are interested, you can watch this video of one of our visits here.
The Zoo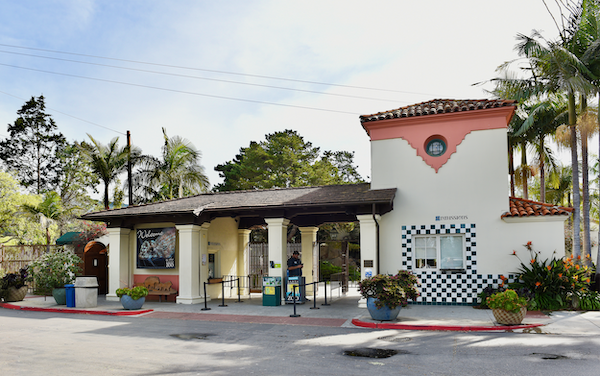 The Santa Barbara Zoo is lovely, especially for the littler kids. It is an intimate zoo with a fun little play area, petting zoo, adorable souvenirs, food vendor, and a choo-choo train. They often have special events, with "Boo at the Zoo" being one of our favorite ones during Halloween.
The Moxi Museum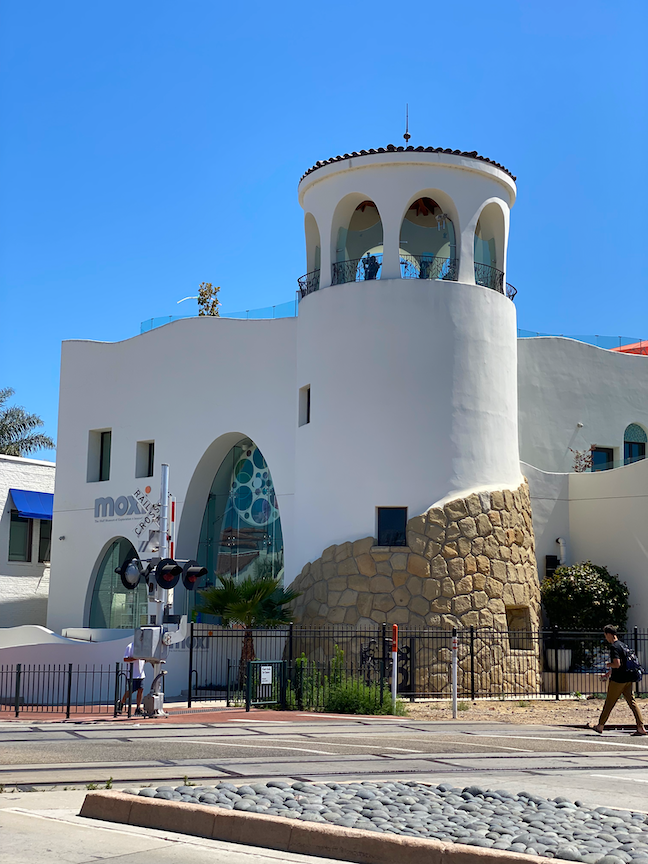 MOXI, The Wolf Museum of Exploration + Innovation
The Moxi Museum is a great and innovative science, technology, exploration, and hands-on learning museum with very creative exhibits to enjoy for all ages. They also offer occasional special workshops and events. The building itself is worth a visit. You can enjoy a lovely panoramic view from the rooftop while the kids play with the fun water feature.
Ice in Paradise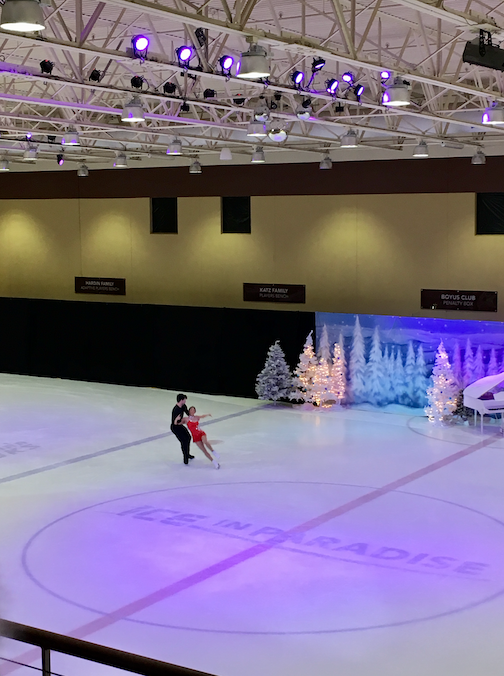 Ice in Paradise, Goleta
Ice in Paradise is a great ice rink in Goleta where your kids can either take ice skating and hockey lessons or simply have fun during one of the open skating sessions. It's also a popular venue for birthday parties and events. We love to go here when we need a break from the heat and act like we are in cold weather. For us, it provides a sense of "winter" during the holiday season, when we put on sweaters, pretend it is freezing outside, and have hot chocolate after our skating session.
---
There are so many more things to mention. For more inspiration, you may also watch my
Shorts videos or