Hope Ranch vs Montecito
Posted by Katinka Goertz on Wednesday, March 8, 2023 at 7:00 PM
By Katinka Goertz / March 8, 2023
Comment
Living in Montecito vs Hope Ranch

Santa Barbara's Luxury Communities Side-By-Side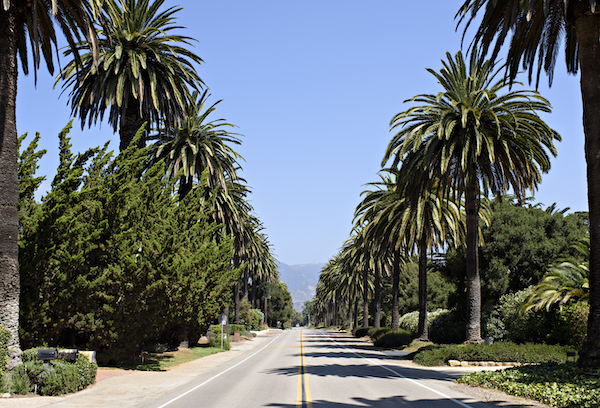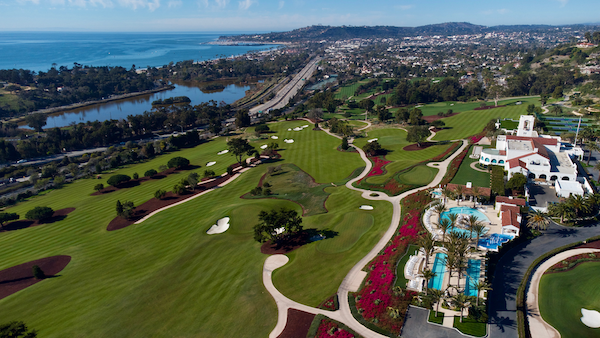 Beautiful tree-lined streets, mountain and ocean views, world-class golf courses and country clubs
Montecito and Hope Ranch are two of Santa Barbara's most exclusive communities, each with its unique character and appeal. While both neighborhoods offer an idyllic lifestyle, they differ in terms of location, amenities, and housing options. This comparison of living in Montecito versus Hope Ranch will provide some good insights for you, if you are unsure which option is right for you.
Location
Montecito is located just a hop, skip, and jump east of Santa Barbara, and is an absolute paradise for beach lovers. With several stunning beaches just a short drive away, you'll be able to soak up the sand, sun, and surf to your heart's content. It's like having a private beach club at your fingertips!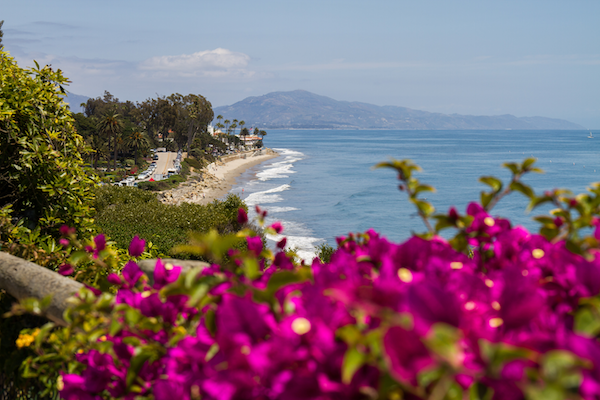 Butterfly Beach in Montecito
Over in Hope Ranch, residents mainly use one stretch of beach with private access but don't worry, it's a real beauty. Plus, if you're looking for a change of scenery, Hendry's Beach - one of Santa Barbara's favorites - is just a quick trip away. Walk your dog off-leash here and enjoy a beautiful sunset dinner at the Boathouse.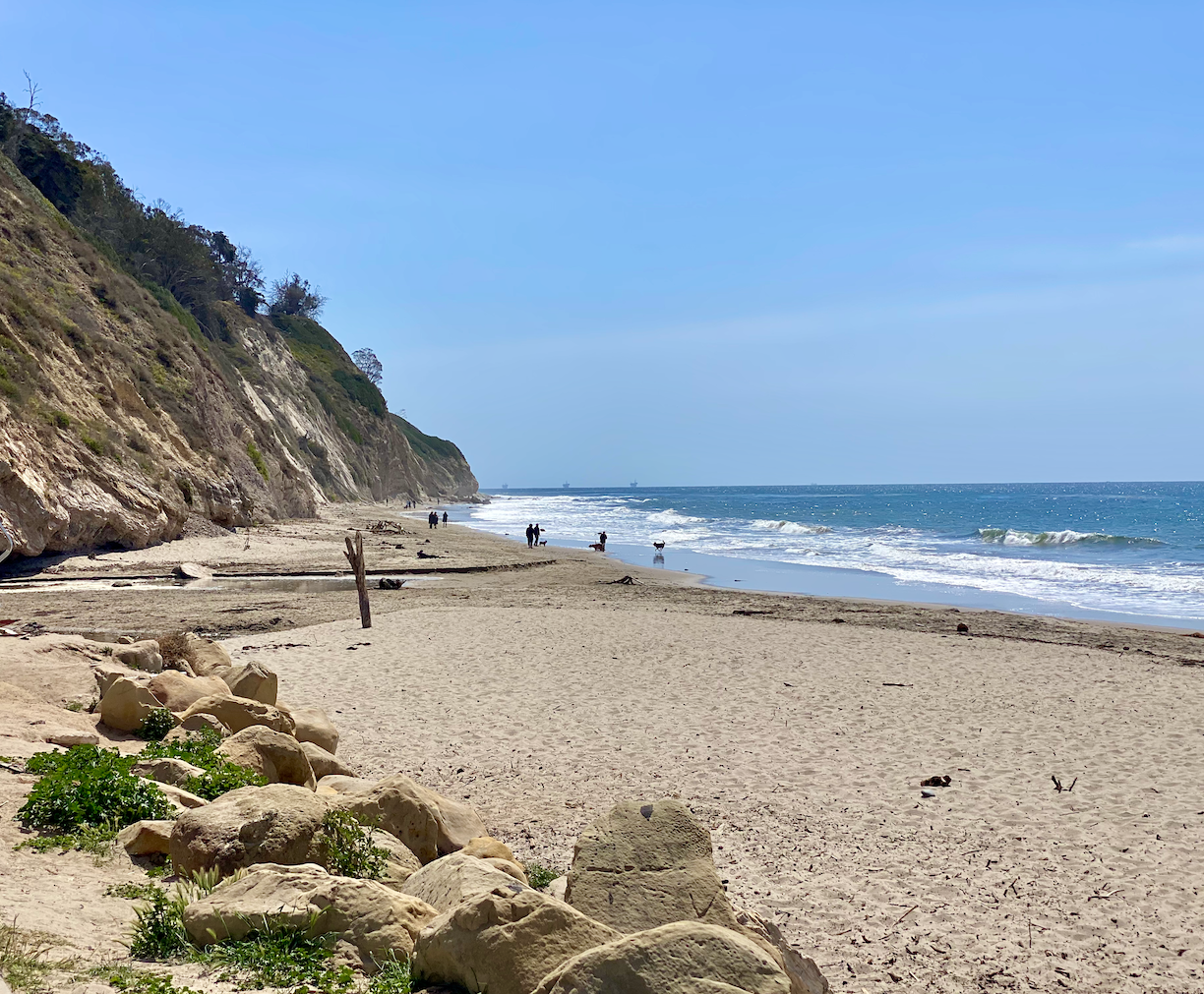 Hendry's Beach - where dogs can run free
Now, let's talk logistics. If you're a frequent commuter to LA, Montecito might be your best bet. It's situated just a smidge more advantageously than Hope Ranch, which means you'll be able to hit the road and get to the City of Angels in record time. So if you're all about that LA life, Montecito is the neighborhood for you.
All in all, whether you choose Montecito or Hope Ranch, you'll be living in the lap of luxury with access to some of the most beautiful beaches in California.
Amenities
Get ready to be swept away by the sheer beauty of Montecito - a neighborhood that's packed with world-class shopping, dining, and cultural attractions. If you're looking for high-end boutiques, trendy cafes, and gourmet restaurants, look no further than Coast Village Road. This street is the heartbeat of the neighborhood and is home to some of the most exquisite shops and eateries in the area.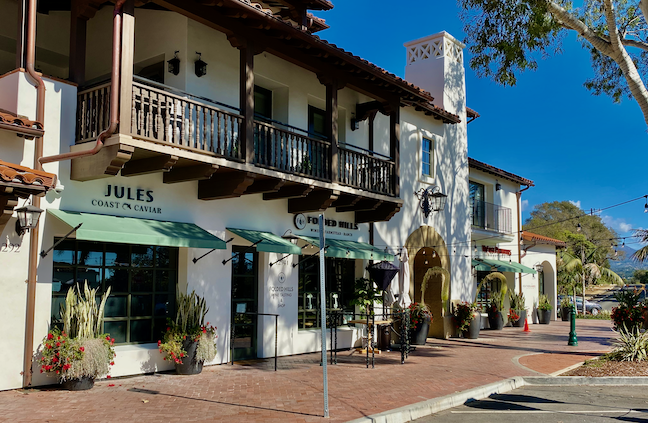 View of Coast Village Rd
But it's not just about shopping and dining in Montecito. This neighborhood is home to The Music Academy of the West, Casa del Herrero, and Lotusland - three cultural gems that add to the neighborhood's rich tapestry of experiences. With so much to explore and discover, Montecito is like a treasure trove of delights just waiting to be uncovered.
Meanwhile, over in Hope Ranch, it's all about the great outdoors. With a private beach, La Cumbre Country Club (complete with a beautiful and challenging golf course), miles of equestrian trails, and tennis courts available exclusively to Hope Ranch residents, there's no shortage of outdoor recreation to be had. So if you're the type who loves to get outside and feel the wind in your hair, Hope Ranch is the perfect place to call home.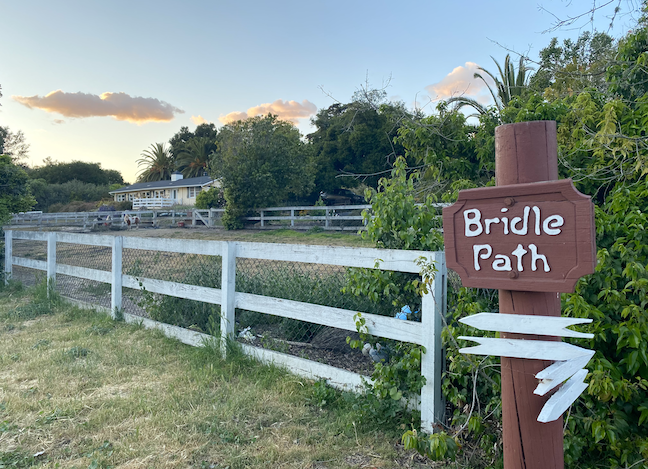 22 miles of bridle trails in Hope Ranch
Homes in Montecito and Hope Ranch
"Is Montecito more expensive than Hope Ranch?"
Montecito and Hope Ranch, both dazzling neighborhoods in Santa Barbara, offer the ultimate luxury of living. From sprawling estates to oceanfront villas, these neighborhoods have it all.
---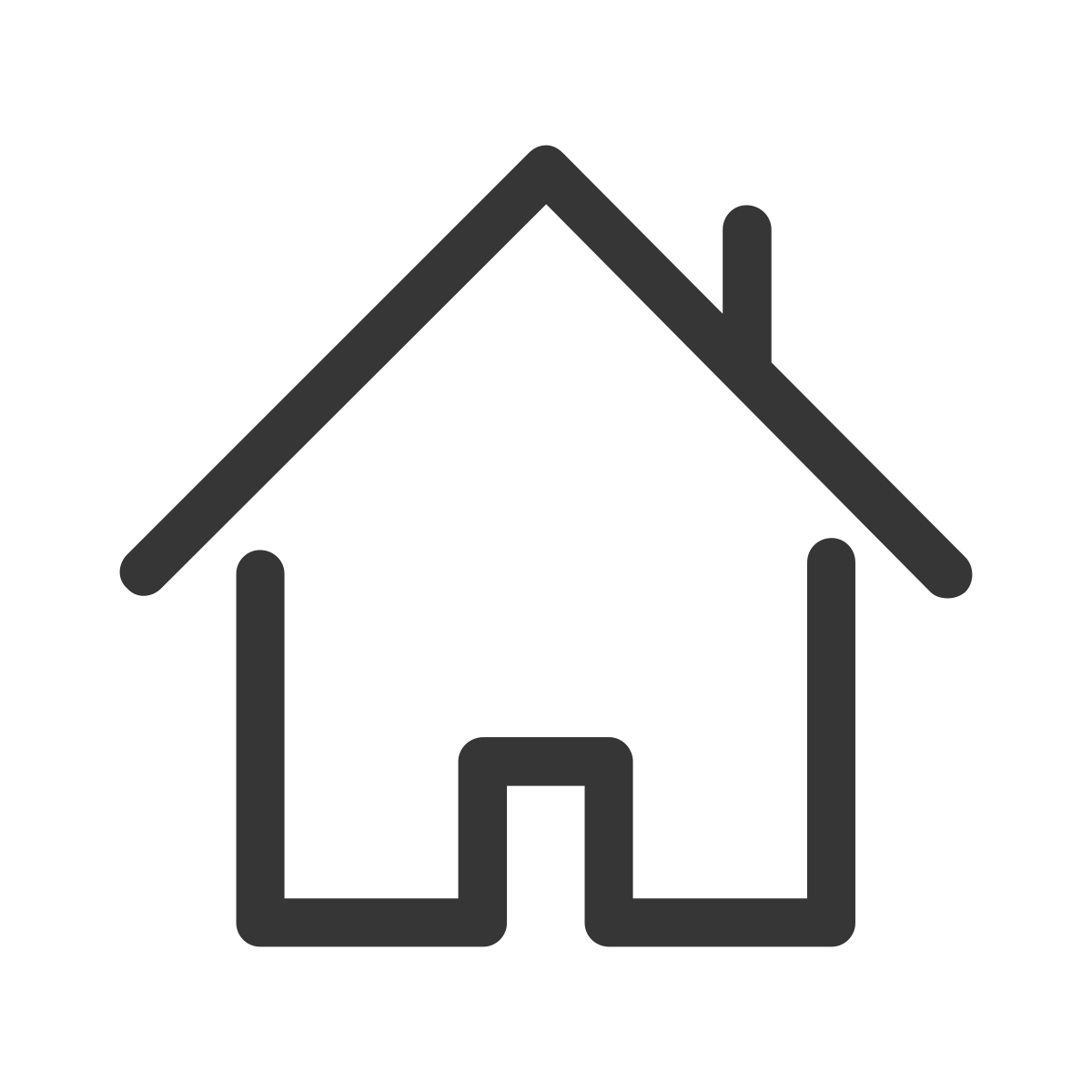 SEARCH MONTECITO HOMES HERE
---
If you're looking for architectural diversity, Montecito is your go-to. With stunning Spanish colonial, Mediterranean, and contemporary homes, you can have your pick of a variety of styles that will make your heart sing. Meanwhile, Hope Ranch is more traditional, with a focus on classic ranch-style homes. But you can also find a variety of more recent modern farmhouse remodels and opulent estates as well. When it comes to price, Montecito's homes range from $3 million up to over $100 million. Hope Ranch's homes tend to start at a similar price point at around $3.5 million, with no upper limit on luxury.
---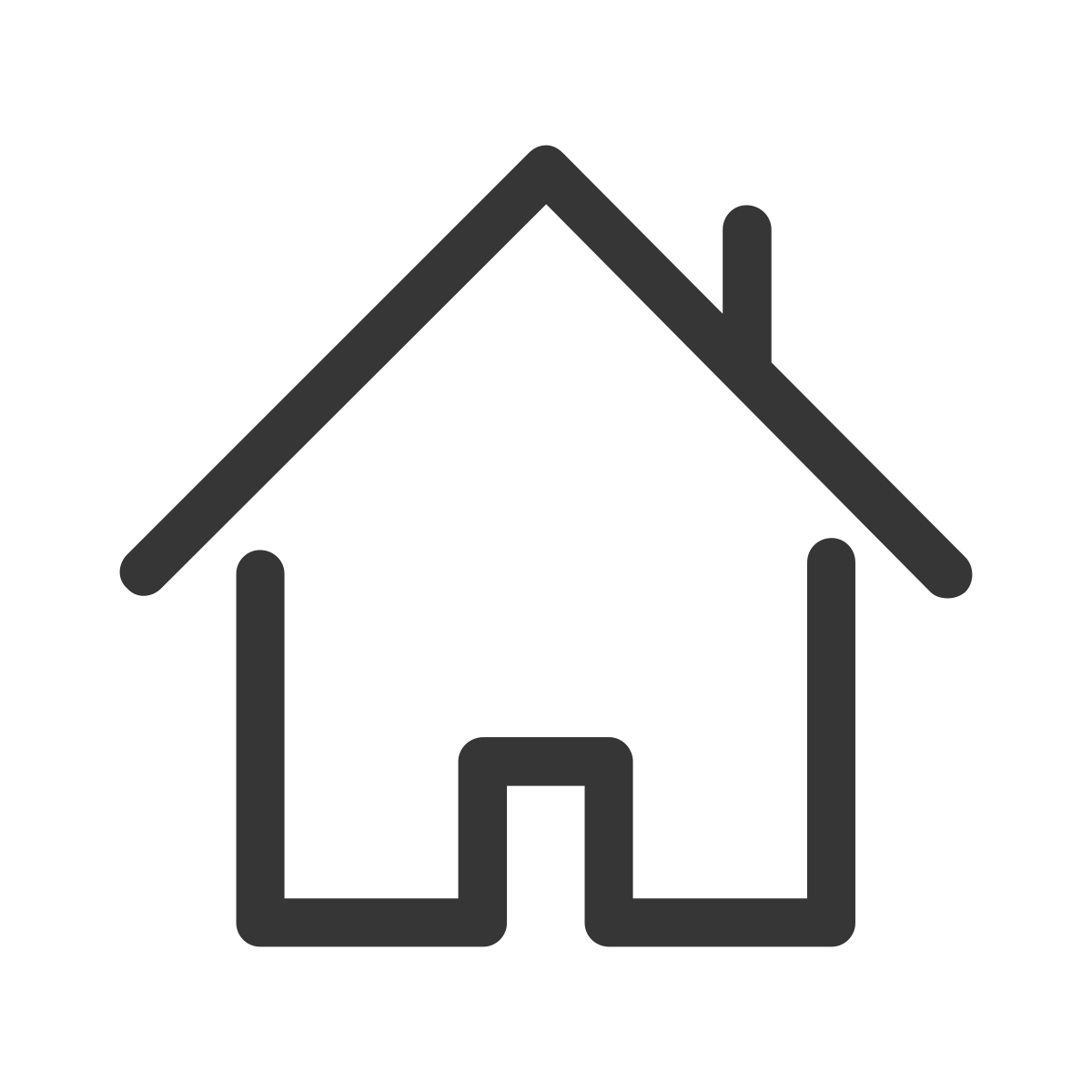 SEARCH HOPE RANCH HOMES HERE
---
So whether you're looking for architectural diversity or the ultimate in luxury living, Montecito and Hope Ranch have got you covered for living your best life!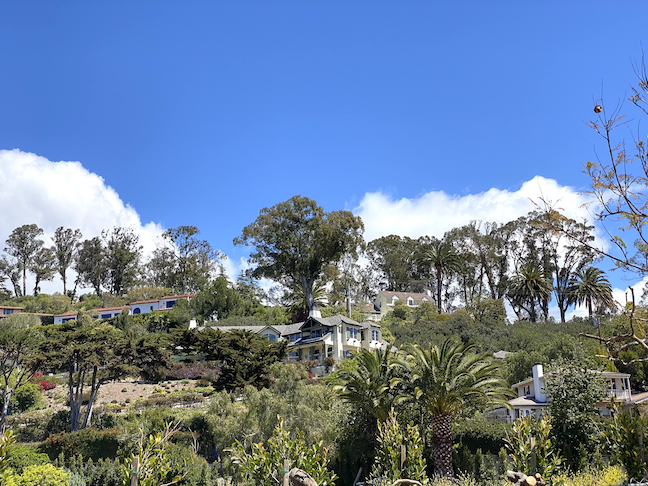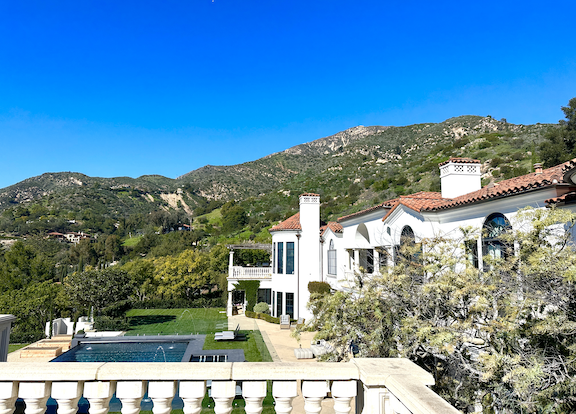 Beautiful homes in Hope Ranch and Montecito - built into the hillside with panoramic views
Community Life
Montecito is known for its vibrant social scene, community events and gatherings happening all year round - from Trick-or-Treating at "Ghost Village Road" to glamorous galas, there will be something to match your preference. And let's not forget about the clubs - the Montecito Country Club, the Coral Casino Beach and Cabana Club (although currently closed indefinitely) and the Knowlwood Tennis Club are a few to mention. Montecito is also home to some of Hollywood's biggest names: Oprah Winfrey, Ellen Degeneres, Kevin Costner, and Jeff Bridges all have multiple homes in this exclusive community. A more recent addition to Montecito's famous residents are Prince Harry and Meghan Markle. So if you want to rub shoulders with the stars, Montecito is the neighborhood for you.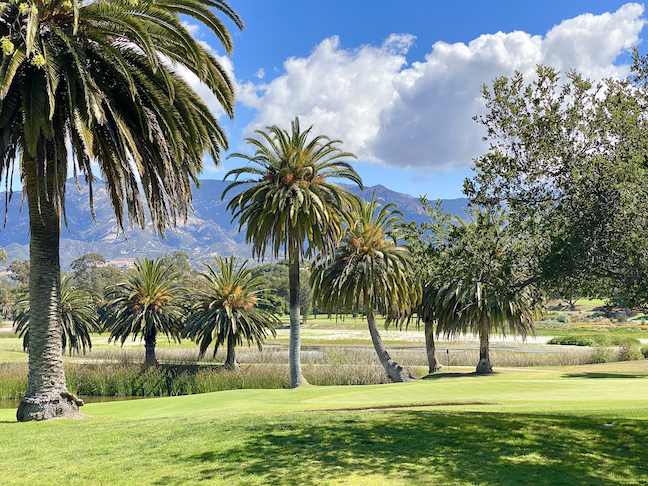 Hope Ranch - Laguna Blanca Lake
If you're looking for something a little more low-key, Hope Ranch has got you covered. This neighborhood offers a traditional, exclusive, and super-private lifestyle. The residents here value their tight-knit community, privacy, and seclusion, and many are highly involved in the equestrian community. So if you're a horse lover, you'll feel right at home in Hope Ranch.
Schools and Family Life
Montecito is home to some of the most highly regarded public and private schools in the area. Montecito Union School, for example, is a top-ranked elementary school that's known for its rigorous academic standards and excellent extracurricular programs. And let's not forget about Cold Springs Elementary School - another fantastic option for families looking for a top-notch education. But that's not all - Montecito is also home to Crane Country School, a highly-rated private school that's known for its innovative curriculum and dedicated teachers. And if you're looking for a K-12 education, the prestigious Laguna Blanca School has got you covered. Their lower campus is located in Montecito, while the Upper School Campus is in Hope Ranch.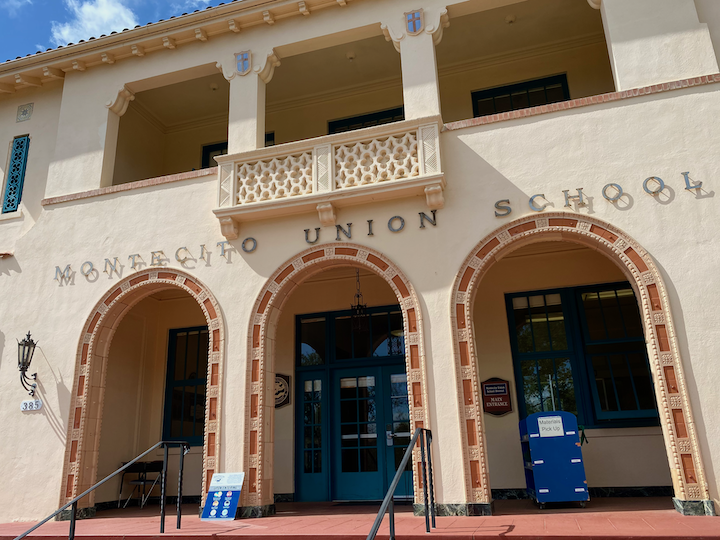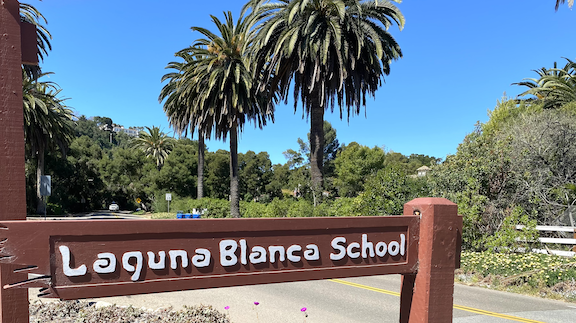 Highly rated Montecito Union School & Laguna Blanca School
The Hope Ranch neighborhood is part of the Santa Barbara Unified School District, which includes several top-ranked public schools. Vieja Valley Elementary School is a great choice for families with young children and La Colina is a highly regarded junior high school.
Regarding family life, both Montecito and Hope Ranch have got you covered! These communities are like wonderlands for kids, with tons of activities and attractions that will keep them entertained. We're talking parks, beaches, cultural events, camps - you name it!
If you're in the mood for some socializing, Montecito and Santa Barbara have so many family-oriented clubs and organizations that you'll never run out of ways to connect with other families. And if safety and privacy are your top priorities, Ennisbrook is where it's at. This gated community is the cream of the crop and families can't get enough of it. The clubhouse, tennis courts, and swimming pools are just a few of the amenities that make it the perfect spot for families to hang out and have fun. Read more about Montecito's gated communities here.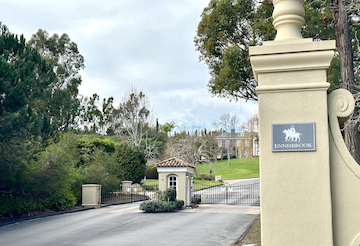 Gated Community Entrance Ennisbrook
Hope Ranch, on the other hand, is all about seclusion and privacy. If you're the type of family that likes to keep to themselves, this is the perfect place for you. And if you're looking to stay active, as well as socialize, a membership to La Cumbre Country Club is a great addition. With family exercise options, a golf course, organized events, and a killer pool, it's everything you could want in a private club.
No matter which community you choose, you'll be living the dream with your family. Excellent schools, luxurious amenities, and a family-friendly environment - what more could you ask for? Whether you're a fan of Montecito's cosmopolitan charm or Hope Ranch's secluded exclusivity, you're guaranteed to enjoy an amazing lifestyle!
Entertainment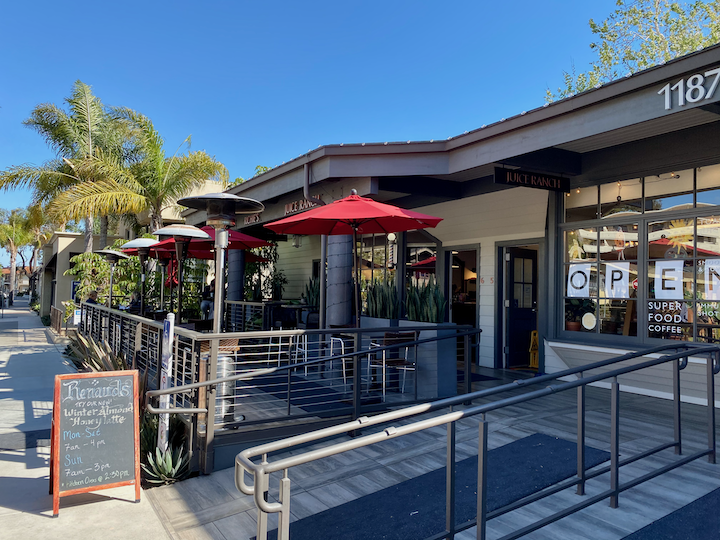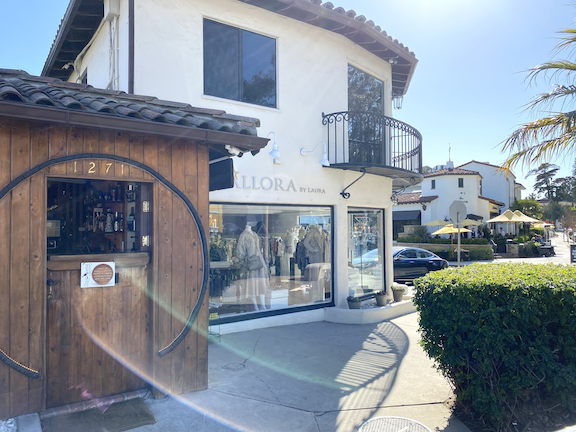 Montecito's Coast Village Road
Montecito is buzzing with restaurants and lounges like Lucky's and Honor Bar - just a couple of the hotspots where you'll find a lively crowd and plenty of good times to be had. Meanwhile, Hope Ranch is a bit more chill. It's strictly residential, but don't let that fool you - just a few minutes outside of Hope Ranch's iconic wrought iron arches, there are plenty of restaurants and bars to try. Harry's, Lure Fishhouse, Chuck's of Hawaii, and Via Maestra 42 are all popular choices.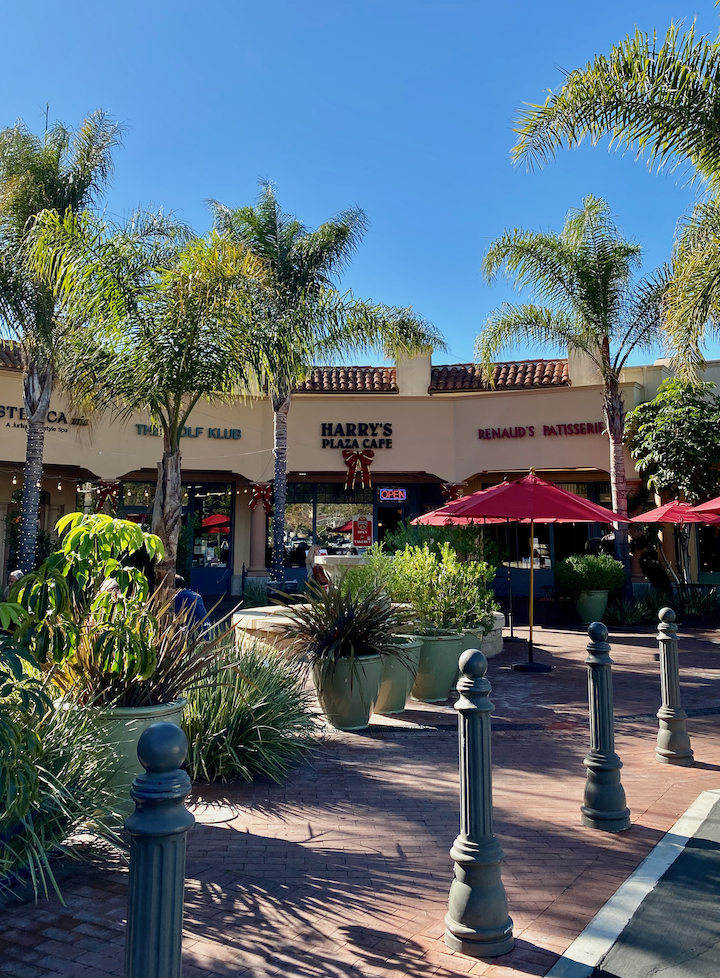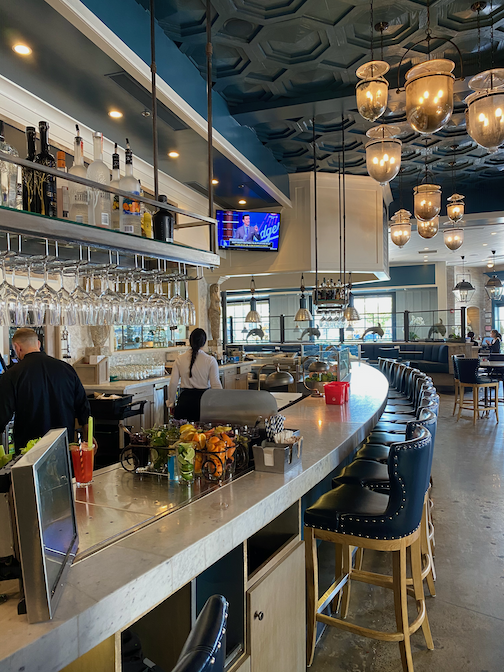 Harry's at Loreto Plaza & Lure Fish House at La Cumbre Plaza
And let's not forget about the La Cumbre Country Club! Members can enjoy all sorts of events that are perfect for socializing. Whether you're into golf, tennis, or just lounging by the pool, there's something for everyone at this popular facility.
No matter which community you choose, you're in for a good time. While both communities offer the beloved natural beauty and environment Santa Barbara is known for, Montecito additionally offers luxury shops, fine dining, and cultural attractions, while Hope Ranch is all about outdoor activities and unwinding in nature.
Shopping
Montecito and Hope Ranch are both top-tier neighborhoods, but when it comes to shopping, they each have their unique flavor.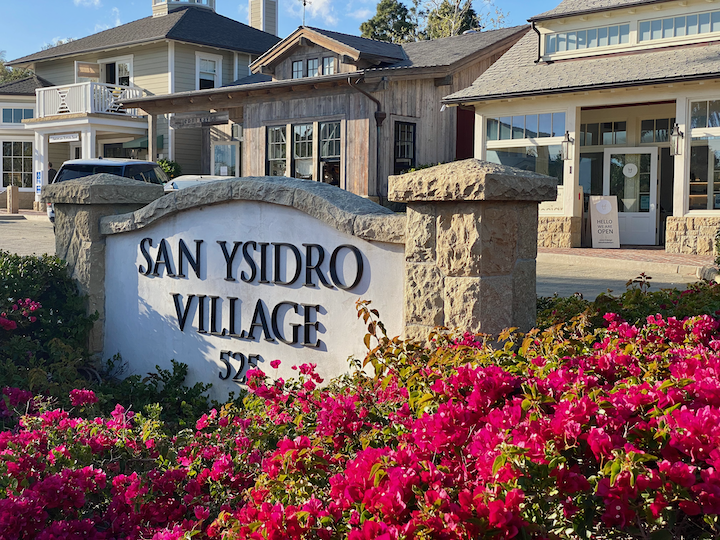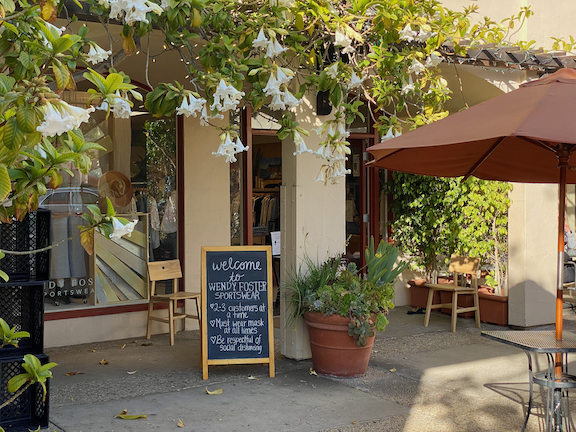 Quaint Shopping at the Upper Village in Montecito
Montecito is more attractive if you're looking for high-end boutiques and designer shops. The shopping district along Coast Village Road is lined with a few trendy clothing stores, jewelry shops, and upscale home decor stores. And don't forget about the Upper Village on East Valley and San Ysidro Road, where you can find stores like Wendy Foster and Jenni Kayne. You also won't have to leave town for your groceries - Montecito Country Mart has got you covered with all essentials.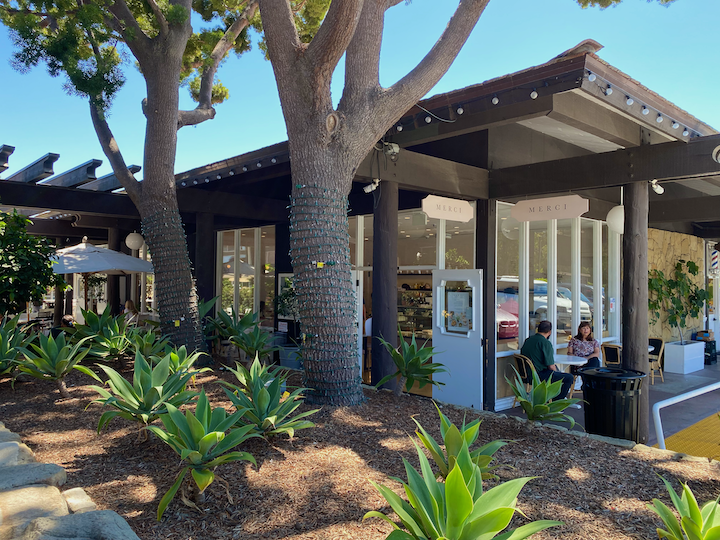 The Montecito Country Mart
On the other hand, Hope Ranch is a bit more laid back and strictly residential. But don't worry, there are still some great places nearby to get your shopping fix. La Cumbre Plaza has stores like Macy's, Talbots, and J. Jill, while the Upper State Street area offers Whole Foods, several smaller strip malls, and independent boutiques.
So, which is better for shopping? It all depends on what you're looking for. Montecito is perfect for those who want to splurge on high-end items, while Hope Ranch is more convenient for everyday shopping needs. No matter which neighborhood you choose, you're sure to find what you're looking for. And in case you don't - Downtown Santa Barbara is only a short drive away for covering anything else you might need. Additionally, you might like to go for an all-out shopping spree in L.A. - only a quick hour and 30 minutes away.
Conclusion - "Where should I move?"
In conclusion, both Montecito and Hope Ranch offer a luxurious and desirable lifestyle, but each has its unique advantages and character.
When it comes down to it, choosing between Montecito and Hope Ranch is like choosing between two equally amazing flavors of ice cream. Both are delicious, but each has its unique taste and character. So whether you're a cosmopolitan city person looking to escape the hustle and bustle a bit or you're a rugged rancher at heart, you're sure to find your perfect match and unparalleled quality of life in one of these two luxurious neighborhoods.
Video Introduction to Both Neighborhoods
Watch my video tours, if you like to see what it looks like in Montecito and Hope Ranch.
Other Articles You Might Like: