Christmas in Santa Barbara
Posted by Katinka Goertz on Thursday, November 3, 2022 at 9:00 AM
By Katinka Goertz / November 3, 2022
Comment
Christmas in Santa Barbara
•Best Things to do in Santa Barbara during the Holidays•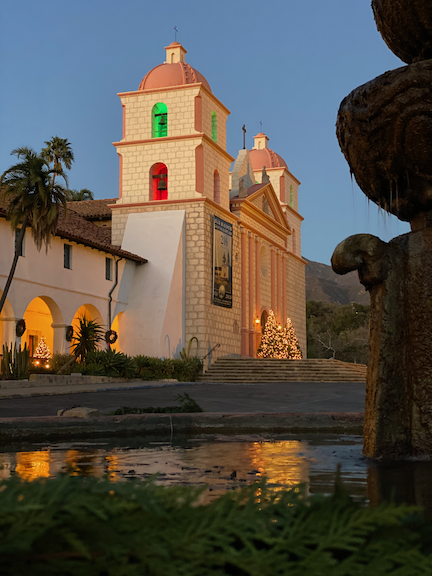 The Santa Barbara Mission in its festive glory
Thinking of Christmas, California might not be the first thing popping into your mind. But should you choose to spend the holidays in warmer weather, Santa Barbara has lots of holiday cheer to offer and it is a fantastic place to celebrate Christmas - without freezing or sweating. There are many festive events, performances, shopping opportunities, and sparkling magic around here. You might even get a chance to throw on your knit scarves, sweaters, and boots since the evenings can get a little chilly. For some holiday inspiration, I gathered a list of a few of our favorite activities around this time of year - I hope to see you at one or the other.
→ Read, or watch the video below
Paseo Nuevo Shopping Mall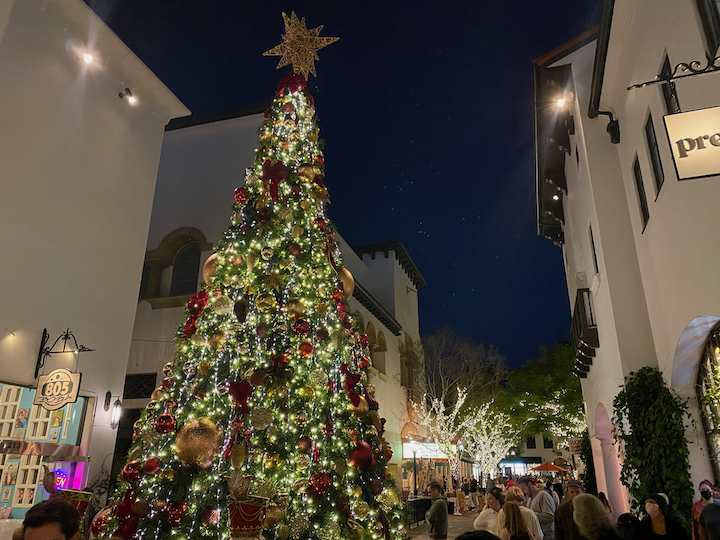 Paseo Nuevo Shopping Mall during the Holiday Season
Enjoy the festive set up strolling through Santa Barbara's Downtown pedestrian shopping mall, "Paseo Nuevo". There are maker fairs with a variety of holiday-themed items made by local artists, a letter to Santa writing station, and photo sessions with Santa for the whole family, including your pets. During the evening you can even experience snow falling over the center court with its beautiful, prominent tree and sparkling lights. Check out Holidays at Paseo Nuevo here.
The Stow House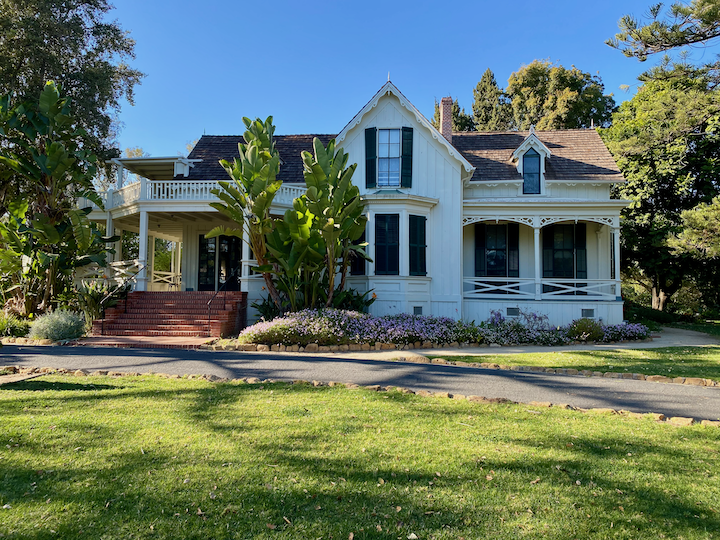 The Stow House - Historical Landmark in Goleta
Visit the picturesque grounds of La Patera Ranch and Stow House in Goleta for the holidays. Locals adore picture sessions with Santa and his rein-goats at this event. Families with little kids love riding the holiday train at the Goleta South Coast Railroad Museum. There also will be crafts, face painting, food, and music. Check out Holiday at the Ranch here.
Summerland Christmas Shopping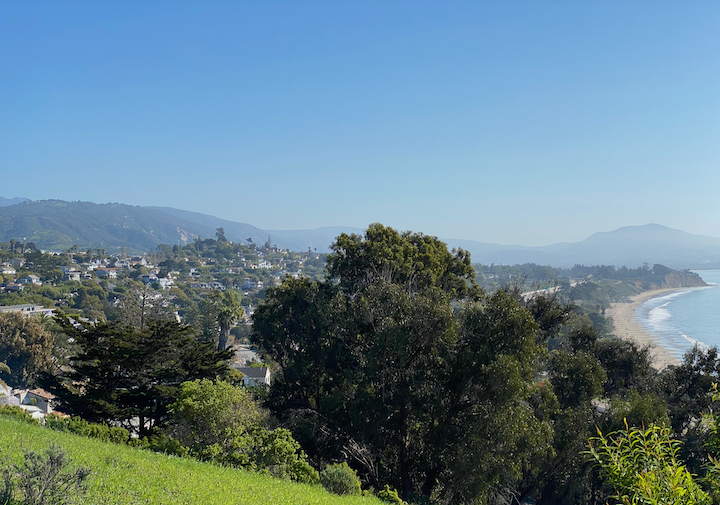 View over Summerland
Another fun way to get into the holiday spirit is visiting Summerland for eclectic home and garden decor shopping. The inviting stores along Lillie Ave offer unique gifts and furniture. From antiques and thrift stores to stylish accessories and garden designs - you can find a wide array of items to dress up your home in the quaint coastal town of Summerland. While you are there, you might also like to enjoy a casual lunch or walk down to the beautiful beach from Lookout Park. Or visit the Sacred Space for some South East Asian items to either purchase or some spiritual inspiration while relaxing in the Balinese Zen garden with a cup of tea.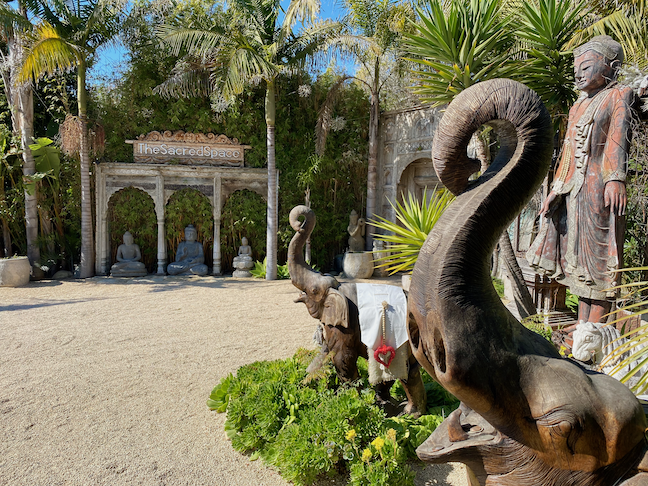 Entrance to The Sacred Space in Summerland, CA
Santa Barbara Harbor Parade of Lights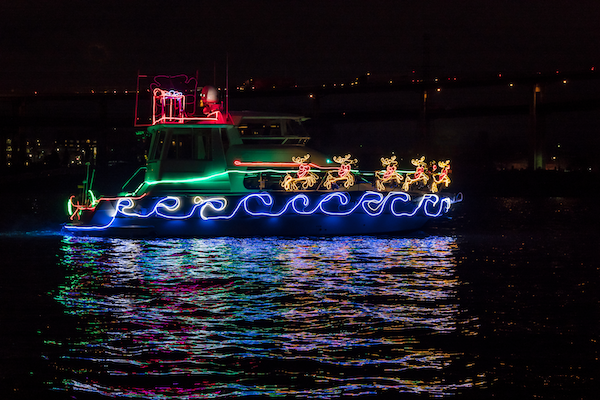 Watch the Parade of Lights with its over 30 brightly decorated boats parading around the Santa Barbara Harbor. Start the day with family activities at the Harbor's City Pier, which will turn into a Winter Wonderland with snow, Santa appearance, and holiday music. At 5 pm the tree lighting ceremony will be held on Stearns Wharf. The event ends with a festive firework display. For a front-row view, you can book a spot on the Double Dolphin to enjoy the beautiful vistas from a prime location on the ocean.
Trolley Tour of Lights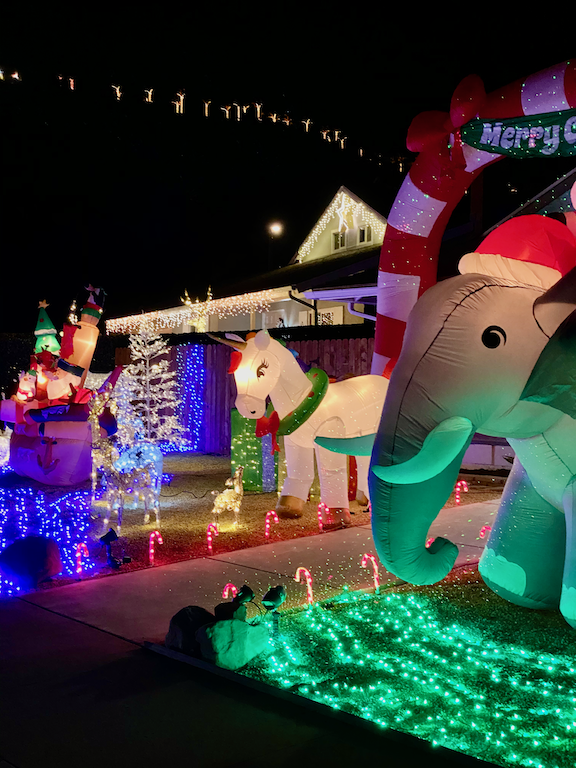 Christmas decorations at Hidden Valley neighborhood
The popular Christmas Lights Tour is another one of Santa Barbara's beloved holiday activities. Get into the seasonal spirit with the whole family and friends as you ride around in a trolley to see the best Christmas decorations in town. Book your tour fast, as this is a hot-ticket-item during the Holidays. If you have small children, put them in jammies with a cup of hot chocolate and drive around the different neighborhoods in your own car to see the decorations. For the best spots in town and an updated driving route, check here.
Solvang Jule Fest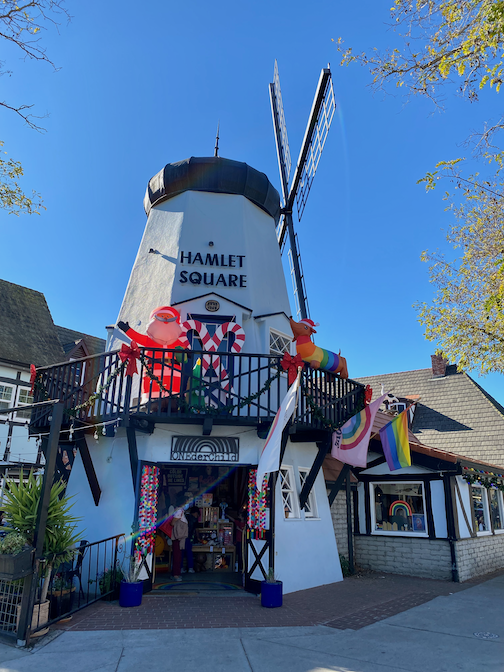 Solvang Hamlet Square
If you are up for a little day trip to the Santa Ynez Valley, visiting Solvang is such a delight during this time of the year. The charming town with its Danish roots offers lots of sweet treats, festively decorated storefronts, and fun activities. Especially lovely is the scavenger hunt for the kids. Find the visitor center for more info. If you like to embrace Christmas even a little more, explore the local beautiful Mission with its small historic museum, serene gardens, and wonderful country views. Check out all Julefest activities here.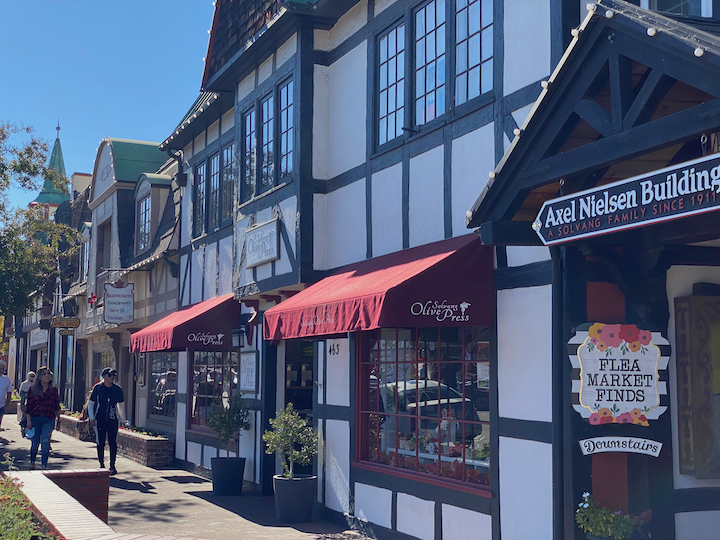 Solvang Street View
Cambria Christmas Market
Only two hours north you may like to visit the charming town of Cambria. During the holidays they offer a spectacular German-style Christmas Market with an impressive lights display that will Wow you for sure. In good-old European fashion, you can sip on hot mulled wine, shop for handcrafted ornaments, eat some rustic fare, wander around the lights show and get cozy by the fire pits. It is such a fun way to celebrate the season. It reminds me a bit of my German roots with traditional Christkindl Markt visits during this time of year. Watch a quick preview of this market here.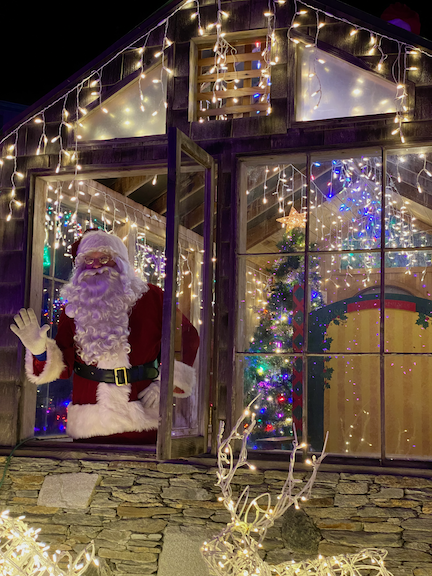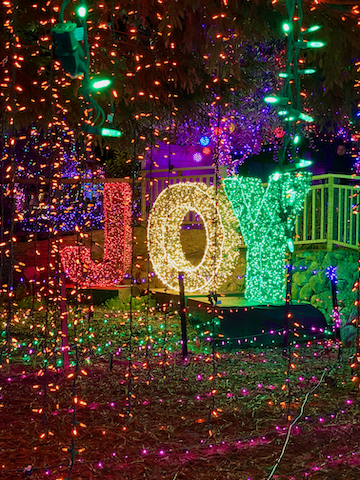 Cambria Christmas Market
Santa Barbara Zoo Lights
You can't make it to Cambria? And you are looking for something to do along those lines? For the first time this year, the Santa Barbara Zoo will turn into a magical lights display. Illuminated lanterns and 50,000 led bulbs will showcase animal and nature scenes from around the world. I can't wait to visit this event - See you there! (*Update: We went and it was beautiful! Watch a quick preview here) For more info and to book tickets, check here.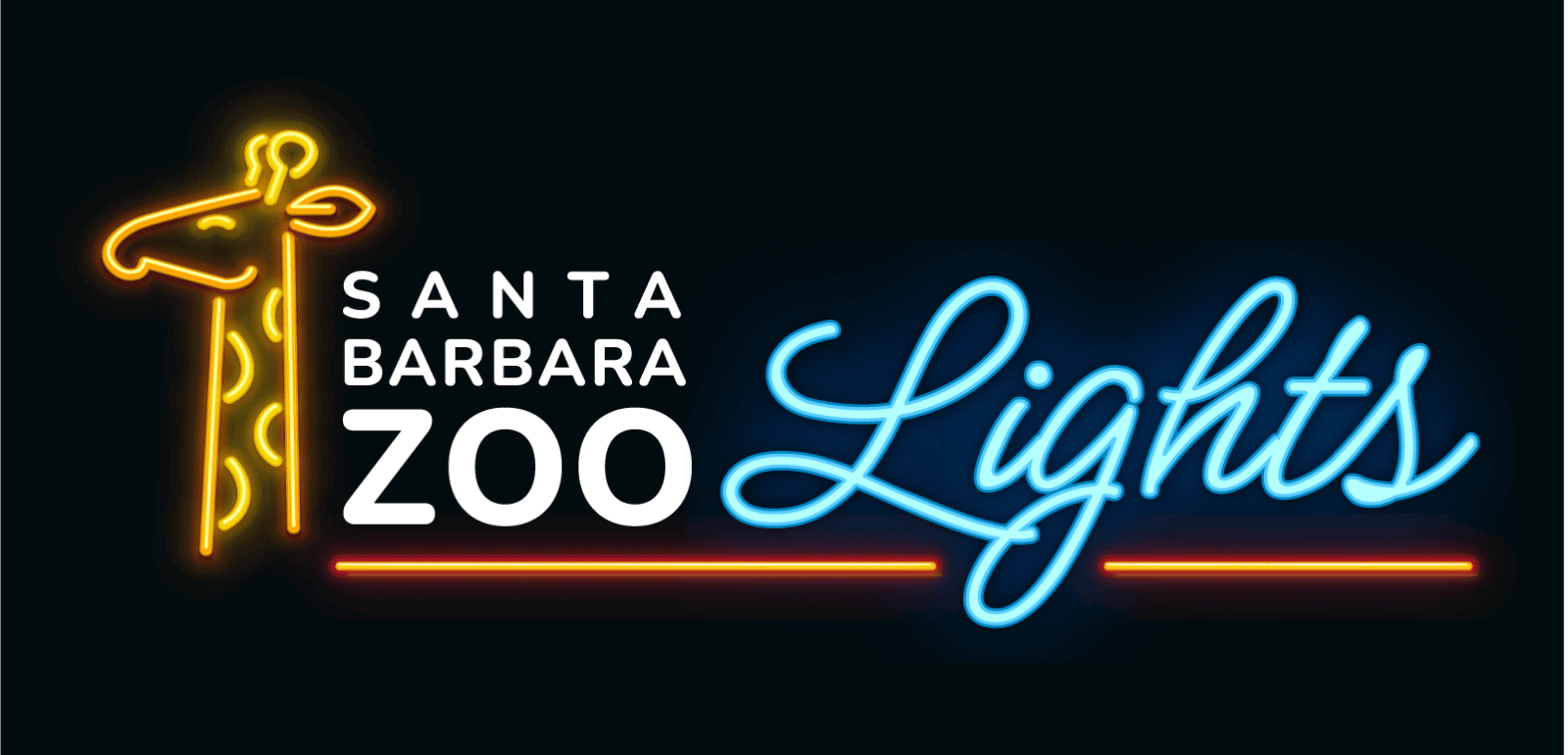 Photo courtesy - Santa Barbara Zoo
Santa Barbara Theater - Christmas Shows
If you are in the mood for a classic Christmas show, like the Nutcracker or Rudolph, visit one of several theaters in town. The Granada Theater, the Lobero Theater, and Ice in Paradise offer festive family entertainment with ballet performances, holiday dance pageants, concerts, and Christmas-themed ice skating shows. For a calendar of theater holiday shows, check here.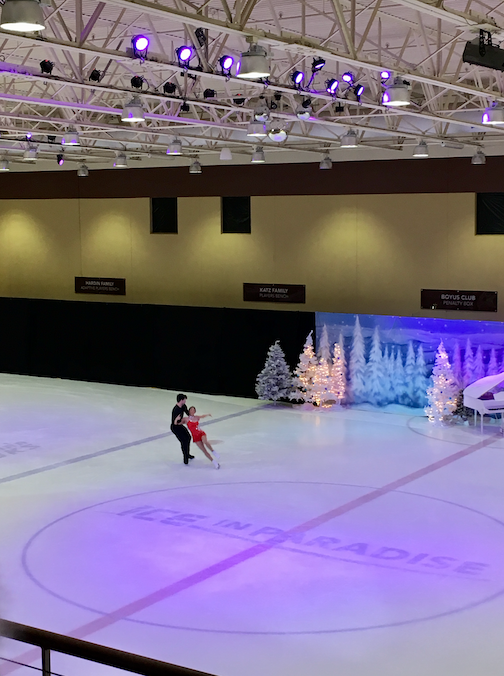 Ice in Paradise Holiday Show
---
Are you thinking of moving to Santa Barbara, CA?
Book a consultation with me here
---
Watch the Santa Barbara Holiday Edition Video