BUYING A HOUSE IN SANTA BARBARA - 10 STEPS
Posted by Katinka Goertz on Sunday, January 29, 2023 at 2:00 PM
By Katinka Goertz / January 29, 2023
Comment
Buying a House in Santa Barbara
• Frequently asked questions about the buying process •

Buying a house is a significant milestone in anyone's life, and for many, it represents the realization of a long-held dream of the notorious California lifestyle. However, for those looking to buy a house in the Santa Barbara real estate market, the process can feel daunting at first. In this blog post, we'll take a look at the necessary steps to take to make your home purchase successful, as well as some of the most common challenges buyers face when trying to purchase a home in Santa Barbara. With the right strategies and tips for overcoming obstacles, your home-buying experience can be stress-free and even pleasant, believe it or not.
• 10 steps to buying a house in Santa Barbara •
♦♦♦♦♦
Step 1 - Talking to your real estate agent
Schedule a call or meet with me (or your realtor of choice) to initiate the process, get a general overview of the current market and describe what your ideal home would look like.
---
---
Step 2 - Getting a pre-approval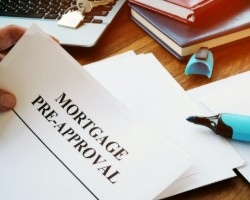 Since you will be making a life-changing investment, your next imperative step is to determine your budget for your home purchase in Santa Barbara. It is important to start the pre-approval process for your mortgage early on with a local lender to understand your options and to be fully prepared to submit qualified offers. Our local lenders are tuned into the Santa Barbara real estate market and know how to navigate certain obstacles to avoid delays, or other issues along the way jeopardizing a successful transaction.
Pre-approval letters are typically valid for 90 days and need to be updated after that.
---
Some useful questions to go over with your loan officer:
How much can I borrow?
What are the interest rate and loan terms?
What documents do I need to provide for the pre-approval process?
How long will it take to get pre-approved?
What is the pre-approval process like?
Will the pre-approval guarantee me a loan?
What is the minimum down payment required?
What is the debt-to-income ratio requirement?
How does my credit score impact the pre-approval process?
What type of mortgage is right for me?
Are there any specific loan programs that I may qualify for? Especially if this is my first home purchase
Will I need mortgage insurance
What will my insurance, taxes, and closing costs look like approximately
---
→ If you are planning on a cash purchase, you need to make sure you have proof of funds from your financial institution available with your offer.
Step 3 - Studying the market
Get a clear vision of what items for your dream house are non-negotiables on your wish list. The best way to determine this is by visiting as many homes as possible within your timeframe - either in person or via video call with your realtor if you are out of town. Most likely, no house within your budget will fully live up to your dreams. You will probably have to make some compromises. Take notes on the homes you saw, obtain comps for those homes and what you liked and didn't like about them. This exercise will quickly lead to the clarity of your needs and what you have to budget for.
Step 4 - Pinpointing the ideal location
Narrow down the neighborhoods that meet your needs for lifestyle, commuting, shopping, schools, architectural style, and amenities you are looking for. There is an array of possibilities in Santa Barbara! Identify the positives of these neighborhoods, but also learn about potential drawbacks - your experienced realtor can help you answer questions about possible environmental impacts, natural hazards, insurance requirements, etc.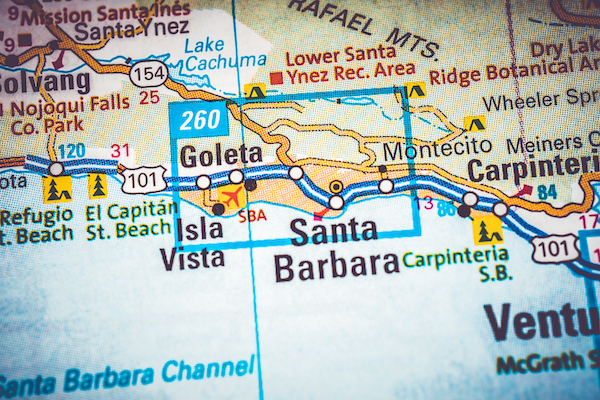 Step 5 - Mobilizing all resources
After determining which Santa Barbara neighborhoods will fit your desires, we will concentrate your home search in those areas. At this point in the process, as your realtor, I will be able to utilize all resources, community contacts, and partnerships to show my committed client any possible house. Whether the home is on the market, coming soon, or off-market possibilities.
Step 6 - Making an offer
After locating the right home, an offer tailored to your needs will be prepared and presented to the seller. As your realtor, I will explain the purchase agreement to you to get a deep understanding of all terms, if you have never purchased a home in California. The offer will typically contain your inspection-, financing-, and other possible contingencies. If the seller accepts the offer, a binding contract is in effect. If the seller doesn't accept the offer, it can either be rejected, or a counteroffer can be made by the seller.
Step 7 - Opening an escrow
Upon mutual acceptance of your negotiated offer, escrow will be opened to handle the paperwork and title insurance needed for you to purchase the property. In California, the escrow company is a neutral third party carrying out mutually agreed-upon terms. Your deposit check, which is typically in the amount of 3% of the purchase price, will be deposited within three days of the accepted offer.
Step 8 - Escrow period
The length of the escrow period is negotiated in the offer and is typically 30-45 days. During the standard 17-day inspection contingency the buyer has the right to inspect the property thoroughly and review any disclosures the seller can provide. During this time frame, it is also recommended to get different quotes for homeowner's insurance. The time frame for removing most contingencies is usually between 17 and 21 days. However, these time frames are all negotiable.
---
Recommended Home Inspections for Santa Barbara:
General home inspection
Pest Inspection (termites are a common occurrence in this region)
Roof Inspection
Sewer Lateral Inspection (inspection of the condition of the sewer line to the property)
Any subsequent specialty inspections if needed (HVAC, plumbing, electrical system, foundation, etc.)
---
Step 9 - Releasing of contingencies
Should your inspection or seller disclosures reveal unexpected problems, you have the option to either renegotiate the originally agreed-upon price or step back from the agreement entirely, if you are not satisfied. The deposit amount will be recovered if canceling of escrow happens within the contingency period. Once you do decide that you are moving forward with the purchase of the home, your contingencies will be removed. The balance of your funds is due in escrow on the last business day before the escrow closing. Property transfers are recorded at 8:00 am each business day and usually get confirmed between 10:00 am and 2:00 pm, depending on how busy the County Recorder's office is that particular day.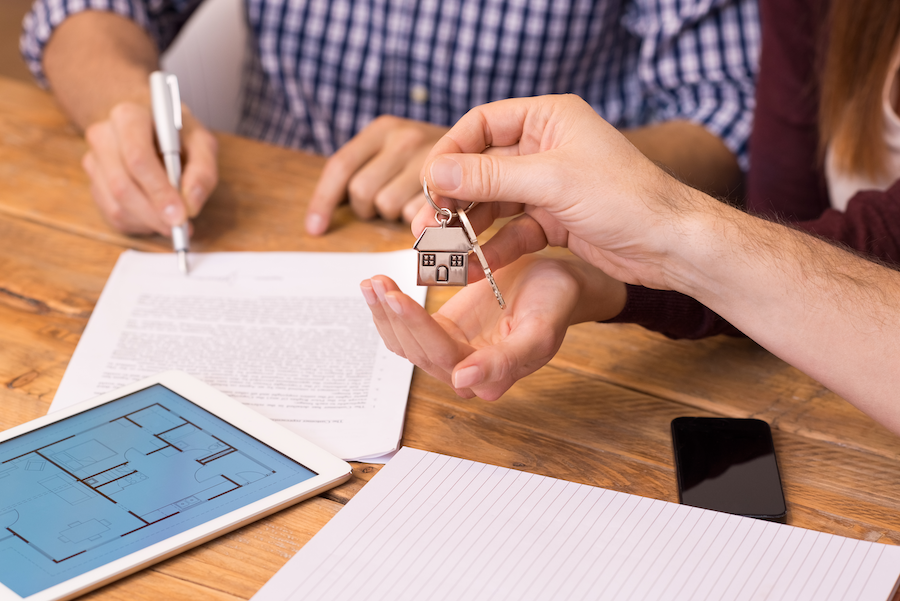 Step 10 - Closing of the transaction
Upon receiving confirmation of recordation the seller releases the keys to the buyer who is then free to occupy their new home (unless different agreements are in place, like for example a seller lease-back, or extended stay)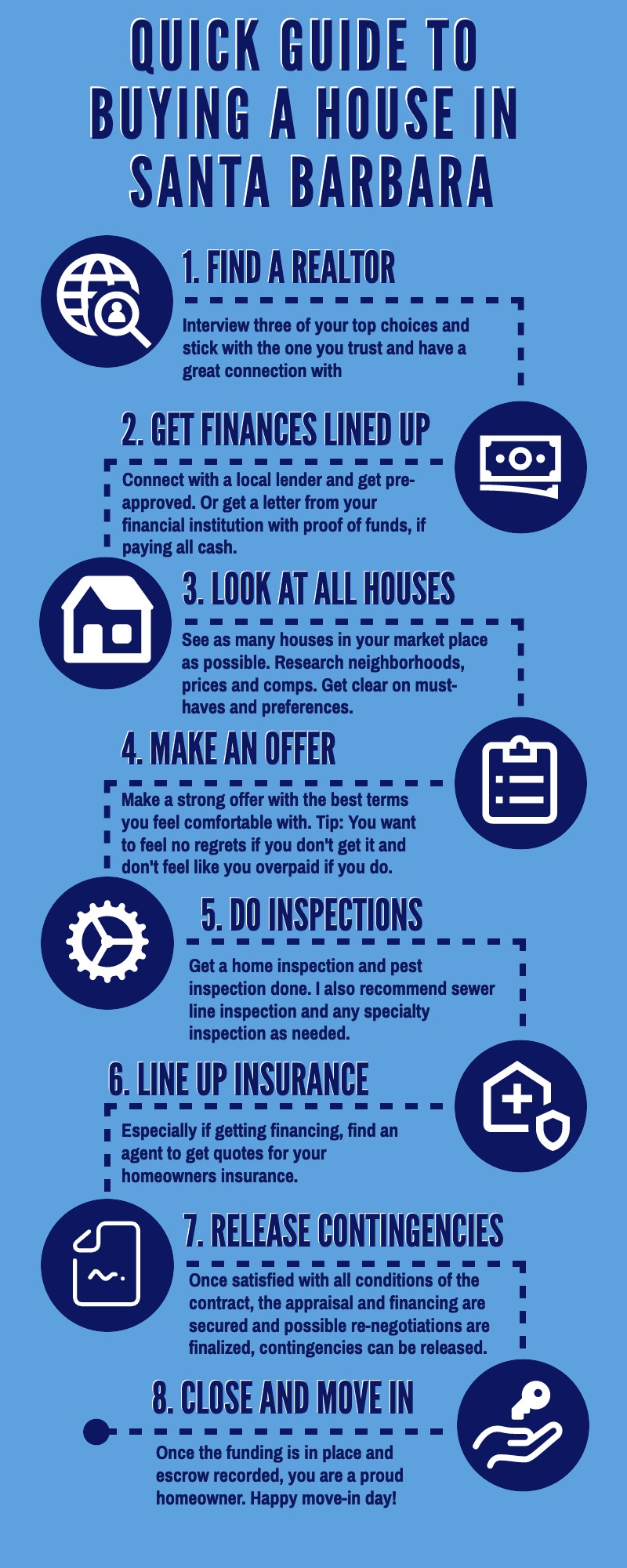 Quick Guide for Buying a Home in Santa Barbara
• Challenges of Buying a Home
in Santa Barbara •
"Why is Santa Barbara real estate so expensive?"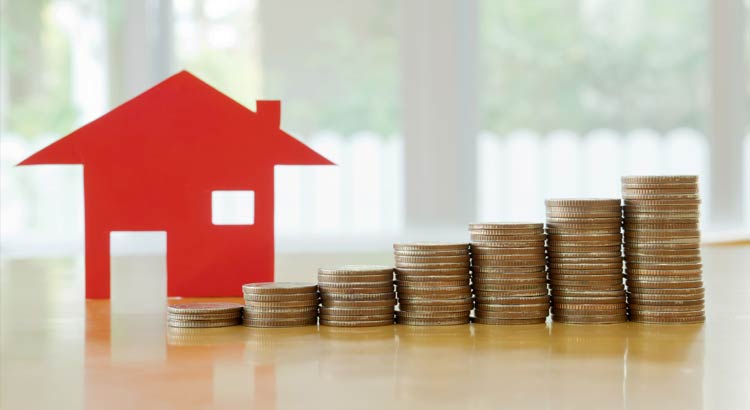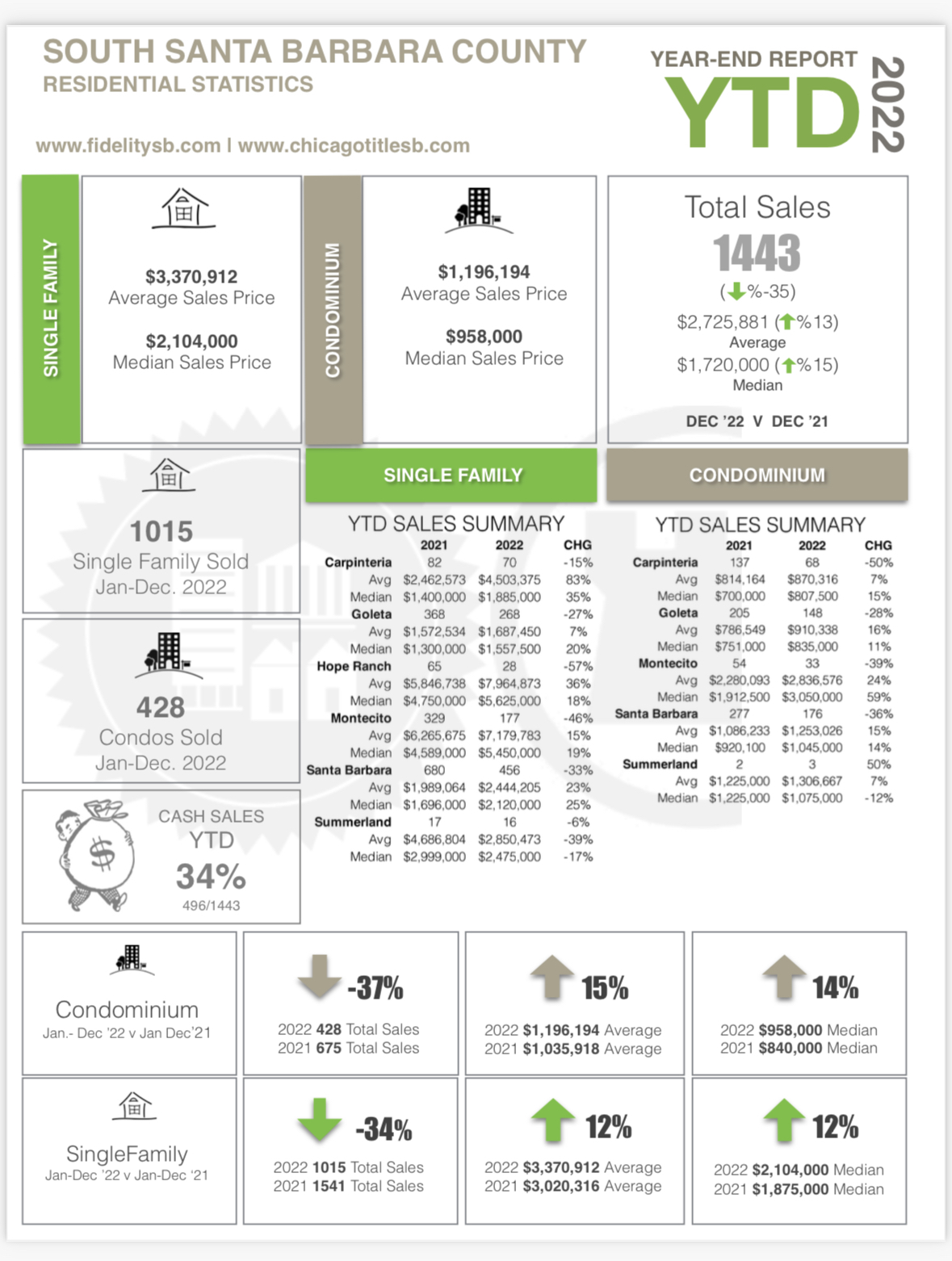 One of the biggest challenges of buying a property in Santa Barbara is the high cost of housing. The city is located in one of the most desirable areas of California, with a picturesque setting, a mild climate, beautiful Mediterranean architecture, and a wide range of recreational and cultural amenities. As a result, demand for housing in Santa Barbara is high, and prices have soared in recent years. According to statistics in the end-of-year report for 2022, the median home value for a single-family home in Santa Barbara is around $2 million, which is more than double the national average.
For many prospective buyers, the high cost of housing in Santa Barbara is simply out of reach. Even with a healthy income and a solid credit score, it can be difficult to save up the necessary down payment and closing costs to purchase a home in the city. Those who can afford the upfront costs of buying a home may be able to secure a more manageable monthly mortgage payment. However, for those who are just starting in their careers or who have a family to support, these expenses can be tough to generate.
---
To get regular market updates like this, check HERE
---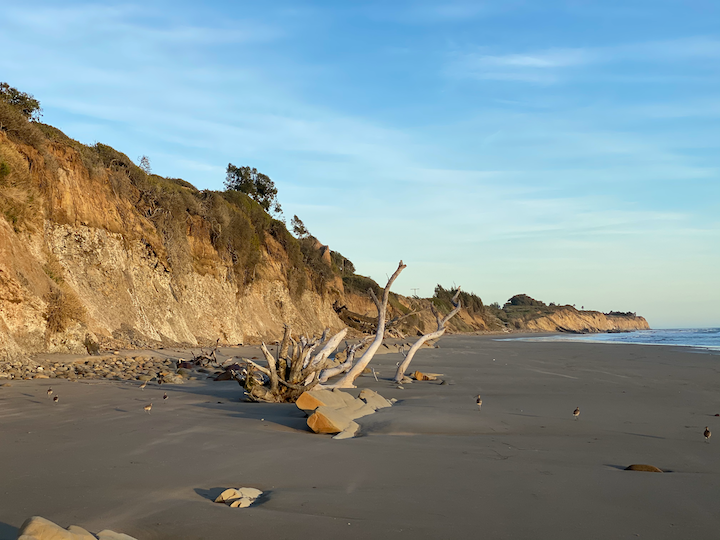 Golden Hour at Beach in Goleta
• Low supply of housing inventory in Santa Barbara
Another challenge of buying a house in Santa Barbara is the limited supply of available homes. The city has a relatively low housing inventory, with just a few hundred homes on the market at any given time. This lack of available homes can make it difficult for buyers to find a home that meets their needs and budget. In addition, the high demand for housing in Santa Barbara means that homes tend to sell quickly, so buyers must act fast if they want to secure a home. Even now - with lower buyer demand and higher interest rates - this remains the case for properties priced correctly and in a desirable location.
Competition from other buyers - even though less now than in previous years - is a major challenge in the Santa Barbara real estate market. With so few homes available, buyers often find themselves competing with other interested parties for the same property. This competition can drive up the price of a home and make it difficult for buyers to get their offers accepted.
One strategy for overcoming these challenges is to work with a real estate agent who is familiar with the Santa Barbara market. A good agent will be able to help you navigate the local real estate landscape and identify properties that are a good fit for your budget and needs. They can also provide valuable insights into the local market, come up with options not yet on the market or off-market (often referred to as "pocket listings"), and help you negotiate with sellers to get the best possible price on a home.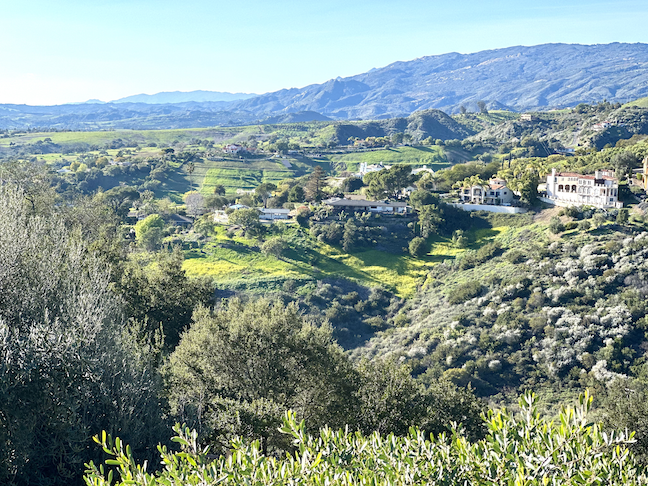 Mountain Setting View, San Roque Foothills
"Is moving to Santa Barbara worth it?"
Even though these challenges deter some people from making the move to Santa Barbara, the positives are so great in comparison that many homebuyers are willing to jump into the real estate market, despite the obstacles. Home values have been climbing steadily over the past years and once a homeowner, the investment aspect has been well worth it for most. Currently, there is a noticeable slowdown - Read my blog post with an end-of-year market update here. However, Santa Barbara will continue to be a desirable place in the future, because of so many obvious factors. Here are just a few of them:
Stunningly beautiful scenery and weather
Very high quality of life
Good education
Thriving arts and cultural scene
Safe and desirable community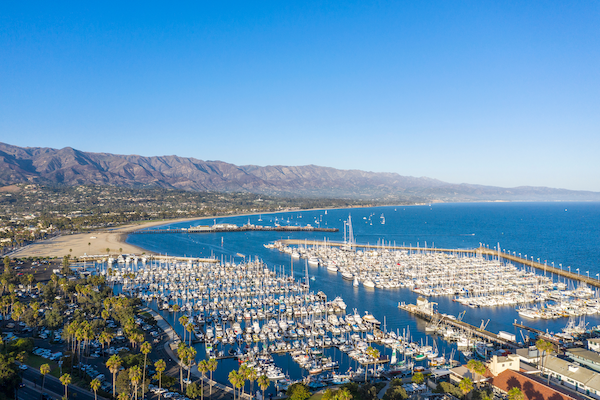 Santa Barbara Harbor View
• Learn About All Things Santa Barbara
• If you like to learn more about Santa Barbara, watch my neighborhood tours, tips and introductions to the city on my YouTube Channel "Living in Santa Barbara".
• For quick stories and impressions about living, eating, and playing in Santa Barbara, visit my Instagram, or Shorts Videos.
I love my city of choice and I hope you will too.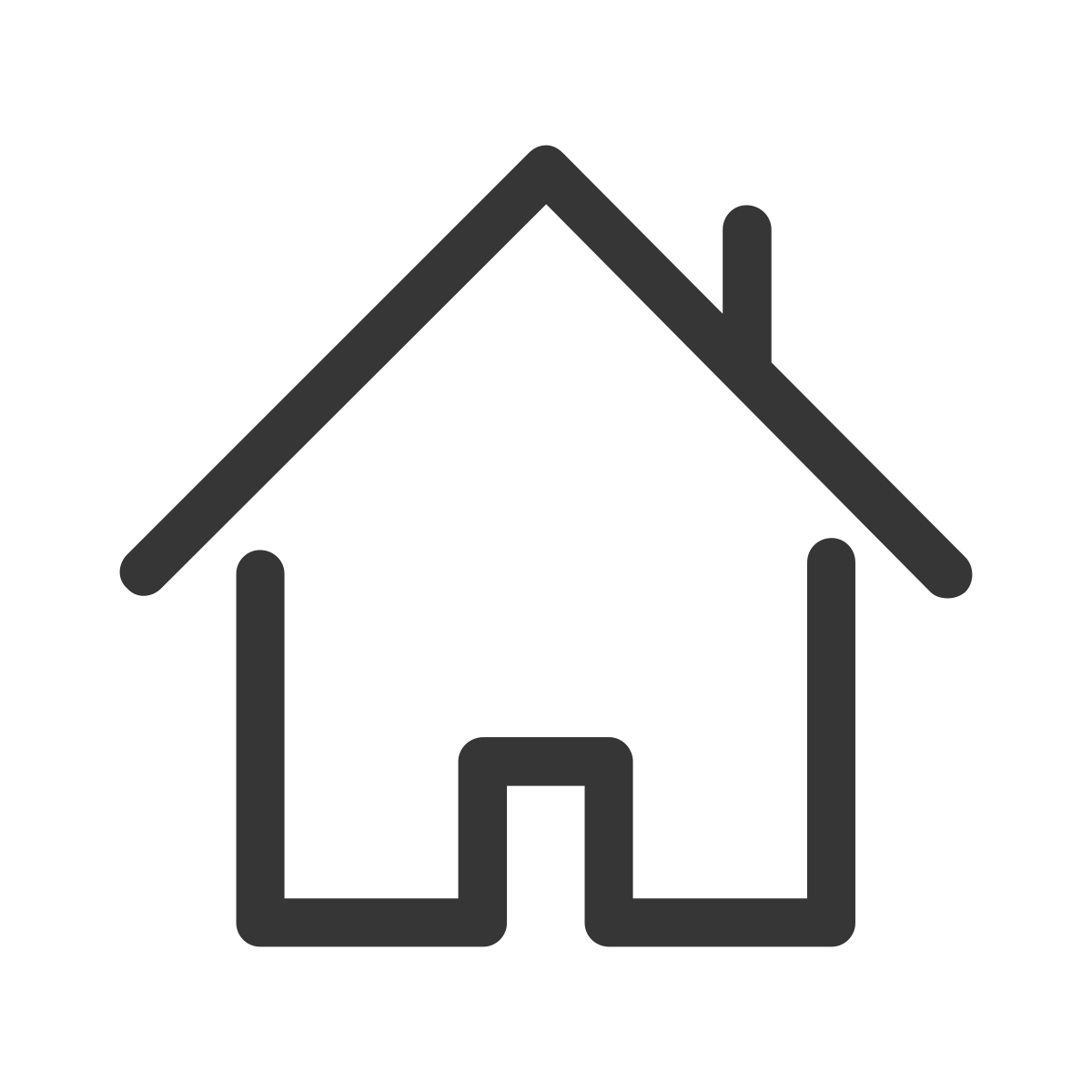 To search all currently available homes in Santa Barbara, visit my website.
Other articles you might like:
→ Watch the Video here