Beach Houses in Santa Barbara
Posted by Katinka Goertz on Monday, October 30, 2023 at 11:00 AM
By Katinka Goertz / October 30, 2023
Comment
Santa Barbara Living by the Coast
Waterfront Properties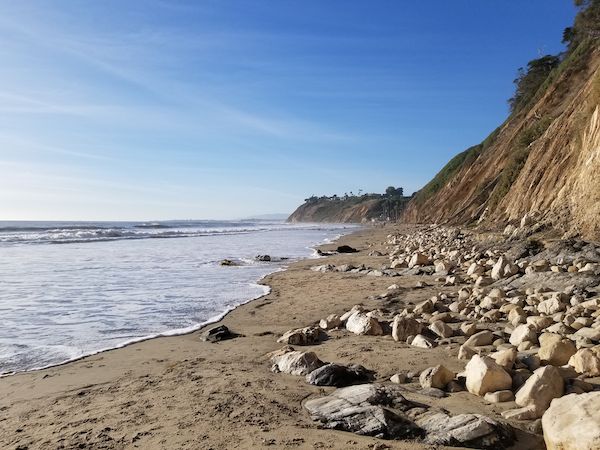 Santa Barbara, often dubbed the "American Riviera", is renowned for its Mediterranean climate, stunning landscapes, and vibrant coastal lifestyle with a European flair. If you're seeking a taste of luxury living by the coast, Santa Barbara's waterfront properties offer an unparalleled experience. This blog post will dive into the different coastal neighborhoods and unique enclaves that make this picturesque coastal haven an ideal destination for those who appreciate the finer things in life by the sea.
---
For currently available beach front properties see HERE
---
1. Montecito - The Epitome of Coastal Opulence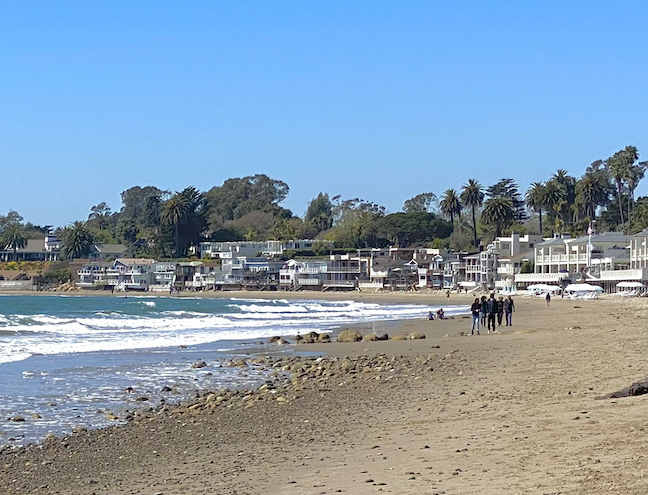 Miramar Beach Scene
Montecito cradled between the majestic Santa Ynez Mountains and the Pacific Ocean, emerges as an unrivaled haven for extravagant real estate. Along Montecito's coastline, you'll find an array of awe-inspiring estates, seamlessly blending meticulously tended gardens, private beachfront access, and world-class amenities in an elegantly understated fashion.
This secluded paradise caters to an elite clientele, attracting the gaze of celebrities, visionaries, and connoisseurs in search of their private haven. Montecito, where luxury finds harmony within the arms of nature, invites you to indulge in a life of refined coastal splendor.
There are four beachfront communities in Montecito:
Fernald Point
Miramar Beach
Hammond's Beach
Butterfly Beach
Each of these areas features unique living situations. Two of the most popular gated communities - Sea Meadow and Montecito Shores / Bonnymede - can be found along Hammond's Beach.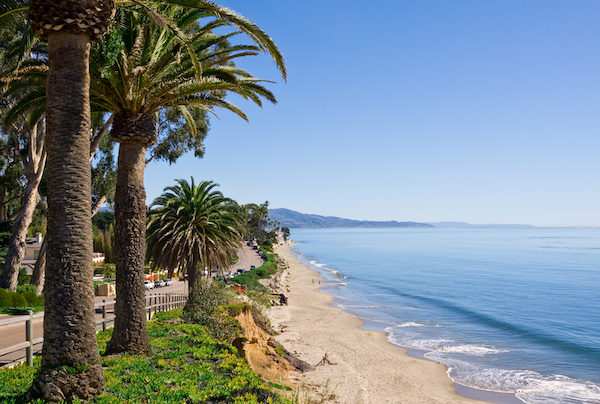 Channel Drive overlooking Butterfly Beach
To learn more about Montecito's gated communities, see HERE.
Featuring Fernald Point Beachfront Living:
Nestled in the heart of Montecito, Fernald Point Lane is more than just a beachfront address; it's a piece of paradise. Here, homes spread out over sprawling lots, shaded by mature trees and surrounded by lush greenery, creating an idyllic coastal escape.
While the road leading to Fernald Point Lane is mostly public, the real magic happens beyond the famous Point. Here, a serene, east-facing cove greets you, accessible via a private, gated road. The occasional rocky patches along the beach do little to diminish the beauty of the surroundings, making each walk a delightful experience. Fernald Point Lane's beach seamlessly connects with Miramar Beach, a public hotspot for beachgoers. The generous lot sizes mean homes are set back from the shore, granting homeowners an enviable level of privacy and creating an atmosphere of timeless elegance.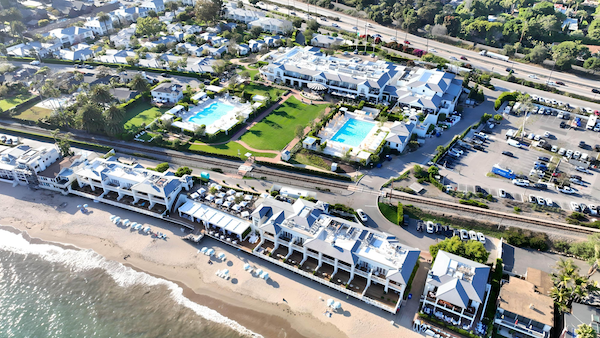 Rosewood Miramar Beach Resort
If you're a family, you'll appreciate that Fernald Point Lane falls within the highly regarded Montecito Union School District, ensuring top-tier education.
When you're ready to explore beyond the coastline, you're just a short drive away from Montecito's Upper Village and Coast Village Road, both vibrant areas brimming with shopping and dining options. This convenient location transforms Fernald Point Lane into the perfect blend of luxury living and modern convenience. Fernald Point Lane isn't just a place to live; it's a lifestyle that combines coastal charm with contemporary comforts. It's where every day feels like a vacation.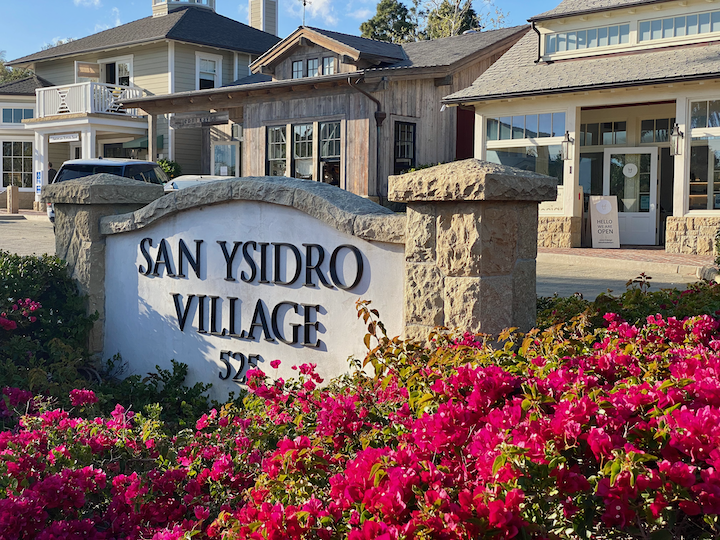 Quaint Upper Village Stores
For an introduction to the Montecito neighborhood, watch HERE.
2. Hope Ranch - An Equestrian Dream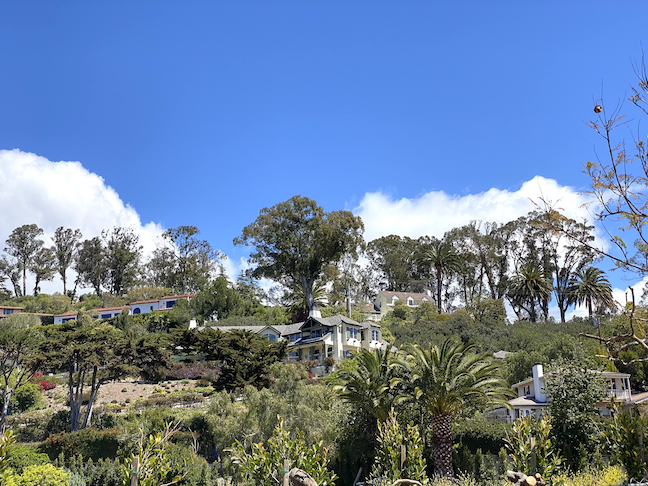 Hope Ranch Homes
Nestled on the western fringes of Santa Barbara, Hope Ranch is a treasure trove of upscale living. Here, you'll discover a diverse collection of properties, from grand equestrian estates to oceanfront marvels and impressive mansions.
What sets Hope Ranch apart is its unique blend of natural beauty and refined amenities. The community enjoys a beach with private, gated access for Hope Ranch residents, perfect for those who relish coastal pleasures. For equestrian enthusiasts, the horse trails are an open invitation to explore the landscape on horseback, providing a serene escape from everyday life.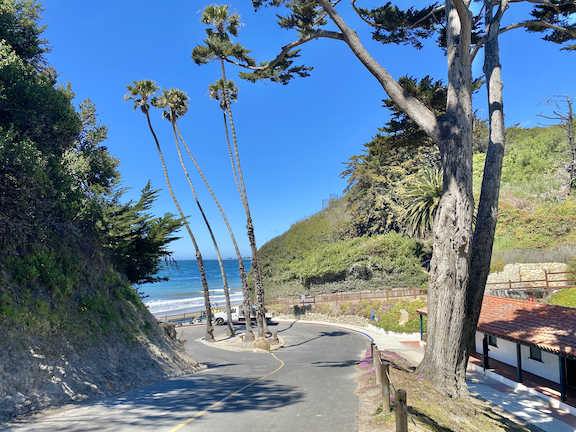 Hope Ranch private beach access
Moreover, Hope Ranch houses La Cumbre Country Club, a private haven for golf aficionados. This exclusive amenity enhances the area's allure, appealing to those who appreciate both the links and the ocean breeze. In Hope Ranch, the best of Santa Barbara living comes together in a harmonious fusion of luxury, nature, and recreation.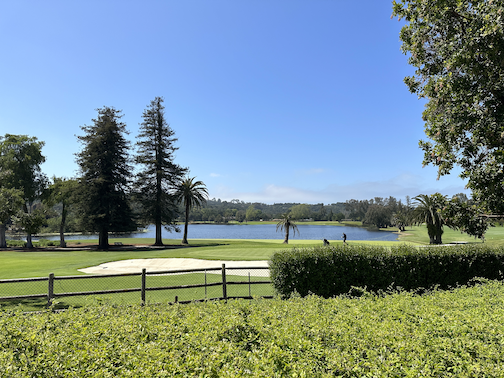 Hope Ranch golf course
Cresciente Drive, Marina Drive, and Via Roblada are not your average streets – they're the proud hosts of a stunning collection of bluff-top homes and estates that redefine coastal living. Here, you'll find a total of 37 bluff-top residences, each with a front-row seat to the beauty of Hope Ranch Beach. What's even more impressive is that many of these homes boast private staircases leading down the bluff, offering direct access to the sandy shores.
But that's not all. Nearly every property along these exquisite streets sits on more than two acres of land, with some enjoying even more generous expanses. It's a paradise for those who crave space, privacy, and a front-row view of the Pacific's breathtaking vistas.
To watch an introduction to Hope Ranch, see HERE.
3. East Beach - Vibrant Beachfront Living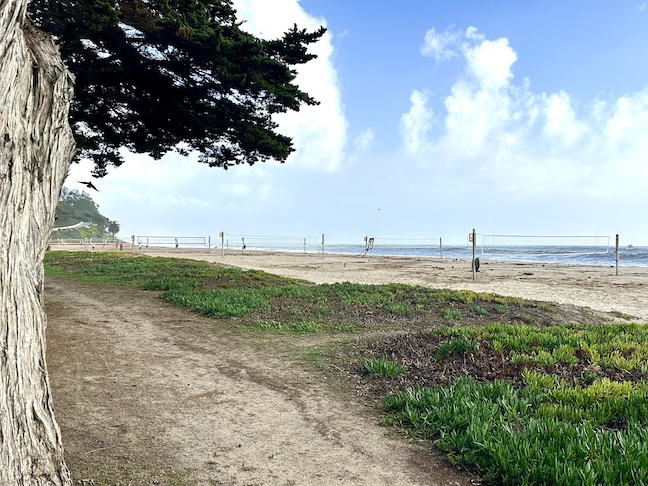 East Beach Volley Ball
East Beach is where residents revel in the lively coastal scene. From beach volleyball tournaments to waterfront parks and the famous Cabrillo Pavilion Arts Center, this area offers a dynamic lifestyle with quick access to the beach. Condos and beachfront properties provide an opportunity for convenient lifestyle in a bustling beach community.
Featuring Beachfront Condo Living at East Beach: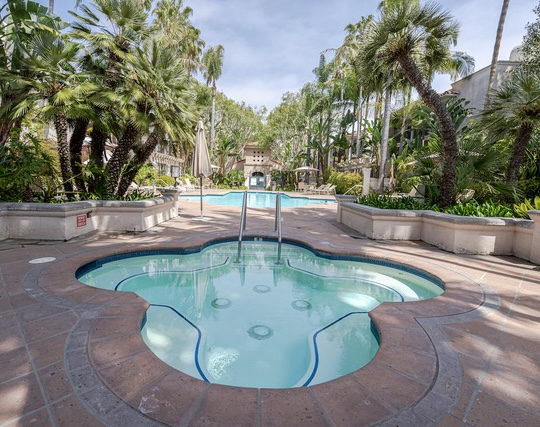 El Escorial Pool Area
Let's explore El Escorial Villas, where easy living and coastal access unite to create a resort-style condominium complex in Santa Barbara, California. With its delightful Mediterranean architectural design, El Escorial Villas offers a lavish array of amenities for your enjoyment.
Here, you'll discover a sun-drenched, year-round swimming pool and spa, a spacious and well-ventilated gym fully equipped to meet your fitness needs, and two recently resurfaced tennis courts. For those who appreciate outdoor gatherings, there's a BBQ and picnic area, and a welcoming clubhouse complete with a library and a courtyard.
El Escorial Villas is a lush, tropical paradise, graced by majestic trees and vibrant flowering plants. To ensure your peace of mind, this gated community is guarded by a 24-hour security service, providing a safe and secure environment for residents. Whether you're seeking a permanent residence or a home away from home, El Escorial Villas is your perfect Santa Barbara retreat.
The community comprises 261 condominiums spread across four L-shaped, three-story structures. These residences offer seven distinct floor plans, including studios, one-bedroom, two-bedroom, and three-bedroom designs, providing a home for every lifestyle and preference.
This complex is within walking distance to many of Santa Barbara's most popular attractions: East Beach (with its renowned beach volleyball), Cabrillo bike path, Stearns Wharf, The Funk Zone's entertainment, The Zoo, The Bird Refuge, and more.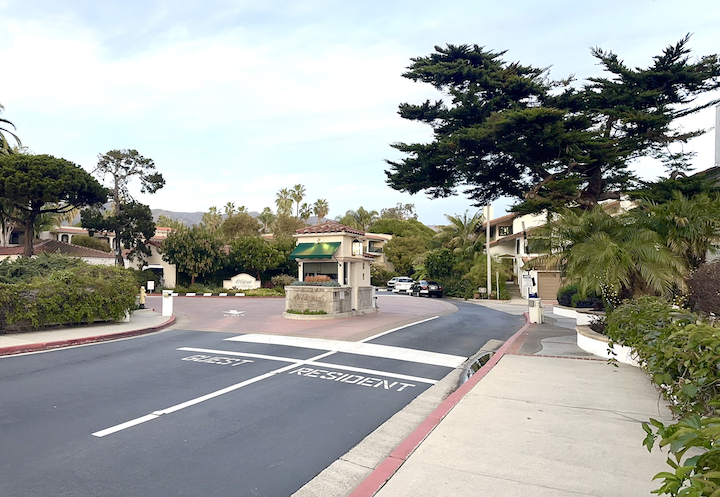 Guard-Gated Entrance to El Escorial Villas
4. The Mesa - A Beach Vibe Gem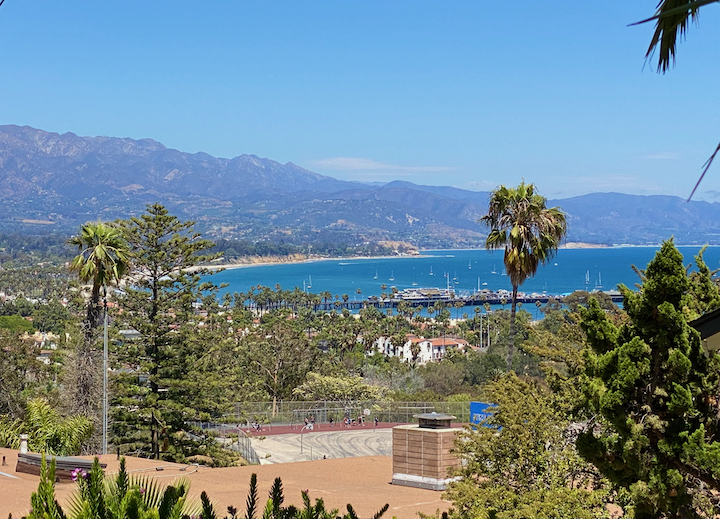 Mesa view overlooking Stearns Wharf
The Mesa, located to the southwest of downtown Santa Barbara, offers a more laid-back coastal atmosphere. Its elevated position provides panoramic ocean views. This area is cherished for its surf culture, local restaurants, and charming neighborhood feel. You'll find a mix of properties here, from beach cottages to custom-built dream homes.
To learn more about the Mesa, see HERE
Featuring homes along Shoreline Park: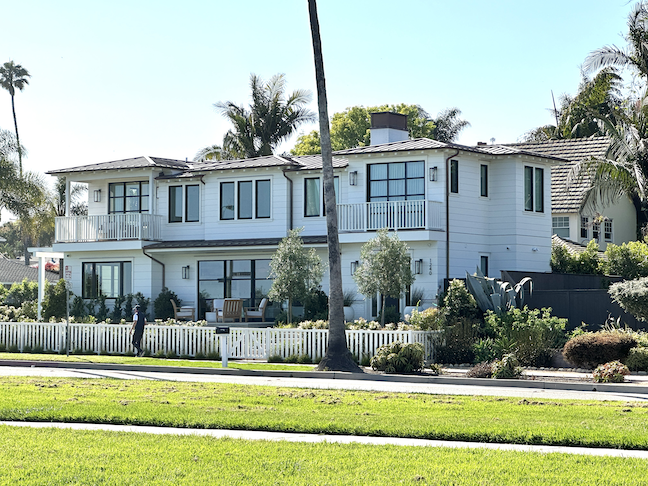 Mesa Coastal Home on Shorline Drive
In this coveted coastal location, you'll discover a collection of 39 prime residences, positioned just opposite Shoreline Park. These distinguished park-front homes offer captivating views, where the vast expanse of the ocean and the park converge, creating an idyllic backdrop for discerning residents. Shoreline Park itself is a verdant escape, spanning acres of well-maintained green space. It features leisurely walking and biking paths, ample picnic areas, and a beloved playground, catering to the outdoor enjoyment of both residents and visitors.
Adding to the appeal of this coastal community are 28 bluff-top homes lining Shoreline Drive. These homes grant residents the privilege of sweeping ocean views, where the serene horizon meets the blue waters, and distant islands emerge on the seascape. While these residences lack private staircases to the beach, they do provide access to the sandy shoreline via the "One Thousand Steps" staircase – a climb that indeed is a good workout. However, the payoff is access to the serene beachfront, establishing a direct link between residents and the enduring coastal beauty that surrounds this sought-after location.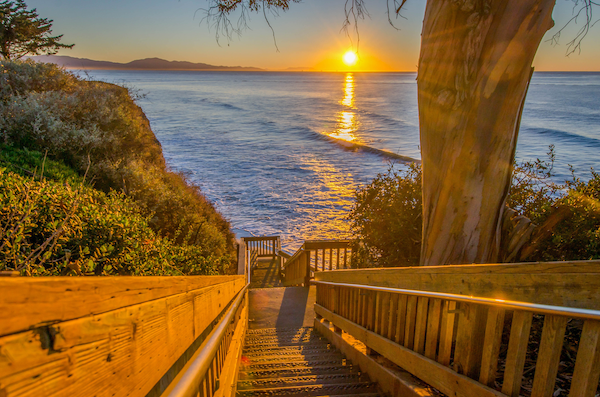 Sunset View from Mesa Steps
5. Carpinteria - The Coastal Escape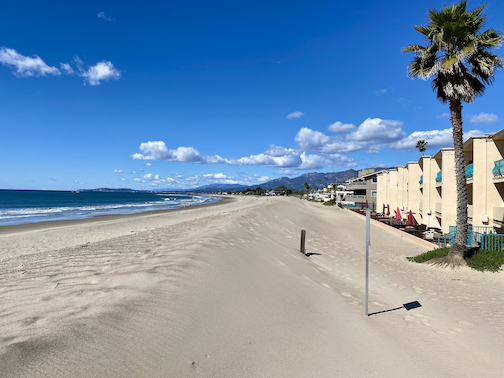 Carpinteria State Beach
Carpinteria, just south of Santa Barbara, offers a quieter, more relaxed beachfront experience. Its uncrowded shores, charming small-town atmosphere, and easy access to nature preserves make it a sought-after location for those looking for a coastal escape while still being close to Santa Barbara's amenities.
To watch an introduction to Carpinteria, see HERE
Featuring beachfront Living on Padaro Lane: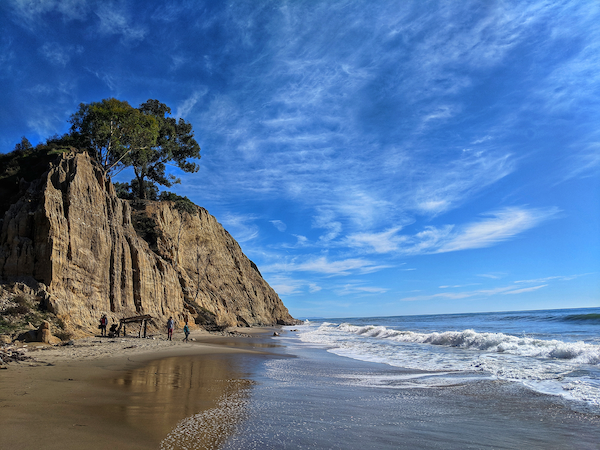 Loonpoint Beach
Padaro Lane is a beachfront gem that offers a unique escape from the everyday hustle and bustle. What makes it stand out? It's all about the beach itself. With its generous expanse of sand, Padaro Lane boasts one of the most spacious and consistent beachfront in the area, making it a top choice for those in search of a relaxed coastal lifestyle.
Access to this pristine cove is protected by nature's design. A natural seawall extends into the ocean at Padaro's eastern end, and the rugged cliffs at the western edge make it challenging for the public to intrude. This means that as a homeowner, you get to enjoy the peace of miles of sandy beachfront without the crowds. Padaro Lane offers a little something for everyone. On the eastern end, you'll find cozy cottages right on the sand, typically on smaller lots with around 50 feet of beachfront. From here, you'll have the best seat in the house for stunning sunsets and gorgeous views stretching to Santa Barbara.
Further down the lane in the mid-section, larger homes sit on spacious lots, perched on a gentle knoll. This spot gives you fantastic views of the whole cove without having to worry about wave damage.
If you're looking for even more privacy and luxury, check out Beach Club Road, a private, gated area branching off from Padaro Lane. It's home to a select group of beachfront and non-beachfront properties, offering an exclusive atmosphere.
Finally, on Padaro's western end, you'll find homes perched on blufftops, all on large parcels of land. Here, you can enjoy the perks of spacious, oceanfront living in a location that's second to none. If you've ever dreamed of a beachfront lifestyle with a touch of serenity, Padaro Lane is the place to turn that dream into a reality. It's where coastal living meets comfort, and your beachfront paradise is waiting for you.
6. Summerland - Quaint and Picturesque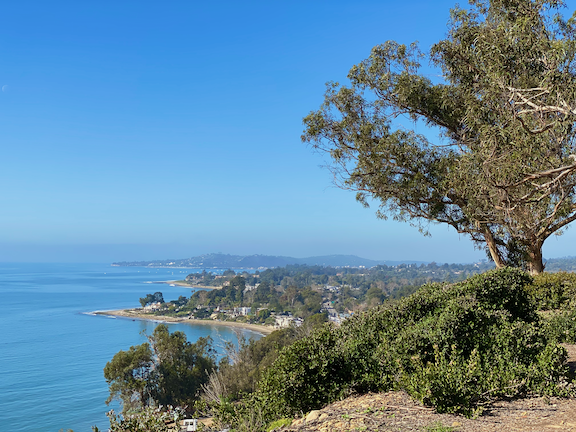 Hike above Ortega Hill Rd
Summerland is a hidden treasure along the coast, known for its quaint cottages and boutique home furnishing and accessory shops. While its beachfront properties are more modest in scale compared to Montecito, Summerland exudes charm, making it an excellent option for those seeking a more casual coastal lifestyle.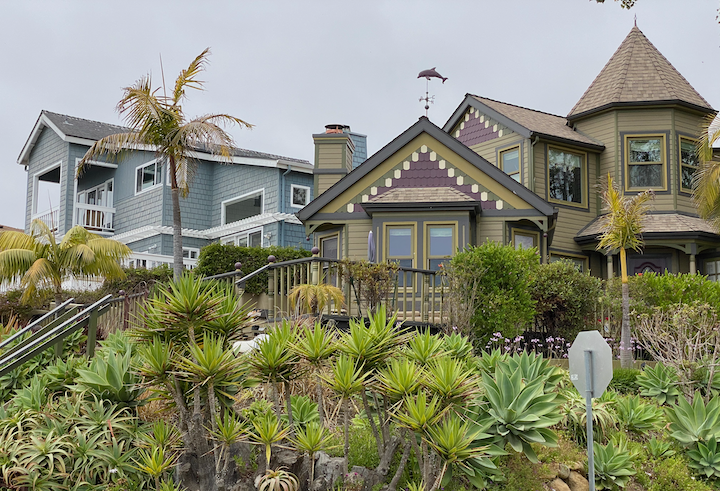 Charming homes in Summerland