Moving To Santa Barbara - 5 Things You Need To Know Beforehand
Posted by Katinka Goertz on Saturday, February 5, 2022 at 8:34 AM
By Katinka Goertz / February 5, 2022
Comment
Moving to Santa Barbara, CA
• 5 Things you need to know •
Moving to a new city can be daunting and seem overwhelming. Helping people frequently with this task and answering lots of questions regarding this process, I have put together a shortlist of things to keep in mind when preparing for your Santa Barbara move.
→ You can also watch my video below.
1. Special Place with Small Town Vibe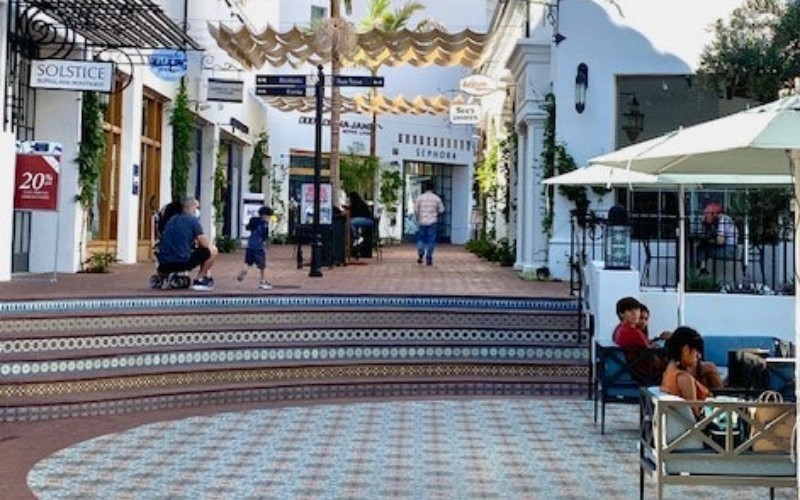 Paseo Nuevo - Shopping Mall
Santa Barbara is not a big city, but rather a charming and relaxed type of environment with a small-town vibe. The shopping is boutique-style with quaint restaurants, galleries, coffee shops, and such - mostly along State Street.
→ If you are interested in learning more about living in the Downtown area, watch this video
There is a pedestrian mall called Paseo Nuevo. But everything is smaller scale. For a full-blown shopping spree with lots of choices, you will have to drive further south to Camarillo, Westlake or Los Angeles. And, if you are looking to party all night, you will need to drive to LA. Santa Barbara is a town that people from all over the world like to visit. I, personally, love the fact that I live in a place that people like to come to. There will be quite a lot of tourists, especially during the summer. You might, or might not like that. The city can get pretty busy. You will never be at a lack for visitors from family and friends. Everyone likes to come and visit Santa Barbara.
2. Distinct Features Of The Neighborhoods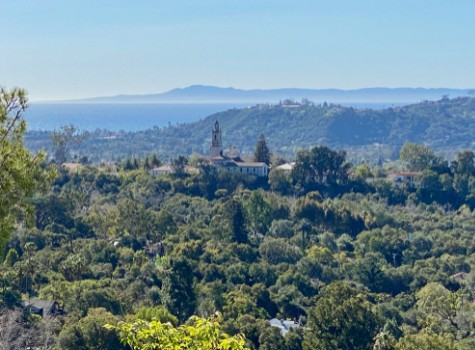 View from Mission Canyon Neighborhood
There are so many different great neighborhoods to consider in Santa Barbara - and most definitely there will be something you connect with.
• Learn about the area
To get to know the different neighborhoods, you may watch some of my videos on my YouTube channel "Living in Santa Barbara" and read the community pages on my website for guidance. Contact me anytime at [email protected] for further insights.
Important information to pay attention to might be schools and their ratings if you have children. Topography is another point since some areas can be steep with hillside settings. If a view is what you are looking for, those areas are great. But be aware that you will have steeper driveways. And possibly higher homeowner's insurance if you are further up into the mountains within the fire zones.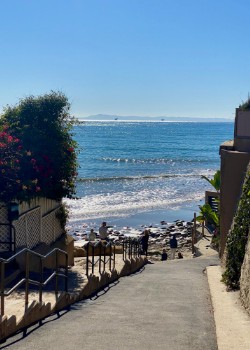 Closer to the ocean often also means closer to the freeway and the railroad, which can be noisier. And you might experience more of the mist and the marine layer at this location.
Downtown is lively and makes for an active lifestyle. But you have neighbors living closer to you. Or you might have a bustling business within your building. It is important to get clear on what is a must-have and where you are willing to compromise (since that is part of nearly any real estate transaction)
Steps to Miramar Beach
3. Different Climates In Santa Barbara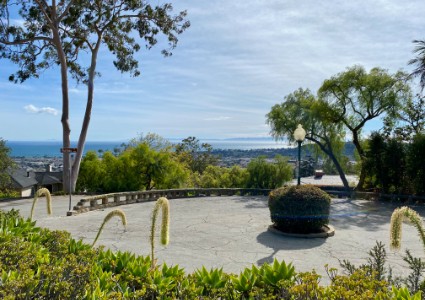 View from the Riviera Neighborhood
Overall the weather in Santa Barbara is pretty ideal and can't be beaten - one of the many reasons why the city is so popular. However, Santa Barbara has some microclimates you will find in different areas. Make sure you are clear on what you prefer.
The proximity to the ocean is perfect if you are a beach lover, but it can also come with quite a bit of fog and a marine layer occasionally.
The Las Canoas - El Cielito area, for example, provides more acerage and private space around you, but can also get quite a bit hotter than is typical for Santa Barbara.
It could be sunny in Mission Canyon, but closer to the ocean the temperature could be substantially lower. One thing to keep in mind is to always dress in layers. You will never need your heavy East Coast winter coat. But you need lighter jackets and sweaters of all sorts. And for the ladies - you will learn to love shawls, scarfs, and throws.
4. Seller's Real Estate Market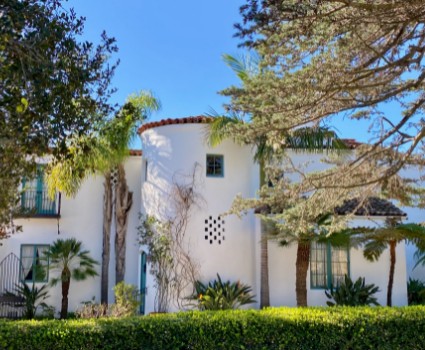 Santa Barbara Home
Here are some of the steps to pay attention to when buying a home in Santa Barbara
If you are looking to purchase a house, or rent a house, be aware that the current real estate market is tight. Buying a house right now is super competitive and that means you need to get prepared. Being prepared is crucial since many properties right now will have multiple offer situations and will sell for over asking price on many occasions. It is unknown what the future will bring, and we all sure hope for a more balanced market - with interest rates rising. But for now, we are still dealing with a low inventory market here in Santa Barbara. Timelines are very restricted, and you often only have a few days to write your "best" offer. You must mentally be prepared to act fast and still possibly lose out a few times, before securing your home.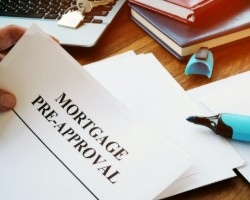 So flexibility with certain wish list items, that you thought you couldn't live without, is important. Getting pre-approved if you are getting a loan is non-negotiable. Additionally, I recommend using a local lender. By doing so, the seller and their agent will feel confident that the deal gets done with a reputable loan officer, who knows how to navigate local circumstances timely and efficiently. Make sure you have everything lined up in regards to your finances. And be prepared to accommodate the seller as much as possible. That could mean living in a rental in the interim, should the seller request a specific closing time frame.
Request a list of top local lenders here
Make sure to eliminate any seller red flags, like having to sell your property first. This kind of contingency will not be acceptable in today's market. If you are in the position that you need to sell your current home to buy your new one, there are several strategies we can discuss to make it a smooth transition for you.
Also be prepared to possibly shorten timelines for contingencies in the purchase agreement, since that is another effective way you can strengthen your offer. Often inspection reports and disclosures will be delivered at the time the house comes on the market, so you can immediately get familiar with any future repairs you might be facing. That does not mean that you may or will not do your own inspection. But it lets you evaluate the situation before writing an offer.
5. Santa Barbara Real Estate Market Trends And Prices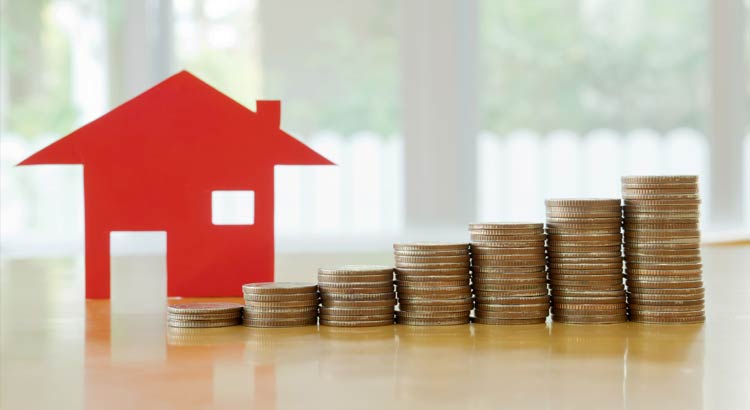 Prices of homes for sale have risen quite a bit within the last year. Please inquire about my market report here, if you like to study the up-to-date numbers.
There is no sign of the market rapidly slowing down - so far not even with rising interest rates. Santa Barbara has always been a popular destination. During the pandemic, it has gained even more desirability. The fact that there isn't the population density here in Santa Barbara, which larger nearby cities like LA or San Francisco are dealing with, has brought more people to our area. Also, many people have the flexibility now to work remotely and can make their lifelong dream of living in idyllic Santa Barbara a reality.
So without the commute, Santa Barbara has all of a sudden become a realistic alternative. Many folks from bigger cities are taking advantage of this new flexibility and are getting into the Santa Barbara real estate market. This strong demand has contributed to prices going further up.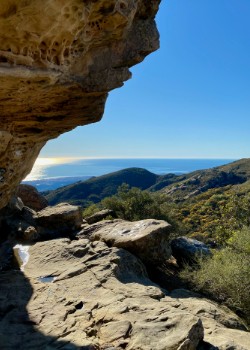 View from Lizard's Mouth
Bonus Point - Timing & Planning
This goes hand-in-hand with my next recommendation - to give yourself plenty of time.
You might not secure a real estate transaction as fast as you initially thought. So wrap your mind around a possible short-term rental, if you are moving from out of town. Look into those options beforehand, since the rental market is tight as well and summer rentals tend to book up pretty quickly around here.
Keep a flexible attitude and focus your effort on positioning yourself as optimally as possible. If you start planning early, doing plenty of research in advance, and stay patient and positive, you will become a master at navigating this challenging real estate market and securing the house you want.
Visit my website and register to receive new listing information immediately www.katinkagoertz.com
Other articles you might like: